[ Home ] [ 1st Visit ] [ Tandem Display ] [ Accessories ] [ Parts ] [ Closeouts ] [ Ordering Info ] [ About Us ] [ Links ]
LIGHT AND MOTION VIS 180 RECHARGEABLE TAIL LIGHT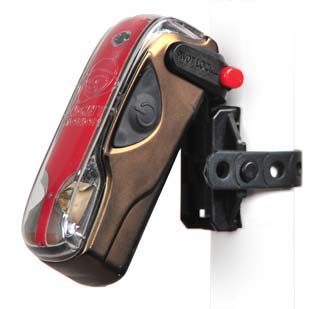 The Light & Motion Vis 180° rear bike light offers both visibility and convenience with its unique design. It combines high-power LEDs, reflectors and a rechargeable lithium ion battery pack.
The powerful red light sweeps a broad beam to the back; directional amber side beams alert overtaking cars
Tool-less quick-release attaches light onto seatstay or seatpost; multiple locking positions ensure best visibility
Includes clip for attaching to backpack or messenger bag
Multicolored status light provides the charge level so you won't get caught in the dark
Micro USB port allows charging from most newer cell phone chargers or from any powered USB device
The Vis 180 delivers an SUV sized output from a compact lightweight package. At 10 times the light of the most powerful AA tail lights, combined with brilliant amber side lights, the Vis 180 lets the cars know you belong on the road too. With a tool-less mount, locking mount clip for frame or bag, and convenient cell phone micro USB charging, you will never go back to a blinkie again.

Cruise mode cycles through High, Medium, Low and Flash sequentially. When it's time to get your speed on, switch to Race mode using a two-second push and hold (starting with the light powered off).

Race mode skips the Medium and Flash modes, allowing you to conserve battery power on the climbs while keeping the High setting just a click away for the descents.

The Vis line uses a single cell Li-ion cell carefully packaged inside the light. These products feature a new battery charge indicator that reliably reports the charge status so you know when to re-fuel. The Vis line features a Micro USB charge port.

Item Specifications

System Weight:

110g

Output (lumens):

35

Run Time (HR:MN):

* High - 4:00 * Pulse - 8:00 * Flash - 20:00

Battery Type:

1-cell Li-ion

Charger:

USB-micro

Charge Time (HR:MN):

4:30

Modes:

Cruise, Race

Mounts:

Bike, Bag, etc.
Light & Motion shares that the pulse was less likely to hypnotize riders and draw them toward cyclists while still attracting more attention and than a solid red light and distinguishing itself from automobile tail lights.
WEIGHS ONLY 110g
[ Home ] [ 1st Visit ] [ Tandem Display ] [ Accessories ] [ Parts ] [ Closeouts ] [ Ordering Info ] [ About Us ] [ Links ]