[ Home ] [ 1st Visit ] [ Tandem Display ] [ Accessories ] [ Parts ] [ Close-Outs ] [ Ordering Info ] [ About Us ] [ Links ]
The Progression of our Kids!!
The rewards of riding with your children are plentiful. If you are considering a setup for your child, Please remember us for sharing our knowledge and experience with you when it comes time to purchase. The kids and their college funds certainly appreciate you!
Here is a Photo Gallery of a few family tandems (2 - 5 seats!) we have had the pleasure of bringing to fruition for our friends and customers. Enjoy!

Click Here for Child Stoker Parts Listing
Click Here for Ordering and Contact Info
It has been an incredible 17+ years since this page was started after the arrival of our first child. Stories of our many adventures and pleasures are found here. Enjoy!
We traveled many a mile with Courtney, our youngest, in an infant car seat. It was common for us to do 100K rides together. Here is a link to a post made to T@H back in 1998 about a local ride done on a quad in a similar fashion.
Natalie, our second child, is now stoking at the ripe old age of 16... ...months that is!
If you were fortunate enough to attend the Midwest Tandem Rally 2001 in Duluth, Minnesota over Labor Day weekend, you probably saw a rather tiny stoker cruising the parking lot with her dad.
NATALIE TAKING HER MAIDEN VOYAGE BETWEEN RAIN SHOWERS
Natalie is rather fond of her red Cratoni helmet as she is often seen picking it up and asking for help putting it on. And then there is the very familiar signal of patting her head when she requests her helmet and a bicycle ride! It seems we have been there and done that with her older sister as well! And the words "Bike", "Bike", "Bike" are often heard when she starts insisting on a ride.
MARK & NATALIE AT MTR 2001 WITH HER FIT DIALED IN
Changing the bike over from Courtney to Natalie takes all of 4 minutes. We have a separate seatpost with the safety backrest attached so it is a matter of sliding one post out and the other in. Natalie uses the 95mm pedal position on the crank rather than the 125mm length used by her sister so a quick pedal swap is in order and then we are all set to go.
No rides of any length have been done as it will take a little time for her to become accustomed to everything but a 7 mile ride to the playground and back home will likely take place before long.
LOOK MA! I AM A BIG GIRL NOW JUST LIKE MY OLDER SISTER!
In the photo above you can see a portion of the double sided Velcro used in conjunction with toe clips and straps to secure her feet to the pedals.
Click HERE to view one of Courtney's favorite playground past times. She was two at the time.
17 Month Update
More has come and at 17 months Natalie is now riding to the playground and to Grandpa and Grandma's on a regular basis.
Below is a creation which solved the immediate dilemma of being one seat too short! Although it is merely a prototype, it has not required modification and has worked very well and suited our immediate needs.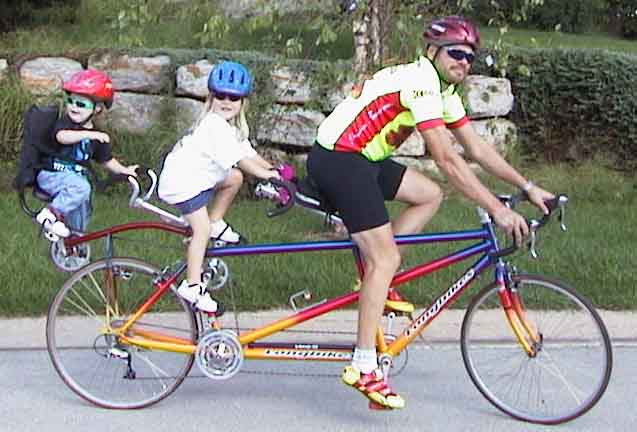 MARK, COURTNEY (3 YRS 11 MOS), AND NATALIE (17 MOS) BETA TESTING OUR "TRIPLET KIT"
Picking a name for such a device is rather difficult so maybe we should call it everything we can dream up for the time being
"TRIPLET KIT" AKA "QUAD KIT", AKA "KID-ADD-ON", AKA "ADD-A-KID", AKA "ADD -A-STOKER", AKA "TRIPLIZER", AKA "KID-ON-A-BOOM", AKA "BOOM-A-KID KIT", AKA "FAR BACK KID KIT", AKA "TRIPLET CONVERTER", AKA "QUAD CONVERTER", AKA "BRING-A-KID", AKA "TAKE-A-KID", AKA "KID-RIDER", AKA "CHILD-ADD-ON", AKA "ADD-A-CHILD", AKA "CHILD-ON-A-BOOM", AKA "FAR BACK KID KIT", AKA "BRING-A-CHILD", AKA "TAKE-A-CHILD", AKA "CHILD-RIDER", AKA "FAMILY-ADDITION", AKA "FAMILY-ADD-ON", AKA "FAMILY-RIDER", AKA "FAMILY-OUTING", AKA "KIDDIE-RIG", AKA "CHILD RIG", AKA "KID-RIG", AKA "RIG-A-KID", AKA "RIG-A-CHILD", AKA "HAUL-A-KID", AKA "HAUL-A-CHILD", AKA "TRIPLETIZER", AKA "QUADIZER", AKA "TEAM ADDITION", AKA "TEAM MAKER", AKA "TRIRIDE", AKA "QUADRIDE, AKA Bob-Kid"
PATENT PENDING (of course)
Our prototype has been so successful that a new look was in order. We added a three color fade paint scheme to match our Longbikes aluminum tandem.
MARK, COURTNEY (4 YRS), AND NATALIE (17 MOS) HEADING TO COURTNEY'S B-DAY PARTY!
Somehow we should name the adapter after Natalie as she points to it and says "Natalie's?". And the answer is always yes! ...the stoker is always right you know.
Right now Natalie pedals slower than we do and probably will for about 2 more months after which she will be contributing to the effort although intermittently.
Note the tail light mounted to the safety back rest as lights were a necessity for our return visit from Grandma and Grandpa's on this late October day.
18.5 Month Update
Believe it or not, the little tyke has learned to pedal! Two weeks ago Natalie was strapped in ahead of anyone else and the little show off spontaneously gave us a lesson in spinning! At this point we had no idea that she could do this as her legs are too short for the smallest tricycle we have. She laughed gleefully as all three cranks and those yards of chain went round and round!
On this particular evening, Courtney was at Grandma and Grandpa's so the rest of us set off to pick up her big sister. It was a new adventure with Sue on her single bike and Natalie on the tandem perched aboard the Triplet Adapter. We managed to get many a look, more than usual, since Courtney's position was vacant.
This was my first opportunity to ride with Natalie alone since she actually learned to pedal. I was truly amazed that she DID add power and how much the speed increased when she would crank it on. We dropped mom on flat ground! To be fair, Sue has ridden very little the last two years due to having Natalie.
We had our lights ablaze as twilight was quickly settling into darkness. On the return ride Courtney had a blast riding on the wooded trail calling out where the monsters were hiding and saying "We have to get out of here!".... ....and the power would come on!
THE THREE OF US APPROACHING THE PLAYGROUND. COURTNEY AGE 4, NATALIE 18.5 MOS
Natalie is now doing 11 and 12 mile rides and enjoying virtually every minute of it. Just this past week we all enjoyed a 70+ degree day in November and took the opportunity to ride to Subway for lunch followed by a mandatory playground stop on the way home.
19 Month Update
This picture about says it all! It was taken on a balmy 70 something December day in sunny Kansas!
We are all back on a tandem together as a family and Natalie is now doing 16 mile rides to get lunch followed by two obligatory playground stops!
TEAM JOHNSON'S: Mark, Sue, Courtney age 4 and Natalie age 19 months
Courtney is at 1300 miles thus far this year, Natalie is sneaking upon 150 and Mom has broken the century barrier for the first time in a couple of years since having Natalie. Mark and Julie, er I mean "Mighty Mouse", have done that crazy 9,000+ mile thing again.
21 Month Update
Another balmy 60 degree January day in Kansas! Julie and I took the kids on our recovery ride after hammering with the racers the day before to help mom decompress a bit!
Courtney was able to log 1470 miles in 2001! The weather and determination permitted riding 5 weeks in a row on the Monday night club ride, something she looked forward to with great anticipation.
The Christmas decorations were certainly in abundance this year and she was often heard singing Jingle Bells, Frosty the Snowman and other favorites. We would pile layer upon layer on her as she was determined to go and she did get a nap on those afternoons as promised so we kept ours in return. Natalie was able to get 150 miles doing her usual trips to see the grandparents, playgrounds and to get lunch at the local Subway.
Mark, Julie aka "Mighty Mouse", Courtney age 4 and Natalie age 21 months
23 Month Update
We attended the wonderful Southwest Tandem Rally held in Waco Texas on the weekend of April 13th, the day before the well attended Ride for the Roses put on by Lance Armstrong.
We rode our Quadralized Triplet on the 18 mile Friday ice cream social ride with Julie on her single. Natalie set new mileage records with 18 miles ridden on Friday and 23 or Saturday. The location of the lunch stop was the perfect distance for Sue as she is now returning to cycling with the family as Natalie's stoking ability progresses.
Mark, Sue, Courtney age 4 and Natalie age 23 months & Julie on her Single
April 13, 2002 at the SWTR in Waco, TX
At the lunch stop we adjusted the triplet's center seat for Julie, removed Natalie's chain and safety back rest and the three of us rode a 14 mile loop returning in time for lunch to be served. Courtney logged 43 miles before the day was over!
28 Month Update
Rides of 17-20 miles are common place at this point... ...and being potty trained really helps!! We now find ourselves repeating history as Natalie is rapidly nearing the age that Courtney started riding as a stokid.
Riding to the 'Tour of Kansas City' Stage Race August 11, 2002
Day 1 of MTR 2002 "Goin to Kansas City!" August 31, 2002
2 Years, 6 Months - Update
Everyone set a personal record at STR 2002 held at Bay St. Louis, MS the weekend of October 18-20. Natalie rode 62 miles on Saturday followed by another 32 on Sunday! And, Courtney, now age 5, topped her old mileage mark by about 4 miles! We all managed to get in over 100 miles during the weekend. For the long version see Southern Tandem Rally 2002
Mechanics of the Adapter
Getting our stoker device to work was a bit of a challenge. Chain clearance with the frame was certainly an issue and running the lower part of the chain uphill over the chain adjusting device fashioned from a rear derailleur cage solved the problem. The chain adjuster is fixed and locked into place once the proper chain tension is achieved.
It was necessary to run the timing chain to the frame mounted kid crank due to clearance problems. Fashioning something that would work for an adult final rider would certainly take some design work.
The entire unit is removed together as an assembly which takes only 1 minute. We simply remove the two bolts that secure the stays to the dropouts, loosen the seatpost clamp, remove the chain, and slip the entire unit off. Setting it up as a standard triplet (or tandem if we use the other bike) only involves sliding in the other seat and post assembly.
To install the assembled unit on the tandem, which has a larger frame size than the triplet, also takes one minute as 3 bolts are involved and the chain. We slip in the seatpost, bolt on the two stays to the dropouts and install the longer chain (different length for different bikes) and it is ready to ride. It actually takes longer to get Natalie strapped in than it does to install the unit!
Sorry, these units are not for sale as it was a one-off unit built for our own needs. The children also grow so quickly that the increasing weight over and behind the rear wheel is a concern for tandem use.
Handling Characteristics
When the unit is mounted to the triplet handling seems to be unaffected due to the small percentage of weight increase. When mounted to a tandem the additional weight is a greater proportion of the overall mass and therefore it is noticeable. Since the front end is lighter with the "bob-kid" on back, it is best to have the larger child mount first in the standard stoker position.
5.5 and 3 Years Old!
Growth spurts have in a very short period of time seem to prevail these days evident by the two pictures below on our small triplet. Notice the stoker positions have changed in a period of only 3 months!
March 2003 with Courtney 5.5 in the rear and Natalie,
a bit under 3, using the stoker kit in the center
Both kids are using custom cranks shortened to 100mm.
June 11, 2003 with Courtney, 5.5 in center without stoker kit
and Natalie 3 on rear without stoker kit.
Independence day weekend in Eugene, OR was the debut of the Meridian Quint. We rode to the lunch stop together and dropped out Mom and 3 year old Natalie while Mark, Julie and Courtney continued on doing the medium loop. The conversion took only 25 minutes the first time through with the help of a 5 year old!
July 4th, 2003 at the NWTR in Eugene, OR
(Click for Larger Picture)
August 30, 2003 at MTR in Dayton, OH
(Click for Larger Picture)
Nearly 6 and 3.5 Years Old!
Courtney is now in kindergarten which gives us an opportunity to surprise her by picking her up from school on the Quad. Dad has also been known to retrieve her by arriving on the little Triplet with Natalie riding way back there all by herself. Both she and her classmates have been very surprised!
Our Annual Visit to the Pumpkin Patch!
(Click for Larger Picture)
Two days before Courtney's 6th birthday we made the trek to Indiana for the Hilly Hundred, a very popular ride drawing upwards of 5,000 riders! We rode the first day of the event on our quad and the second day on a tandem. The entire saga complete with photos can be read here.
6.5 and 4
Years Old!
Our annual ride planning suddenly became complicated by the fact that Courtney was now in Kindergarten along with the larger more notable tandem rallies being held this year before and after summer. With that in mind it dawned on us that our ever popular BAK (Bike Across Kansas) ride might just fit the bill for us. We signed up with the thought that all the planets might line up and the 6 year old would be up for the 489 mile adventure over 8 days, but to be quite honest it was not without just a we bit of reservation.
The plan was to ride 17 miles on the first Friday evening on the quad with Natalie (age 4) and Courtney (age 6.5) and continue with both kids into Saturday for a total of 70 miles. From there Courtney and I would continue our trek across Kansas with hammer head stoker Julie, aka 'Mighty Mouse' while mom returned home with Natalie. Near the end of the ride, we planned meeting up with mom and Natalie at Lawrence and doing the final 42 mile leg to Leavenworth on the quad with the 4 year old aboard exactly one week later.
Arriving in Lawrence on BAK 2004 the second to last day with 500 miles completed in 7 days!
All worked out better than anyone could have anticipated or expected aside from the windy head and head/crosswinds experienced for 4 days which came from the southeast... so much for prevailing SW winds! If there is any doubt about the wind capability in this part of the country, here is a photo taken near Colby on the Saturday one week before when winds reached 68mph and traffic accident deaths were reported on I-70. We passed just 8 miles west of Colby when riding from Oakley to Hill City on the first full day. The 100+ degree temperatures and 30-40 mph cross/headwinds and headwinds easily turned 65 mile rides into the energy expenditure of a century. We also experienced whipping and flapping of tent materials with the left over evening heat which prevented sleep for most until the wee hours of the morning.
The 550 mile ride (as it turned out to be for us) provided memories of a lifetime and both Courtney and Natalie will certainly cherish the growth experience forever. Natalie participated in 115 miles of the adventure.
The final 53 miles completed on the quad when we reached the Missouri River in Leavenworth, KS.
Click here for the complete BAK story. here is also a photo journalists rendition of the event and some other journalistic info we picked up that includes captions and photos of our team..
The annual Tour of Kansas City is an event we nearly always ride to with Courtney which involves about 45 miles through the urban maze to get on the northeast side of downtown Kansas City, Missouri. This year was no exception but a first for us on the quad.
Departing on a very unusual cool August morning for the Tour of Kansas City, August 2004.
Courtney, now 6.5+ years just started 1st grade and had her 2nd full day of school. Today, August 19th, she told me one of her projects at school was to write down and draw her favorite activity. She said she started to write 'playing with her friends' but then changed to to 'riding bikes with Dad!' And said, "I love riding bikes with you daddy!" August 19, 2004.
September 4, 2004 in Columbus, IN
(Click for Larger Picture)
November 5th, 2004
Natalie's first ride on "Silver Bullet"
Without a child stoker kit on a 2 seat tandem and with clipless pedals at age 4.5.
(125mm cranks with a 43cm frame)
May 29th, 2005
Inaugural Ride on an Aluminum Co-Motion Custom Quad
Courtney 7.5 and Natalie 5
Spring Break 2006, Fredericksburg, TX on our 39 Pound Precision Triplet!
Courtney 8.5 years.


Spring Break 2006, Fredericksburg, TX on our 39 Pound Precision Triplet!
Natalie still 5 for another 6 weeks!


January 2006
May 2007 Training for BAK!
June 2007 Treasure Hunt with 2 kids! Trailer in tow.
January 2008 with a break in the weather!
April 26, 2008 1 day before Natalie's 8th Birthday at the SWTR in Tulsa!
October 26, 2008 - Our new aluminum Precision Convertible Triplet/Quad/Quint
Taking advantage of a warm October day for our shakedown ride on in preparation for our annual Pumpkin Ride! BoB type trailer cut off in picture.
October 29, 2008 - Our annual Pumpkin Ride with Bob type trailer in tow
June 7, 2009 on Biking Across Kansas - Day 3
(Courtney on back with the change in order)
August 6, 2009 Thursday DAY 5 Fessenden to Wing on CANDISC
(Courtney back in the #3 position. Both girls decided they preferred this order.)
You can read our CANDISC story HERE
The CANDISC website is HERE
September 3, 2010 Midwest Tandem Rally 2010
in the Amish Country of Shipshewana, IN
October 28, 2010 - Our annual 'Pumpkin Ride'
September 4, 2011 Midwest Tandem Rally 2011
in Ann Arbor, MI
September 1, 2012 Midwest Tandem Rally 2012
in Middleton, WI
September 1, 2013 Midwest Tandem Rally 2013
in Dayton, OH
(The girls had a blast being on their own and averaged 17mph on Saturday's 65 mile ride and Sundays 50 mile ride.)
2014 CANDISC in ND after coming into Bizmark
August 30, 2014 Midwest Tandem Rally 2014
in Fort Wayne, IN
(The girls averaged 18mph on Saturday's 72 mile ride and 17.3 Sundays 70 mile ride!)
2015 BRAN IN NEBRASKA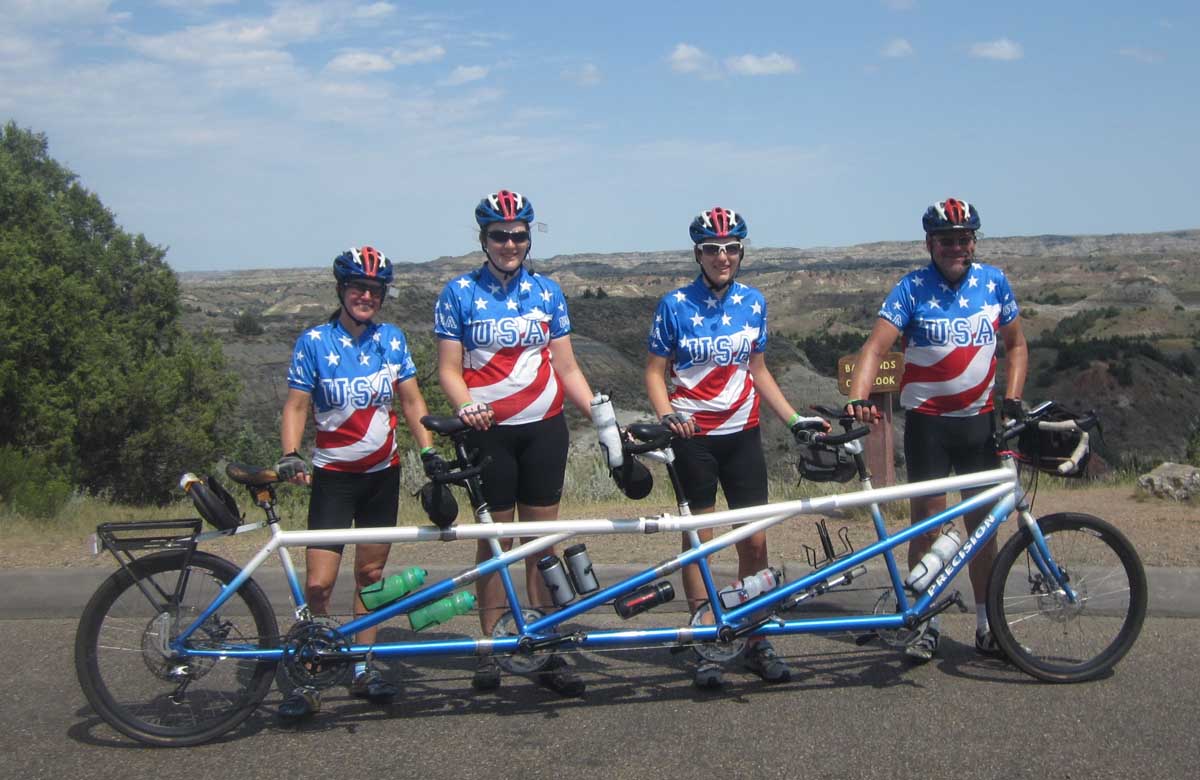 2016 CANDISC in ND at the Badlands near Teddy Roosevelt National Park after riding in I-94!
September 4, 2016 Midwest Tandem Rally 2016
in Ankeny, IA
Grand Teton National Park 2017
September 4, 2017 Midwest Tandem Rally 2017
in Dublin, OH
Chris Blunt's story is worth the read.
http://www.mercatornet.com/articles/view/a_bicycle_built_for_two


Safety and Kids
Riding with our precious children deserves all of your attention to keep them out of harm's way. That said, riding with kids may not be for everyone as experience, luck and skill levels vary a great deal. We all know individuals that fall for a variety of reasons 1-3 times per year, sometimes more and sometimes for no apparent reason. It is advisable to look at and accept one's history as one element in determining whether to take your children along on rides.
More updates to come... ...for sure!
[ Home ] [ 1st Visit ] [ Tandem Display ] [ Accessories ] [ Parts ] [ Close-Outs ] [ Ordering Info ] [ About Us ] [ Links ]