</P>
[ Home ] [ 1st Visit ] [ Tandem Display ] [ Accessories ] [ Parts ] [ Close-Outs ] [ Ordering Info ] [ About Us ] [ Links ]
RIDING WITH A 4 YEAR OLD!
The rewards of riding with your children are plentiful. If you are considering a setup for your child, Please remember us for sharing our experience with you when it comes time to purchase. The kids and their college funds certainly appreciate you!
Click Here for Child Stoker Parts Listing
Click Here for Ordering and Contact Info
My how this year has flown by! It has been brought to my attention, more than once, that Courtney will soon be five and this has not been written!
What changes everyone has experienced this past year. Courtney has accomplished no less than three 100K (Metric Century) rides on the triplet with our "go fast" stoker Julie pushing us along. She is truly motivated by the speed and encouragement of other riders and loves to pass other folks but then everyone else on the triplet does as well!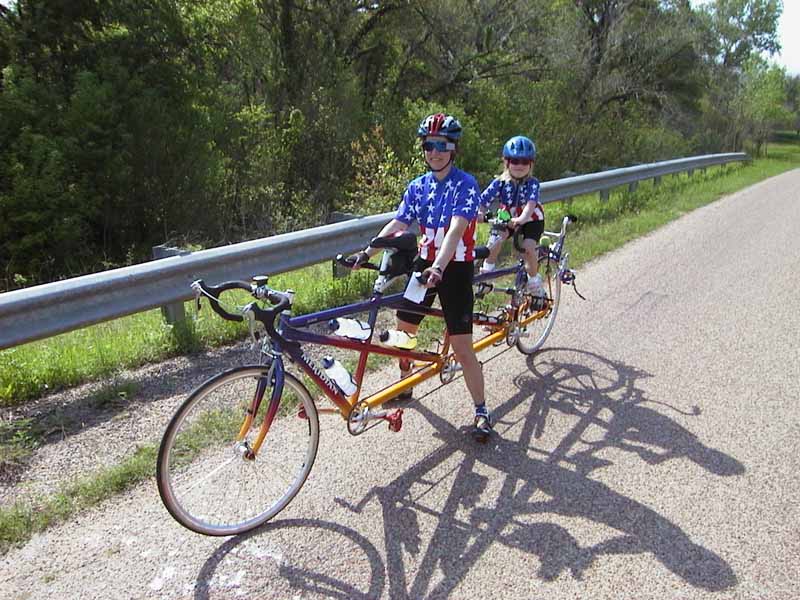 Southwest Tandem Rally 2002 in Waco, TX
We enjoyed winter outings last year with her bundled in a snow suit and multiple layers. A child this age still does not generate heat and will get cold quite easily so being mindful of the situation is warranted. We also experimented briefly with a set of custom FootWarmers, electric heated insoles which we stock, which worked great to keep her little feet toasty warm! Our windshield kit does wonders for increased comfort now if only I could rig one for the captain as well!
Rides continue to be centered around those that attract good attendance which is a great motivator for all concerned. And we have seen less "fussing" from the little seat when lulls are experienced as she is now a "big" girl, just ask her!
M&M's go a long ways when she hits a lull... and I hate to admit it but the bit of chocolate and sugar will have her literally dancing in the gazebo within minutes! ...what a life saver as it saves calling mom to pick her up! A bit of bribery is also a good thing at times.
Midwest Tandem Rally in K.C. 2002
Rides continue to have destinations such as the caves along the river bank, a Dairy Queen some 10 miles from home but we always hit this stop and any associated playgrounds on the way back... never in the reverse order!
This is the initial draft and will hopefully be refined in the near future!
[ Home ] [ 1st Visit ] [ Tandem Display ] [ Accessories ] [ Parts ] [ Close-Outs ] [ Ordering Info ] [ About Us ] [ Links ]