[ Home ] [ 1st Visit ] [ Tandem Display ] [ Accessories ] [ Parts ] [ Close-Outs ] [ Ordering Info ] [ About Us ] [ Links ]
Posted 3 Aug 1998 by Mark of Precision Tandems
Subject: Re: Oh My G-d, I Support B-ll!!
(Subject Line from a previous post)
We have frequently ridden a Santana tripleT ;-) in recent years with another adult but that has all changed since Courtney's arrival. Our nine month old daughter has assumed the middle position for some time now riding in the comfort of an auto infant child seat as described by Mr. Bill. She becomes very excited about riding when the riding clothes, helmet and glasses make their appearance and certainly enjoys being part of the experience.
On a recent 100K club ride we ran into a similar dilemma to what Sheldon described -- one triplet and four riders. After transplanting the infant car seat arrangement to our quad, we set off on a new adventure which turned out to be very pleasant and all had a good time. SAG stops did take a little longer with the all the loading, unloading, parking and attending to Courtney's nutritional requirements.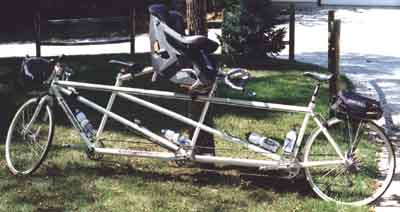 Mr. Bill accurately described the increased efficiency of a looooong bike over the alternatives evident by our 17.5 mph riding average for 100K on the quad. And just less than one week ago we had our best ride on the triplet finishing up 44 miles with a 17 mph average on a somewhat hilly course.
Sometimes Courtney and I ride the mountain bike to give mom a chance to decompress! The bike has a suspension fork to reduce jolts, is setup for a windshield used in cooler weather and has a modified behind the handlebar child seat as has been used in Europe for decades.
Mark and Sue Johnson
Stokid, Courtney Renee born 10/20/97
Do it together.....
[ Home ] [ 1st Visit ] [ Tandem Display ] [ Accessories ] [ Parts ] [ Close-Outs ] [ Ordering Info ] [ About Us ] [ Links ]