[ Contact Us ] [ Home ] [ 1st Visit ] [ Tandem Display ] [ Accessories ] [ Parts ] [ Close-Outs ] [ Ordering Info ] [ About Us ] [ Links ]
This is a collection of info posted on T@H by those that have been there and done it with their kids. Their insight is priceless.
Then... MTR 2000 St. Charles, IL
2 years 10 months... Youngest stoker!

Now... as of August 2007
Courtney nearly 10, Natalie 7.5 years
I wrote this in 2000 when Courtney was 3. Now she is 10. Where did it go? The time made possible with them is.... priceless.
Our setup utilizes safety devices that provide great security and peace
of mind for all concerned. Courtney is literally part of the *gang* as
she frequently rides 18-20 miles with me on many of our weeknight club
rides. She can easily do a 30 miler with two or three stops if we do
not infringe upon her nap time which she usually skips anyway.
Sometimes we stop at one or two playgrounds and usually find an excuse
to visit the local Dairy Queen! The stoker is always right you know.
Her longest ride to date was 45 miles at MTR 2000 at 2 years 10 months.


The thread continued on T&H:
Larry

A few thoughts:
Make riding part of the routine, not just a weekend event. If the
transportation to birthday parties, dance lessons, or even school is the
bike, riding is just the way things are and part of the family reality.

Lots of snacks. This is not bribery, as our finding is the little folk bonk
more quickly. One bonk can take months to recover from emotionally. It
scares the kids.

Frequent rest breaks at interesting spots. Stop to talk to the cows, pick
flowers, at the special playground on your route. Family tandeming often
has a different pace than that for adults without kids.

Competition in a group is motivating for kids who have learned to push. So is
interval training - to the next pole, the top of the hill, etc.

Make a big deal of the interdependence and teamwork involved in riding a
tandem. Our kids were told at about 4 that we trusted them enough to ride
in traffic, and their reasonable behavior on the back of the bike is a family
responsibility. Be gently insistent about them actually pedaling. Coach so
they get better at it. Make sure they know that their contribution is
important on hills, in passing, and at intersections. Eight to 10 year olds
have a great power to weight ratio!

Keep track of the longer rides. We made "Personal Best" T-shirts, and added
to them after each longer ride. Both kids had cranked out 60+ mile rides by
the age of 7. We made a big deal about it - and they were very proud of
themselves.

Extra clothes. What might be over dressed for you might be just right for a
little person who chills more easily.

Think like a kid. Unless you can package the ride to appeal to both of you,
the child will always feel like they are doing it for you - and be more
resistant.

Despite all this - your kid may not like cycling. Sometimes they grow up in
ways we don't anticipate. Good luck

Chris Lyon
Penn Valley, PA



Great suggestions to date, here are mine.

1) THINK LIKE A KID.
See the many great suggestions in this thread so far including toys, stops =
and routes.

2) GET IN SHAPE.
If you are in shape then you can make the ride more fun for your kid. They =
get to enjoy the speed and the scenery without always associating a bike =
ride with a marathon like survival event.

3) GOOD EQUIPMENT.
Buy your kid the same equipment you would for yourself or your spouse. =
Well padded bike shorts, real cycling shoes and pedals, a jersey with =
pockets, a computer for the stoker position. You can put the computer in =
the education budget, How Much Farther? now becomes subtraction practice =
and of course the real important part is seeing how fast you are going and =
then challenging your stoker to pedal harder and make it go up. Be sure to =
get appropriate layers as little bodies react to subtle changes in =
temperature.

4) PROPER FUEL.
Make sure your child eats well before and during a ride, but be sure to =
remember the all important motivating fuel for children, the CANDY stop. =
Getting a child to stay properly hydrated can also be a challenge. You =
may want to consider one of the smaller size CamelBaks which is easier =
than the long reach for the water bottle.

5) PEOPLE.
Ride with a group. The social part of the ride is a significant part of =
the motivation. Kids are best because then they can talk about their =
captains and do kid stuff. Racers are fun for the speed, but may not talk =
as much. The touring group allows for a lot of interaction.

6) FREQUENCY.
While you may wish you could ride every day, your child may want to do =
other things. I typically stick to weekends and schedule around the groups =
(5) we ride with.

7) EVENTS.
Big events are a lot of fun for kids. Some of our favorite adventures and =
best memories are from rides like MTR, Hilly 100, TOSRV, RAIN and week =
long tours of Indiana - TRIRI.

8) DISTANCE.
Be flexible with your distances, but that does not necessarily mean short. =
2, 3, 4 and especially 5 above are what influence how far we ride. Mileage =
can range from 20 miles to 165 miles plus. My son may whine part way =
through a long ride, but the next day at school he cannot wait to tell =
everyone that he road a bike clear across the state, in fact I have had =
teachers call to confirm such wild stories.

9) OTHER SPORTS.
Make road riding a supplement to other sports such as BMX racing, cross =
country and track. An appropriately sized single bike, road or mountain, can =
also keep them interested.

10) HAVE FUN!
People typically choose to do things that are fun.

Steve, Cindi and Michael
Indiana



For a child who rides a bicycle, one of the aspects of a tandem is its novelty. Of
all the bikes in our garage, the tandem solicits the most raves from my nieces,
nephews and neighborhood kids. Even more so than our latest dual suspension mountain
bikes. While grown ups show a mild interest when they see the Santana hanging on
the hooks, the kids won't stop asking to get a ride.

A kid who rides is naturally drawn to a tandem. One of the joys we get when the
kids visit is to take them on a ride. It only takes a few minutes to affix cage
pedals in the stoker position and adjust the saddle height. Sure, depending on
their size, they have to lean a little more forward to reach the bars.

I give them a little instruction on communication -- not too much or they get
distracted. Hold on, don't try to steer or lean, and let me know if you're getting
tired. With that, we're off and within a mile we're doing 40 MPH on a downhill.
They are thrilled to be going that fast. I'm always surprised how much power they
can generate.

My youngest niece is the only one too small to ride and she looks forward to the
day when she can reach the pedals.

Of course my sisters are upset because their kids bug them all the time about
getting a tandem. I'm amazed why there aren't more tandem riding families
especially when the parents are staunch riders. Even the heady prices of tandems
aren't that bad considering the fun and quality time a tandem provides.

Dave Burckhard
San Jose




I purchased my tandem (a Burley Duet) when my older
daughter was 11 and my younger daughter was 9. My
older daughter and I had enjoyed riding our half bikes
together and I wanted to see if she or her sister
would like to experience some longer rides.

My biggest piece of advice about kids is to feel free
to encourage them, but stop short of pushing them.
There is a fine line here, try not to cross it. Ride
distances that are comfortable for them and choose
destinations that are fun and interesting to them.
Parks, pancake breakfasts, swimming pools, ice cream
shops etc all make fun rides. Let them choose the
destination at least half of the time and try to jump
any time they suggest going for a ride.

I took this approach with both of my daughters and I
found that one of them grew into a fantastic cyclist.
We shared over 10,000 miles together on our tandem
before she left for college and joined the college
cycling team. My younger daughter (a better athlete
than her older sister) never enjoyed cycling.
Although I encouraged her I never pushed her or
twisted her arm into riding with me. I always tried
to find other activities that we could do together so
she felt as special as her older sister.

Kids are all different. Some will love cycling and
some will not. Respect your kids and their attitudes
toward cycling or other activities they might choose
to participate in.

One of the neatest things about cycling on a tandem
with my daughter, is that at 11 years old I was
stronger and I supplied a little extra effort climbing
or at the end of some longer rides. Now that my
daughter is 20 and I am approaching 50, she is
supplying the extra effort on the climbs and at the
end of longer rides. When she was young I encouraged
her to explore her limits. Now when we ride together
and I tire a bit, it is she that encourages me and
tries to help me continue to push my limits.
Chuck Harmon
An abbreviated pictorial history of the Precision Tandems gang.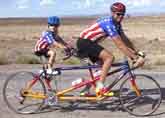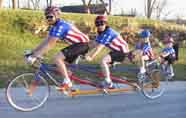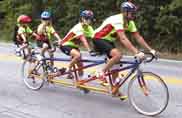 [ Contact Us ] [ Home ] [ 1st Visit ] [ Tandem Display ] [ Accessories ] [ Parts ] [ Close-Outs ] [ Ordering Info ] [ About Us ] [ Links ]