[ Home ] [ 1st Visit ] [ Tandem Display ] [ Accessories ] [ Parts ] [ Close-Outs ] [ Ordering Info ] [ About Us ] [ Links ]
BAK 2005 - COURTNEY'S GREAT ADVENTURE #2
Again with Help from Natalie!
All of us have teased Courtney at times over the past year about her 'never wanting to do BAK again' after her successful 2004 completion, but to no avail. She has let us all know in no uncertain terms (expletives deleted!) exactly how wrong we were about that notion!
A review of the trip this year revealed probably the longest possible route for crossing Kansas since it traversed the state from the very southwest corner to the very northeast corner of our longish state. Given the severe headwinds day after day experienced last year we could only hope that the known prevailing winds would be an experienced reality providing a very welcome assist on our trek, yet to be planned.
Route & Itinerary
Friday, June 3
(EARLY START)
Colorado Border to Elkhart
18 miles
Sunday, June 5
Sublette to Spearville
67 miles
Monday, June 6
Spearville to Ellinwood
74 miles
Tuesday, June 7
Ellinwood to Lindsborg
63 miles
Wednesday, June 8
Lindsborg to Chapman
65 miles
Thursday, June 9
Chapman to Onaga
85 miles
Friday, June 10
Onaga to Hiawatha
65 miles
Saturday, June 11
Hiawatha to White Cloud
21 miles
TOTAL MILEAGE: 529

THE REALLY LONG WAY ACROSS KANSAS!
We decided to make a go of it and made plans accordingly. Despite early preparations, our new Co-Motion quad arrived very late but just in time for assembly and a single test run before loading it into the van along with the Meridian triplet.
| | |
| --- | --- |
| Courtney's Journal | It began with training. |
| THE DRIVE OUT | COURTNEY'S FIRST JOURNAL ENTRY |

The plan included driving to the very southwest corner of the state (no small task!) and riding the quad on the short opener from the CO border to Elkhart, KS followed by the next full day's ride to Sublette, some 70 miles away. At that point Natalie would return home with mom while three of us would continue across the state on the triplet.

THE CREW AT THE ELKHART, KS CHECK-IN WITH THEIR NEW WATER BOTTLES
Arriving in Elkhart we were greeted with a dismal, wet and dreary day and opted to forgo the planned short ride. It just did not look like fun and motivation was lacking after the long drive. Given we would start our adventure at the Oklahoma line in the morning with the traditional state line crossing photo, it was an easy choice to hang out and take it easy.

BEFORE THE RIDE IN THE TOWN OF ELKHART, KS
Day 1 - Saturday, June 4, 2005
Elkhart to Sublette
71.6 Miles, 19.3 AVERAGE ON THE QUAD

DAY 1 PROFILE

STARTING AT THE OKLAHOMA-KANSAS BORDER
A quick check of the weather revealed that the wind was in fact blowing at a respectable rate and directly out of the southwest. The sun was out, the wind at our back and as everyone knows, it is ALL downhill from Colorado to Missouri!
Our 9:20 AM start was certainly later than probably 95% of the other riders but were able to catch 15-20 riders during the first hour running at a respectable 18-20 mph. Catching riders is more than entertaining for the girls and sort of a motivation/mission that really gets them egging each other on.

THE START!
Given the mental tempo of the moment we successfully blew every sag prior to reaching Hugoton, a smart thing to do with kids when possible! We learned many moons ago to get the early miles out of the way and 'fast' if at all possible thus minimizing stresses and potential short comings that tend to appear near the end of a ride.

GETTING IN THE GROOVE WITH THE BRISK TEMPS!!
Getting everyone within grasp of the end as quick as possible with everyone in their comfort zone was the unspoken plan!

OUR FIRST REST STOP SOME 30+ MILES INTO IT
We enjoyed lunch at the quick shop and with the clearing sky and southerly winds the temperatures rose permitting the kids to remove their early morning garb.
We passed a Santana and before long they were in our draft. It was a father-daughter team with the girl being several years older than the two we had on board. It was not long and they pulled around us and the challenge was on! The girls were quite vocal about not letting them beat us and then it dawned on me that they had spied a city limit sign in the distance and were going for it. We gave it our all with mutual encouragement being spread through the intercom of the dire necessities to give what it takes! Our ever increasing momentum rewarded us as their power started to lag. We declared a victory amongst us with the girls saying over and over that "girls rule!" "Uh huh, oh yeah, girls rule!"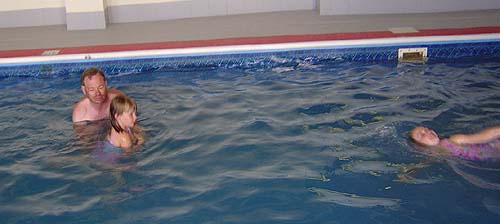 THE GIRLS LIVE FOR THE POOL!
A dip in the pool is always a welcome treat after a good long effort for the day. Everyone had so much fun we discussed riding the quad yet another day and holding over Natalie before she would return home with mom.
Day 2 - Sunday, June 5, 2005
Sublette to Spearville
73.1 Miles, 20.1 AVERAGE ON THE QUAD

DAY 2 PROFILE

READY TO ROLL!
It was another cool sunny morning, something to be expected in an arid climate along with large temperature swings.
We were up 1.5 hours earlier on this day with none of us resting well the previous night for some reason but we were seen on the road by 8AM which is a new record for us with the quad.
The first hour we burned up the road with a 21 mph average! We stopped at a small town where long lines existed for everything from food to the restroom so we did not stay long. Today's ride felt more downhill and flat than the day's previous even though the profile maps do not bear that out.

TAKING A BREAK BEHIND THE QUICK SHOP AWAY FROM THE CROWD
We rode on into Dodge City, found the local DQ and managed to find someone to shoot a picture of all of us before leaving.

YEP.... LOOKS LIKE ANOTHER DQ!
Boot Hill proved to be pretty much right on course for us but to make sure we did as directions from a local person. While viewing the museum we tried to convey to the kids the nature of the old west. There is nothing like "Gunsmoke" and Matt Dillon to bring the image alive in your mind!

BOOT HILL.. AND TIME TO ROLL!
We decided to literally 'get out of Dodge' and headed east on highway 56. In short order we came upon a fatal accident where a pickup truck was hit head on by a semi tractor trailer sometime previous detracting in a serious way from the pleasures of the day.

ROLLING THE LAST MILE OF THE DAY WITH EVERYONE IN GOOD SPIRITS!

ANOTHER SAFE LANDING AT OUR DESTINATION


A MOMENT OF RELAXATION PRIOR TO BIDDING SUE & NATALIE FARWELL FOR THEIR JOURNEY HOME
We setup camp for the night after Sue and Natalie's departure only to discover that the tent Courtney and I packed was missing its rain-fly. This created a near panic attack full well knowing the odds of making it across Kansas without it raining on some evening was near impossible. Realizing we would be traveling through Great Bend the following day we counted on picking up a tarp at the local Wal-Mart and making do.

A TIRED COURTNEY CATCHING UP ON HER JOURNAL
Day 3 - Monday, June 6, 2005
Spearville to Ellinwood
90.3 Miles, 20.5 AVERAGE ON THE TRIPLET

DAY 3 PROFILE
When someone offers to haul your luggage to the truck you know it is going to be a good day! Hence our first day on the triplet started in just such a manner. We also managed to leave the quick shop just after 8:00 which is good for us being such morning people and all... NOT!
Despite our early rise, we found ourselves to be one of the last out of town given most started very early on this long 90 mile day. The highway was new and smooth as silk and our tires hummed quietly along. The sensation of realized acceleration and maintaining a good speed was a good feeling on the lighter down scaled bike. Generally the third day of a tour is the hump day for us as it is a bit hard to get over the accumulated fatigue and multiple sore spots that seem to reach their peak after two long back to back days. All in all we were in the mood for a good ride and bound and determined to enjoy the day.
An early lunch was had in Larned to replenish those spent calories before making our first detour to Pawnee Rock, a historical landmark on the Santa Fe Trail. We stopped and made some phone calls trying to reach our friend Dr. Joe to get his opinion of a serious looking eye irritation that Julie had develop during the night. As luck would have it he was in surgery in another community but we were able to get enough info from a technician that we felt comfortable continuing without seeking help in Great Bend.

ATOP PAWNEE ROCK LOOKING GENERALLY SOUTH
Our amazing 21.7 mph average was soon to drop as we rolled into Great Bend. Since it always seems to rain on BAK, the missing rain fly for our tent continually plagued our minds hence it was a relief to find the local Wal-Mart. We were due for a rest anyway given the speed we had run and the distance traveled so the break was without guilt. I exited the store with a big smile on my face, a tarp complete with camouflage camping rope, tent stakes, a knife, a bunch of bananas, and some Gatorade. We were now all set!



COURTNEY RELAXING 'KID STYLE' AFTER A 90+ MILE DAY AS WE SETUP CAMP

Once in Ellinwood we found a great shaded and sheltered campsite on the east side of the school. The only typical drawback to good campsites is the distance we must haul all of our 'stuff'!



STARTING TO WIND DOWN AFTER OUR SHOWERS AT THE... YEP YOU GUESSED IT, THE DQ!

The town greeted us with open arms and we were interviewed by a women from the 'Great Bend Tribune' who later sent us a link to the story and photo she had taken.



COURTNEY LEARNS THE NUANCES AND ART OF POOL

Many riders seemed to have no trouble finding the local pizza, bar and pool hall where we really started to relax!



WORKING ON HER JOURNAL AS THE SUN SETS
Day 4 - Tuesday, June 7, 2005
Ellinwood to Lindsborg
74 Miles, 18.4 AVERAGE ON THE TRIPLET

DAY 4 PROFILE

Lindsborg, the destination of the day, had an allure given it is a Swedish community. Having the last name of 'Johnson' along with some Swedish blood likely helps peak one's interest.
Despite arising at a 'gawd' awful 6:20 AM, there was no one around offering to haul our luggage by the time we were finally ready to leave on this fine day. You will note in the photo below the vacancy of tent city as we rolled right through the camping area with nary a tent in sight. Usually there is only one truck remaining and we much keep a watchful eye out so it does not leave! Ah yes, to be a morning person! And the other realistic factor is the necessity of allowing Courtney to get some extra rest since everything does go better! Did I mention that camping for two is WORK! That said, Courtney with increasing maturity was able to help more this year. Julie's eye was thankfully better today and a relief for all.



AN ALL TOO FAMILIAR MORNING SCENE OF HAULING OUR 'STUFF' TO THE TRUCK

We dashed out of town skipping breakfast with plans to grab our morning calories at a quickie shop we hoped would be in Claflin, a short 10 or 15 miles down the road. Others obviously had the same idea as the sole open food source in this town was nearly cleaned out reminding me of what it must be like to be the last grass hopper following the swarm.



A KODAK MOMENT

It was tough going today by comparison with a cross wind rather than a tailwind. The previous days efforts and speed no doubt had taken a bit out of us by now as well.



ONCE IN A WHILE WE FIND SOMEONE TO TAKE OUR PICTURE TOO!

We received a hint of rolling terrain getting closer and closer to Lindsborg. The Swedish community more than lived up to our expectations. We enjoyed some lean buffalo burgers for lunch and then set out in search the city pool in short order.



SOME KIND SOUL EMAILED THIS PHOTO TO US - THANKS!

We asked a local resident if they would us setting up our camp in their front yard. They said yes without hesitation along with offers of cold drinks. It was a great spot with large trees and a place to hang a clothes line. There were a couple of small kids living there for Courtney to play with as well and a friendly dog that kept us all occupied at times.
The wait was way too long for food at the local thirst quencher establishment where we had ordered our turkey sandwiches. It is sometimes a challenge for us to find food in the small BAK towns given we don't eat beef and also avoid fried foods as best we can.
As evening drew near the town pulled out all the stops by having the local students perform Swedish dances. We could only speculate how hot they felt given the evening temperatures with the clothing they wore.



COURTNEY ENJOYING THE MOMENT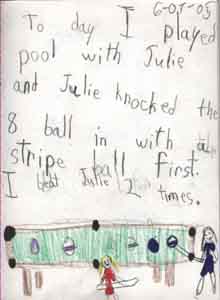 Day 5 - Wednesday, June 8, 2005

Lindsborg

to Chapman
70.5 Miles, 19.3 AVERAGE ON THE TRIPLET

DAY 5 PROFILE
We had a new record early start time for this non morning team! Yep..... up at 5:58 (gasp!) and left the McDonalds on the edge of town at a whopping 7:45 AM... not a misprint! We actually had riders on the road to pass right from the get go this morning rather than chasing for an hour to catch the first rider! The cross tailwind permitted maintenance of a pretty decent speed hence the passing of a large number of riders kept us all motivated. The presence of other riders and riding fast certainly has an entertainment value for Courtney... not to that the adult members don't feel the same way!
MISSION ACCOMPLISHED! NATALIE'S SMALL PIECE OF BAK HAS BEEN ENTRUSTED TO THE USPS.
Our rewards came when we stopped at Hope and realized we had beat most everyone to town for lunch. Rather than doing the smart thing though, we went to the post office first so Courtney could mail a post card home to sister Natalie. By the time we made it to the grocery store an incredible meandering line had formed throughout the store. Customers were seen leaving $10 bills with instructions to keep the change. We, along with many others, finished our lunch and tossed the trash long before making it to the cash register!
The day had shaped up to be fun and rewarding but little did we know..... The temperature was climbing and we were feeling the heat reminiscent of 2004 BAK as we looked forward to staying in a town with which we were already familiar from last year's BAK. We had visions of returning to our previous year's campsite and hitting the showers before the crowd arrived. It took us 70 miles to reach Chapman, about 5 miles more than indicated on our route map. I have always wondered why stated routes in general always seem to end up being longer!
The town was out to greet us and we spotted the one restaurant to never go to again along with the other one which would be okay if we got there before the swarm, hence our mental plan was forming and fast.



STAKING OUR CLAIM WITH JULIE'S NICE STOUT TENT BUT LITTLE DID WE KNOW....

We made our way to 'our' (yes we claim ownership!) campsite, found our sheltered triplet parking area and proceeded to stake our claim. We were able to get showers before the crowd hit and enjoyed the leisure time checking out the town. Being a bit shy on effective tent stakes resultant of forgetting the rain tarp we headed for the local hardware store. This store was nothing short of incredible as it had virtually everything under the sun somewhere in the very organized 'stacked to the ceiling' place. Everything was coming together very well for the day but little did we know....



COURTNEY GETTING THE HANG OF HER NEWLY LEARNED GAME!



GOT MILK?

Yes, we made it to the restaurant before the crowd and everything was in good shape. The town drew on its previous year's experience and had a great Mexican buffet lined out for us and extra supplies of refreshment on hand. Experience does sometimes pay off!
Despite the lowering sun the temperature stayed up making me ponder the ability to get needed restful sleep as tomorrow was the long day but little did we know.....



A CASH PAYING CUSTOMER!

We turned in with anticipation of the long ride tomorrow given it was billed as the longest day of the tour. And more importantly Courtney vowed that she wanted to do a full century that day having spoken about it often during the previous days but little did we know....
Day 6 - Thursday, June 9, 2005
Chapman to Onaga
100.6 Miles, 16.7 AVERAGE ON THE TRIPLET

DAY

6 PROFILE

Predawn lightning, blowing wind and rain jolted us from a deep sleep and little did we know that our tour experience would take such a drastic turn. I staggered out of the tent with rain intensity increasing by the second trying to make my way in the dark to the shed where we parked the triplet. The high winds ripped our tarp loose from the tent hence it needed to be secured which I did once I was sure the wind would not blow the triplet over and cause damage.

A SHED ON WHEELS BEHIND A CHURCH THAT IS UNDOUBTEDLY A PORTABLE CHRISTMAS MANGER SCENE.

THE DAY SEEMED TO START WELL WITH A LULL IN THE STORM BUT THIS WAS ONLY THE BEGINNING!
The rain let up shortly after dawn and I recall being thankful given we had a long day ahead of us. Riders certainly wasted no time in packing up their wet belongings during the lull and hitting the road as most of the tents and riders had vanished by 6:30. Then it started raining, again. Uck! Oh well I thought trying to be optimistic.

A VERY OMINOUS SKY LOOMING DIRECTLY OVERHEAD BEFORE HITTING THE ROAD.
We prepared Courtney best we could mentally and physically as we sought shelter in the school while I scavenged an extra trash bag. She donned a shower cap, rain jacket and warmer clothes as we headed to the local Casey's for early morning calories. We were probably the last out of town given the time spent at Caseys getting a bite to eat! A recumbent tandem had also stopped at the Caseys and struggled with a dragging front brake. We were able to get it rolling freely for them and said our farewells. It was a light cool rain but not too cold and we enjoyed a good tailwind but little did we know..... We did all that was possible given what we had to make sure Courtney's hair was tucked inside of her rain jacket and built an extra rain-fly going from her helmet down so the rear wheel spray would not get on her hair nor go down her back.
We found ourselves climbing a series of hills, one after the other. And looking at the day's profile later on it was not my imagination! Increasing lightning intensity and closeness was making us all nervous. Courtney started asking questions seeking reassurance. The electrical portion of the storm seemed to favor being in the west and it made one ponder options when a lightning bolt struck the top of a hill on the horizon. Hoping it would stay west of us was a falsehood given another was soon to strike a hill top on the right. And then we we heard the paralleling power line buzz just before another strike. "We are right in the middle of it!" I spoke through the now saturated intercom. The mics were starting to create static a sure sign they would stop working in short order until they had a chance to dry out.
It seems any time and anywhere in KS that you head north you go up hill and the start of today's ride was no exception. It would have been a pretty scenic day with the rolling hills if it were not for mother nature! We were to turn west after probably 20 miles but little did we know....
We reached the small town, turned east and our speed plummeted due to the driving wind. The road leaving the community provided a light downhill run which did not offset the extreme winds. The highway took us across the Lake Melvern dam where the 25-30 mph cross winds with driving rain literally knocked us around on the road. And it was cold... and getting colder. The wind chill at this point was taking an effect and Courtney let us know she was getting cold. We struggled across the dam knowing there would be some shelter on the other side and hoped she would warm up. I encouraged her to pedal harder and explained how exertion generates heat from within. We spied a sag in short order and added her leg warmers making do as best we could. Other cold wet riders were there seeking shelter in the old van type truck so at least we had caught a few by this time! Reluctantly Courtney got on the bike as I explained to her that the town of Riley, north of Manhattan, would hopefully have a store where we would be able to purchase something warmer for her to wear. We started rolling better after the short stop but Courtney's complaints were now more frequent and louder as she was becoming miserable. We finally made it to the town and spied a convenience store where many riders were holed up for the same reason. Hot chocolate and coffee were the number one items being purchased. Scavenging the store I found some electrical tape and requested a trash bag.

OKAY... AFTER ALL OF THIS I GUESS YOU MAY TAKE MY PICTURE!
Courtney was mentally down and had at this point she had had enough thus she requested several times to go home. I stepped outside, unbeknownst to her, and found enough signal in the area I might be able to make a call. Talking with Sue between dropped calls I explained the situation and asked her to be on standby as there was no telling which way a tired, cold and previously hungry kid would go. With great coaxing we managed to get Courtney wrapped in plastic so she would remain dry and be windproof. As cool as she was there was no concern of her getting wet from sweating.

STYLIN IN LEATHER LOOK PANTS!.... NOT!
After bundling her up she finally relented to having her picture taken as I assured her she may want to remember this adventure and look back on her accomplishment at a later time. We headed out and continued our new found chant of "We don't need no stinkin SAG wagon!" ...and "Only wimps ride those stinkin' SAG wagons!" It sounded good anyway at the time and more importantly it worked for her.
We arrived at the designated lunch stop at Tuttle Creek stationed just below the dam. My words of encouragement turned to something like, "We will have it made now as we are going to turn and go north and have a good tailwind!" Knowing this particular road from the KS State Champ road races and other rides, I was aware that the wind assist would be offset by the continual northerly climb but at least the wind chill would be gone.

LUNCH BELOW TUTTLE CREEK DAM
Courtney was really getting into the spirit of things now as she was singing "Oh what a beautiful morning, Oh what a beautiful day.......... everything's going my way!" And you know what... it worked! It started getting lighter, the sprinkles stopped and low and behold out in the middle of no where on a back county road at the top of the hill appeared this small church selling of all things ice cream! Against my better judgment we stopped. That said, we had no longer stopped and the sun came out followed by the road drying up before we left! Now if that did not beat all!
We left with an entirely new outlook on life and rolled into Onaga but little did we know....
We toured the town which seemed short on funds given the general condition of the roads and all. It was a very small somewhat destitute looking community and it only took a couple of minutes to figure out there was very little there in the way of places to eat or hang out.

A PHOTO TAKEN BY OUR FRIEND MIKE ROCKEY
Out of the blue I said, "Hey Courtney! Do you still want to finish the century? You have only 11 miles to go." Now if I only had the camera in my hands to capture that moment on Julie's face! The two of us coaxed Julie's tired sore biscuits back onto the saddle and finished it off. What a day!!... little did we know.... the best was yet to come!

THE VIEW FROM THE TOP NORTH OF TOWN COMPLETING OUR CENTURY
We returned to town and had a great meal at the local pizza place which was overrun with cyclists. The school where we were staying was situated atop a hill and our legs protested with the final effort as we were over 100 miles for the day. Courtney had certainly met her goal!
It was a beautiful evening and Courtney had drifted off to sleep a little earlier than usual. We were sitting in the grass enjoying the pleasant evening as were others around us. Off in the distance a bit of lightning was noted and actually question as to whether it was real. It became apparent that it was in fact real and getting a bit closer but looked like it would skirt to the west.
Our conversation was interrupted by a sudden huge high gust of wind! The wind chased us into the shelter of our tents as sprinkles started to sting our skin. Within moments it all intensified in multiples. I could hear people yelling in the distance as my tarp was blown from our tent. Courtney remained sound asleep thus far through all the ruckus. I heard Julie calling out something, crawled out of my tent as it was collapsing from the wind pressure all the while trying to hold on to what remaining tarp attachment there was. My tent was coming un-staked at this point despite the weight of everything inside including Courtney! I spotted what remained of Julie's tent with my flashlight as it had totally collapsed around her, had become un-staked thus trapping her. She was unable to find the door to get out! I reached her tent and was able to eventually locate the door and unzip it as she continued to do her best to to hold everything down and keep everything from blowing away. Now that she was free I told her I needed to get back to Courtney, get her out of the tent and inside thinking that the possibility of hail and or a tornado might be on the way.
I opened the tent and despite the howling wind and the slapping and flapping of tent material, I had to awaken here. She was very groggy but quickly realized something was amiss and understood what I was saying. She offered the best response instructions a parent could hear in such a situation which was, "Yes daddy." It was a long ways to the school gymnasium and rain was starting to fall a bit harder. We struggled into the wind while keeping a watchful eye out so as not to trip in the dark. Tents were down all around with the exception of a few. We ran to the school building, found what I felt was the safest spot for her in centrally located hallway having nearby bathrooms with instructions to remain put aside from going into the bathroom if anything were to start breaking around her. I told here I would be right back with our bedding but before leaving reinforced that she was to stay put and not move no matter what unless she needed to resultant of the storm.
After running hard back to the campsite I found Julie searching with her meager flashlight in the wind and rain for missing items. I assured her that she would be able to find any missing items in the morning. I wadded our entire tent up with everything inside and drug it across the field and into the maintenance shed followed by retrieving the bike.
It seemed I was on a run everywhere I went, something not easily done after 100 miles in the saddle but that never occurred to me at the time. Dashing through the now driving rain and high winds back to the school I checked on Courtney. She was emphatic that she did not want me to leave again. Having laid out her sleeping bag and retrieved her favorite stuffed animal, O-Joe, I reiterated previous instructions and told her I would be right back as I had everything inside but needed to make sure Julie was okay and to see if she needed help.
Thus our long highly eventful grueling day of reaching Onaga was now capped off with a night robbing us of needed rest and sleep. Julie eventually made it into the gym area after spreading out her wet stuff in the maintenance shed and taking inventory of everything. Her tent was designed to withstand high winds and the force was sufficient enough that it totally collapsed bending the support poles along with ripping the stakes from the ground, something that she related had never happened before during other windy storms while camping.
Litle did we know.......!
Day
7 - Friday, June 10, 2005
Onaga to Hiawatha
67.7 Miles, 17.1 AVERAGE ON THE TRIPLET

DAY

7 PROFILE

The day started with the inconsiderate early predawn risers talking and clomping about the hallway with cleats. Talk about tired and being sleep deprived! That was the way our final long full day's ride started. The roads were dampish as we tried to warm up our tired bodies and exhausted legs which seemed to have been left somewhere yesterday. The rolling hills made our muscles protest and leaving on an empty stomach did not help either. It was not long though before we stopped at the first sag and had some breakfast rolls, bagels and bananas hence we were set to go!

THE K-STATE GAL WE HAD SEEN THROUGHOUT THE WEEK
We actually found ourselves riding on familiar roads as some of our regional century rides have taken us to Hiawatha several times over the years. Riding due north we were able to see the remaining damage of the weeks previous tornado, particularly to a farm property a few miles south of town just off of the highway. It was not exactly a pleasant thought given the sky was darkening by the minute as we pedaled north trying to outrun the impending storm.

OUR ARRIVAL IN HIAWATHA WITH OMINOUS STORM CLOUDS APPROACHING
We had a few minutes to spare but not many before the rains hit. Our short lived conversation about where to camp was ultimately and immediately decided by the torrential down pour. Given our previous night's adventure combined with a second nearly vacant gymnasium available, the choice was easy. Thankfully the storm cell moved through enabling us to get out and find a place to eat. We walked the town, something we have found good for our tired legs, but only after being dropped off by the courtesy van shuttle service. Other shuttle riders referred us to a local Bar and Grill that served us well.
It was now our second night to stay in a gym due to weather and given what we had been through it seemed fair and fitting!

EVERYONE HAVING A GOOD TIME AS THE END OF THE TOUR DRAWS NEAR

Local gathering places in the small communities visited by BAK are quickly overrun with sheer numbers of hungry and thirsty bike riders
Day
8 - Saturday, June 11, 2005
Hiawatha to White Cloud
20.8 Miles, 19 AVERAGE ON THE TRIPLET
We started out the following morning.... late.... again... big surprise! And looking at the radar available on the TV in the gym, we realized it would be a race to the finish. The view to the southwest was dark and ominous looking and it was heading our way. Fortunately the storm was taking the same path to White Cloud as ourselves which would buy as a bit of time.
We grabbed a bite to eat from the kitchen leftovers at the risk of losing precious time and headed out on our final leg. We anticipated covering this final stretch in about 1 hour as we were motivated to outrun the storm. The roads remained damp from the overnight rains but keeping ourselves and the bike clean at this point considering what was about to over take us was a secondary concern. But each time we turned north we would lose ground with the now enveloping clouds.
With only 2 miles remaining to White Cloud, the sprinkles turned to light rain thus soaking the pavement. Bummer! We sought the finish and hastily had our traditional picture taken down by the river and sought shelter.
Thankfully the local pastor opened the church for everyone so there was a warm dry place with facilities for folks to go. He had no idea BAK was coming to town which seems typical of the communication or lack thereof with many of the communities that either enjoy or endure a BAK passage.

THE FINISH AT THE MIGHTY MO!
It was now time to find Sue and Natalie but given the absence of T-Mobile coverage since leaving the Manhattan region that was not possible. Eventually they showed up and three tired and damp people were grateful to be in a warm van. We found it necessary to skip the final lunch provided by BAK as the line was incredibly long and moisture continued to fall from the sky thus the wait would not have been fun.
The 2005 BAK was certainly different than the 2004 experience but I suspect that is true of them all. Each event no doubt has their own unique challenges which are mainly weather related, at least for us. I do know that we can withstand the heat and wind much better than anything cold and wet! The weather did dampen our spirits and seemed to take something away from the experience this time but the adventure remains without regret.
Riding the quad the entire way along with the dynamics of two tired siblings being able to be in reach of each might be a bit much for next year so maybe it is Natalie's turn in 2006 or possibly 2007! Time will tell.
One additional item of note was learning from fellow riders that they had come on BAK 2005 resultant of reading our 2004 story of the adventure. In three words, "Go for it!" You won't have any regrets as the good days always override in multiples those days that test you physically, mentally and emotionally.
The following appeared in the KU Alumni publication following the event.
[ Home ] [ 1st Visit ] [ Tandem Display ] [ Accessories ] [ Parts ] [ Close-Outs ] [ Ordering Info ] [ About Us ] [ Links ]