[ Home ] [ 1st Visit ] [ Tandem Display ] [ Accessories ] [ Parts ] [ Close-Outs ] [ Ordering Info ] [ About Us ] [ Links ]
BAK 2006 - COURTNEY'S GREAT ADVENTURE #3!
It's an exciting time of year with school winding down as the kids look forward to summer and all it brings. They rarely know what awaits them but one thing is for sure, it unfolds rapidly! Ah... the anticipation!
Once discovering the challenges and charm of BAK, it remains in the forefront of one's mind as summer plans are made. The ever increasing challenges of balancing crazy schedules, not to mention the whims and desires of all concerned, usually finds us pulling it all together in early June! Sometimes life and business are just way too hectic!
Then there is the old van, always a topic of conversation. And as before, a fleeting bit of trepidation surfaced as we hit the highway in our 23 year old vehicle now just broken in with an excess of 1/4 of a million miles! But one must realize that the feeling could only be brief given the reliable alternative transportation stored inside along with highly capable people too! The old beast now sports an embarrassing number of new parts including a rear wheel bearing and seal, front wheel bearings and rotors, brake calipers, brake pads, all hoses, all belts, all filters, rebuilt carburetor, plugs wires, U-joints, balanced drive shaft, rear wheel cylinder kits, water pump, timing gears and chain, front seal, oil, transmission oil, fuel pump, and an alternator. Actually it is mechanically similar to a new vehicle in that trip prep includes merely filling it with gas and changing the oil! At least as cyclists, we have been assured by those in the know, that our priorities are straighter than most given we haul $20,000 of cycling equipment in a van generously valued at $800 and yet manage to squeeze in 5 people too with all their stuff! And yes, our dear friend Dick Frisbee's comment of "Your vehicle is really depreciated out!" continues to have more meaning year after year.
Our trip west to the start was a struggle with a headwind that curtailed our top speed to only 65-70 mph.
Leaning and fallen telephone poles with drooping and downed wires paralleled much of one highway giving rise to tales of yesteryear. The kids learned a bit about how fast technology has changed our lives in recent decades. We managed to stop and salvage a few old glass insulators as souvenirs! Surely these will be worth something on E-bay someday!
BAK routes change yearly and the 'Southern Route' was the call this time around. Having heard Julie's descriptions and tales of this passage from her previous year's adventures, it had taken on an allure of its own well before the start. The route was a welcome change from years past too and the kids let it be known that they were anticipating seeing some armadillos!
Route & Itinerary
Friday, June 9
(EARLY START)
Colorado Border to Johnson City
18 miles

Saturday, June 10
(REGULAR START,
Colorado Border to Satanta
66 miles

Sunday, June 11
Satanta to Ashland
84 miles
Monday, June 12
Ashland to Medicine Lodge
70 miles
Tuesday, June 13
Medicine Lodge to Clearwater
75 miles
Wednesday, June 14
Clearwater to Burden
57 miles
Thursday, June 15
Burden to Neodesha
67 miles
Friday, June 16
Neodesha to Girard
51 miles

Saturday, June 17
Girard to Mulberry (at the Missouri State Line)
15 miles

TOTAL MILEAGE: 485







Preparations are all important to the overall experience for everyone and with two successive BAK's under our belt as a team, we went into this year's event better prepared with more base miles, particularly those achieved by the kids. Courtney at 8 years of age logged 1800 miles before the second week in June and 6 year old Natalie had 840 miles to her credit.
| | |
| --- | --- |
| COURTNEY TRAINING ON HER TREK ROAD BIKE!! | NATALIE TRAINING ON HER SPECIAL RACER!! |
Our Co-Motion aluminum quad along with our new Precision triplet were on board the van this year. The last minute plan was to ride the quad for the first 2-3 days with Natalie before she would return home with Sue as in years past.
SUE TAKING OUR PICTURE AT THE OBVIOUS...
The drive across KS is always long but eventually we made it to Ulysses where we found our motel. We thought it best to head on to Johnson City for the registration check-in and from there to the border for the early start. Registration went smoothly and with a final hearty "Westward Ho!" we struggled in that direction once again. Much to our dismay the road surface had recently been ground off. We quickly saw a recumbent turning around giving up on the idea that a vibratory massage was good for him and his equipment.
GETTING READY TO START AT THE COLORADO-KANSAS BORDER
We decided to give it a go realizing that a quad rides much smoother over such a surface and it proved to be totally doable for us.
Each year Courtney prepares her own journal, a written and pictorial record of her experience. This is how it all started in 2006. As the closest people to her, we find it interesting to compare journals from one year to another as she matures.
| | |
| --- | --- |
| Courtney's Journal | KCBC Racing Team Colors |
Early Start Day - Friday June 9, 2006
Colorado Border to Johnson City
16.4 Miles, 18.1 AVERAGE ON THE QUAD
The run east with the cross tailwind was excellent despite the rough road surface. With the help of the dastardly wind we fought driving, we quickly arrived under our own power at Johnson City with a great riding average.
Having gotten the first leg behind us and effectively shortening our first day's ride, we drove back to Ulysses in search of food. We sadly discovered this small town rolled up the sidewalks at a very early time as the grocery store was closed as was the quickie shop! With only snack food remaining, that was devoured it in short order, we managed to get the kids in bed after 9:00, a late hour for them.
Day 1 - Saturday, June 10, 2006
Johnson City to Satanta
51.3 Miles, 22.4 AVERAGE ON THE QUAD
"Rise and shine!" First off out of the motel parking lot we saw an ambulance attending to a fallen rider, a victim of crossing the diagonal railroad track improperly which did not set the best tone for the day. These situations really get to me making me always ask, how hard is it to cross a track at 90 degrees, a must do?!
The drive back to Johnson City went quickly as it provided a view of nearly every BAK rider given our typical late start. "Just more to chase and catch!" was the comment that would later spur us on.
We mounted up and headed out without a hitch. With the road to ourselves, we enjoyed the tailwind and high speeds as we burned up the pavement with our 25.5 mph average, a speed held all the way to Ulysses. We reeled in many riders with our fast pace combined with blowing every sag in sight before arriving back at the motel. Sue greeted us with, "My you made good time! I just got here shortly before you guys!" Stopping at our personal sag has its benefits as we hung out and lounged for a while too. But then we were behind the masses again.
By this time the RR track had now victimized two riders and we were not about to be the third as we crossed the track at 90 degrees. Duh!
LEAVING THE MOTEL IN ULYSSES WITH NATALIE LEARNING ABOUT HER SPD PEDALS
We continued our 'no sag' approach thus improving our time all the way into Satanta. We arrived with an average of 22.4 for the day and somewhere we managed a maximum speed of 36.9 mph, something very hard to do in western KS!
RIDING NON STOP AS FAST AS WE CAN
(Looking at this photo I now see what other's mean about the perfect declining size from front to rear!)
We checked into the Satanta motel and as promised we scouted out the local swimming hole for the girls. The kids were finally persuaded to leave after 1.5 hours so we could seek out dinner.
NATALIE AND JULIE HANGING OUT WAITING FOR THE KEY TO GET IN
The Mexican-American cafe on the main drag looked like the place to be and certainly should have been capable of replenishing our nutritionally deprived bodies. What a misconception! Servings turned out to be small, the food was very bland, and the service terrible. Our order was wrong, the guacamole never came, and they let us know they had no plans to fix any of it for us. The entire dinner took 1.5 hours too! There won't be any recommendations forthcoming for this establishment! Did I mention they were no longer busy when we arrived?
Day 2 - Sunday, June 11, 2006
Satanta to Ashland
85.5 Miles, 12.6 AVERAGE ON THE QUAD
Things happen and not necessarily for a reason. This was to be one of those days when mother nature would balance out the kindness and fun we all enjoyed the previous day. The word balance is a bit too kind though as the distance we were dealt for this leg would be 24 miles longer, thus the scales were tipped the other way.
READY TO ROLL OUT THE NEXT MORNING WITH A CHILL THE AIR
It was a crisp morning with very clear skies but there was a promise in the breeze that it would be a nice warm pleasant day. The wind was already blowing despite our near record early start. This clan hit the road by 7:30 AM? Unbelievable! Would you believe we were the last or near last out again even at this early time? The distance today was long and with an apparent abundance of energy remaining from yesterday's 'cake walk', everyone was obviously raring to go.
WORKING OUR WAY AGAINST THE WIND
The strong east wind crippled our speed as we recorded a dismal 12-13 mph on the easterly stretches. It was tedious at best after enjoying yesterday's motor scooter pace. We skipped the first sag but quickly abandoned our 'no sag' pattern that had lasted over 2 days now.
OUR FIRST SAG STOP OF THE YEAR - A RELIEF TO SEE!
(Note the flags sticking straight out in the wind!)
The fixings at the sag were a disappointment given pretzels and hot tamales only go so far. We were of course spoiled by this point from our own domestique!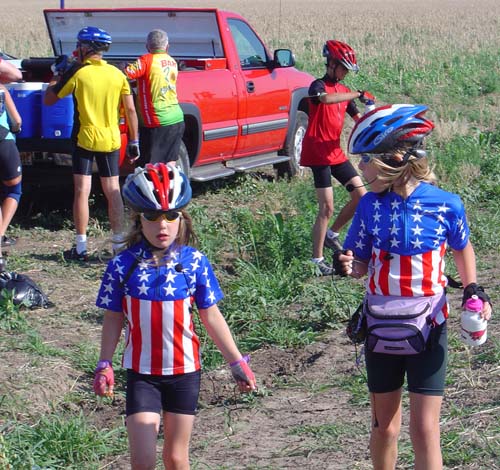 Despite the increased challenge brought on by the wind, it was an interesting morning's ride with the improving scenery and a real highlight for the girls was seeing horses running through the pasture in a race to get to breakfast!
We rolled into Plains and skipped the lunch offerings advertised by the locals, opting to struggle through to the larger town of Meade.
We made a great decision to roll on to Meade as upon our arrival women were hollering on street corners about a church sponsored feed for only $5 at the park. The park turned out to be beautiful and well shaded plus it had a playground for the kids. They had a great spread complete with burgers (for the mad cow / heart attack folks in the group), ham and or cheese sandwiches combined with multiple salads, chips, and Gatorade to wash it all down.
GETTING READY TO LEAVE THE LUNCH AT MEAD
We caught many riders upon our arrival at Meade and left with many hanging around but in general we were once again behind. Our bellies were full but we all experienced fatigue from the 50 mile struggle into the wind. We entered rolling hills that combined with the headwind caused us to pull out all the stops to keep moving at times. The ferocity of the wind was increasing and the temperature along with it. In short we found ourselves struggling and feeling miserable at times.
We had obviously left the flat lands behind as the hills proved to be long and tedious in the heat. And to make matters worse, the wind was trying to push us back down them! We came upon the first sag after lunch which was conveniently placed atop a hill. Having filled our bellies not long ago, we chose to push on knowing there would be a second sag in about 10 miles. I opted to carry only one water bottle for the next 20 mile stretch which would be sufficient for the time and distance.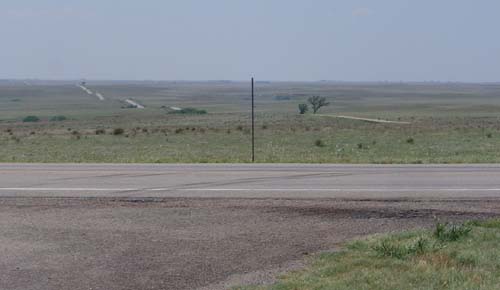 The scenery was rapidly changing with sharper rollers that could no longer be 'rolled' due to the wind holding us back. Major erosion areas were also seen with colorful markings amidst the red dirt. Julie remarked that, "It is almost as if we're in another state!"
The hills, heat and fatigue brought on more coaching from the captain for all to pull together as a team, an effort needed to make it up the hills. It was in my mind more and more that there would be a time coming very soon when we would be dropping into our granny and crawling at a snail's pace up the hills. And then it happened. The call for power was futile. There was zero response from the engine room. We dropped to the granny ring for the first time and literally crawled up a couple of hills as we had run out of proverbial gas. It was demoralizing to be passed by riders for the first time on this tour.
The girls were getting grumpy (don't forget they sit one in front of the other!), bored, hot, and starting to pick on one another. Even with the intercom it was difficult to hear our own voices over the roaring wind from the captain's position so it was difficult to discern problems with the kids until it was well underway.
We had not seen Sue for the longest time and then she finally passed us with a load of riders that did not continue on with the current conditions.
We finally reached the long sought out 2nd sag. We struggled getting off of the bike in the middle of the dry hot Sahara of KS to only learn that this sag had run out of water! To make matters worse, Julie was feeling sick, I had filled only one bottle at lunch, and Courtney, not wanting her hot water had dumped it expecting to fill it with something cold! When Courtney said she dumped her water, I replied, "You did what?!" Not her fault by any means but certainly a learning experience for all of us!
We salvaged the remaining cubes of ice and were given a banana to eat. With our blood sugar up a bit and having already waited several minutes for water, we decided to press on. Our own personal sag continued to be busy sagging in groups of riders, one after the other, and was no where to be found.
We left the sag on a southbound stretch and for the first time today with a gravity assist, we felt like we were rolling, really rolling! This was a mental break we sorely needed!
Thankfully Sue was driving back after hauling more riders in. We successfully flagged her down as we were in a state of dehydration with no water source available. Courtney, having seen so many riders hauled in, let it be known that she had no intention of getting a ride because it would mean she would not have Biked all the way Across Kansas and not have completed BAK.
It turned out we were only one mile from the next sag which we were then able to skip after getting water from Sue. She continued hauling riders in as the numbers of dropouts increased by the hour.
As the road curved east and the wind hit us with force we started counting down the miles knowing darn well we and the kids were going to make it despite the 400 riders that abandoned that day! Courtney and Natalie were now taking turns asking how many more miles as their grasp of distance is very good, for some odd reason.
Six year old Natalie was a real trooper and in better spirits later in the ride and did not request a ride from mommy when opportunities presented themselves. The standard line used by both kids at times in their past has been, "I want to hold mommy!" Nothing resembling this came close to surfacing. It was as if they had the mindset that they were going to finish this leg evident by them singing,
Zip-a-dee-doo-dah, zip-a-dee-ay
My, oh my what a wonderful day!
Plenty of sunshine heading my way
Zip-a-dee-doo-dah, zip-a-dee-ay!"
...and dreaming of ice cream!
We spotted a quickie shop and with no hesitation raided the ice cream cooler in short order before going to the motel! Dad keeps his promises!
AN OLD MCCORMICK DEERING TRACTOR ON DISPLAY IN TOWN
THE PIZZA IS ALL GONE!
The local "Pizza Barn" had a great buffet with salads and brownies too. We walked around the school and visited with friends and managed to get a bit light headed during the process and other generalized not feeling well symptoms surfaced too. It was time to go back to the motel and hope for a better feeling tomorrow.
We checked the next day's route hoping for a tailwind but learned of increasing chances of rain during the A.M. with continued east winds. And the route was long at 71 miles too!
We would be switching to the triplet as mom and Natalie would be heading east for home, and no doubt it would be a late start due to the long drawn out previous day.
Looking forward to the next day was hard given the distance planned, our state of fatigue, and with a forecast of wind and possible rain. Time would tell though.
ZONK!
Day 3 - Monday, June 12, 2006
Ashland to Medicine Lodge
78 Miles, 13.1 AVERAGE ON THE TRIPLET
Ah yes!... another beautiful western Kansas day. NOT! We were greeted with a strong easterly wind as we headed out at 7:35 but it was dry. Wow.... another early day! No one would have predicted that we would hit the road this early! Having basically set two early start records in a row, it is assured that folks will be thinking something is seriously wrong with us. Actually no one needs an alarm clock when a trash truck empties the dumpster right outside of one's window at 6:15. Needless to say, sleep was no longer in the picture.
ON THE ROAD AGAIN!
For once we were not the last to leave as there were some very weary souls lingering about town. There should be some very rested ones too that wussed out the day before and sagged, about 400 of them! We loaded our bags into the truck for the first time and confidently headed out given we were lighter and should be faster on the triplet.
Within the very first few miles we sadly realized that the wind had a greater velocity than that of the day before as our speed dropped from 14 mph, to 13 mph to 12 mph, to 11 mph, and finally to 10 mph, and oscillated within that range.
LOOKING FOR AN EXCUSE TO GET OFF THE BIKE!
To make up for the constant wind, the countryside was becoming more scenic by the mile as we worked our way to Coldwater, our midway lunch destination. The hills and wind had been very tough but as we reached the intersection that would permit a short north stretch, a well placed sag was there to greet us.
Going north proved easier and very good for our weary legs. Again, we saw many bikes on cars, in vans, on trailers, trunks, etc., like never before which seemed strange given the cool conditions and scenic road. The wind was tough but........ it was not 90 or 100 degrees either. Go ride your bike like the rest of us!
We ordered up the last of the biscuits and gravy served at the local quickie shop, an local old smoker's hangout. Coldwater was surprisingly desolate as few bikes were seen, strange for a ride with an attendance of 800, and we usually catch a few hundred during the ride. We surmised that many hitched rides again on this day. Having been on many tours over the years, we came to the conclusion that there must have been a 'jump on the bandwagon' phenomenon going on here.
The scenery was now rather spectacular for KS, as parts looked like what one would expect to see in AZ complete with mini buttes and towers. We had a 'no town' stretch that lasted forty miles, but sags were placed every 6-8 miles to help struggling riders as the sag-in rate had become ridiculous. The wind actually died down some, and even though it was not in our faces, it had let up enough that we were able to roll faster.
THE SAG HAGS DRESSED AS PLAYBOY BUNNIES WERE A REAL HOOT!
The final few miles to Medicine Lodge rolled well with downhills and easy occasional climbs.
We grabbed our bags from the truck, checked into our motel and did our laundry.
Tomorrow will be another day.
Day 4 - Tuesday, June 13, 2006
Medicine Lodge to Clearwater
81.6 Miles, 16 AVERAGE ON THE TRIPLET
It was a late start but only after going through the hassle of resetting the house AC circuit breaker to get the room cool enough for sleep. Two really long days on the bike must have worn us down as no one was seemingly anxious to get up, let alone leave early.
It was 8:45 when we left the quickie shop, a new record for being late. We were late, very late and there were only two known bikes remaining in town. The climbs were long and steady but not steep as we tackled the southbound stretch. This was good given it takes me about an hour to get warmed up and to complicate things, after this many long days in the saddle, we all had sore butts!
In just a few miles our course turned and the familiar headwind returned. Despite it blowing in our face it was a relief to be able to roll at 15-19 mph so it was light by comparison.
We decided it would be best to roll straight through to the BAK lunch where we did the 'No Beef' option of a pork burger and a veggie burger. We took some photos of Bobby, 4 year old Jamie and Dawn Kizer as they departed with another tandem team composed of a father and 12 year old daughter.
THE KIZER TEAM, BOBBY, JAMMIE & DAWN
We filled our bottles and rolled on east. What a great beautiful riding day by comparison to those previous. We caught the Kizer team with the other tandem drafting behind them. They started drafting us forming a two triplet and tandem train going down the road. We rolled along very well as a group and the miles flew past quickly. Courtney and Jamie would frequently exchange squeaky horn honks!
In short order we picked up another tandem with a 10 year old stoker and invited them to join our growing train. Having skipped the first post lunch sag, the second one was a welcome site. We managed to lose one team with our departure and don't know if they realized we were leaving or not.
MEMBERS OF THE TANDEM TRAIN
After an ice cream and coke stop, we ended up on a very busy highway with some truck traffic that was not enjoyable but the conditions were a given as we were near Wichita. It was becoming increasingly difficult for our group to stay together as fatigue was setting in. Once it was evident that it would be best for everyone to run their own pace, and with our desire to get off of the busy road, we ramped it up and headed on into Coldwater.
OUR QUAINT B&B IN COLDWATER! ...EXPENSIVE BUT WORTH IT!
The town really rolled out the carpet for the BAK riders. Their efforts were huge! They even had a Bier Garden, much to the chagrin of many in the bible belt of KS, one we did not know existed until riding through it for the past few days reading the commercial graffiti associated with such.
THE COURSE PHOTOGRAPHER!
The town had karaoke, food in abundance, a swimming pool, Blue Grass music, and a talented 15 year old singing a variety of oldies.
It was really too bad the BAK participants did not take advantage of the town's preparations as they no doubt had to be disappointed by the dismal participation of the riders. With 800 riders one would think more than a handful would hang around and make it worth their while. It leaves me shaking my head and feeling bad for them.
OUR KARATE CLOWN!
We hung around the bier garden for a while with Courtney testing out her extraordinary selling skills evident by depleting her inventory of bike pins in a short order followed by starting an order list.
WORKING ON HER JOURNAL AFTER HAVING A GREAT DAY
Tomorrow will come early but it is only 57 miles! It just dawned on us, it will be Flag Day.... guess it is stars and stripes for the jersey pick.
THE MOVIE STAR POSE!
GOT MILK AND READY TO ROLL!
(It was Courtney's idea to do the milk thing next to the old milk can!)
We heard that evening of someone getting sick, something that reminded me of my intermittent lower gut cramping that had come and gone the past couple of days, something I do not recall ever experiencing before on a ride.
Day 5 - Wednesday, June 14, 2006
Clearwater to Burden
63.8 Miles, 15.5 AVERAGE ON THE TRIPLET
Having done the laundry, we were able to dress the part in honor of Flag Day. The day brought stronger winds than the one previous and we were again not feeling so chipper. "Is the wind ever going to quit?" ...it was unspoken as we were now resigned to the obvious fate.
We arrived at lunch on the late side but certainly were not last and discovered no food was remaining aside from nachos. Despite the effects of the earlier grasshopper storm of cyclists, we were told the nachos would cost us the full lunch price. Go figure. Needless to say, the decision was to churn on and let them keep their nachos.
Burden had the promises of a bier garden, but city plans had been changed by local protesting bible thumpers. Hence it was moved outside of town to the top of a hill at the wind swept water tower and swimming pool area (some 3/4 mile west of town out on the highway). They tried the shuttle thing to keep it alive but with little success. Amazing how a righteous few can have such an effect on the entire scene evident by small crowds listening to the various singers on main street.
ONE OF THE MANY VACANT STORE FRONTS
We made the trek back to the swimming pool and noticed only a couple of people making use of the bier garden but there were a few more at the pool. Later we discovered that Courtney had left her swimming pool bag behind but the discovery was too late as the place had closed.
Little remained of this seemingly dieing town but to give them credit, they dolled up various store fronts and covered windows with signs and drapes making them appear at first glance that businesses actually existed.
A DRY ERASE BOARD COURTNEY AND OTHER KIDS ENTERTAINED THEMSELVES WITH
We staked out a spot in a school hallway and later discovered a room unlocked. We almost had the room to ourselves before someone else discovered the same. The AC was not on in the school and with the little bit of air attained through a window, sleep was something we longed for. At least it cooled down some 4 hours later.
Maybe tomorrow and the next town will be better for us.
Day 6 - Thursday, June 15, 2006
Burden to Neodesha
79.4 Miles, 17.4 AVERAGE ON THE TRIPLET
The morning started off on a very positive note as Courtney's pool bag was in the lost and found! An alert and thoughtful BAK rider had seen her leave the area and made the assumption that it was Courtney's.
Our starts have gotten later as our not so perky team rolled out at 9:20 this morning. The pretty terrain was enough to cheer anyone up though as there were long vistas, greener and taller corn, and certainly more trees.
We rode the 41 miles straight through to the lunch stop hosted by the Longton high school. We were pleased that the cyclist swarm had left at least some pickings for us! The cheerleaders and other staff, working the lunch as a fund raiser, were friendly making the experience a good one.
Riding east on U.S. 160 was very pretty. The wind was picking up and with our meandering course we had our first real tailwind at times since early in the ride. Hitting 38 mph on one northbound stretch never felt so good! And it was a literal blast passing riders like they were standing still!
OUR CAMPSITE
We were hearing rumors of people getting sick and opted to continue our habit of relying on quickie shops and our own food sources for the most part. We did make a decision to stay out of the bathrooms in the school in case germs were being spread through contact with fixtures, etc. There were just too many unknowns to take the risk.
We were disappointed to hear that the Kansas Health Department shut down the Neodesha (Neo - Da - Shay) evening activities since they did not know what they were dealing with as the illness was violent and spreading rapidly.
We sauntered over to the quickie shop to buy breakfast supplies and bottled water while trying to avoid any other cyclists that had the same idea.
Sleep that night was interrupted by the whale of an ambulance siren which pulled into the school. Another rider was taken away to the hospital with the mysterious illness that involved severe abdominal cramping and vomiting, or so we heard. Not long after, ambulance sirens were heard again, to only be repeated once more in the predawn hours. It was not a restful night. Later we learned that the norovirus was responsible for the wide spread illness amongst the riders.
Day 7 - Friday, June 16, 2006
Neodesha to Girard
61.5 Miles, 15.6 AVERAGE ON THE TRIPLET
Our day started right as we headed north with a light tailwind allowing for a nice easy spin to help us warm up. We seemed to be climbing gradually though as our speed was not very high but no matter as it was a good morning.
We were getting tired though, physically and mentally as we turned east into a SE crosswind and rolled right by a unique dinosaur sculpture and did not stop for a Kodak moment.
THE LUNCH STOP AT A PARK
Lunch consisted of a rather heavy sausage and burger feed, something we opted to skip and went searching for something on the lighter side by retracing our steps to a quickie shop passed earlier.
With a full belly our anticipation of reaching Girard grew as this was our last big day. Earlier in the ride the sag hags had given out bead necklaces and one thoughtful rider adorned a road-kill raccoon with it! The raccoon became the talk of BAK as most seemed to have seen it!
TOURING THE TOWN WITH OUR STUFFED MOOSE PURCHASED AT A YARD SALE
We finally located the pool on the south side of town and pretty much had it to ourselves as it was off the beaten path so few riders made it over.
HEADING BACK WITH MOOSIE!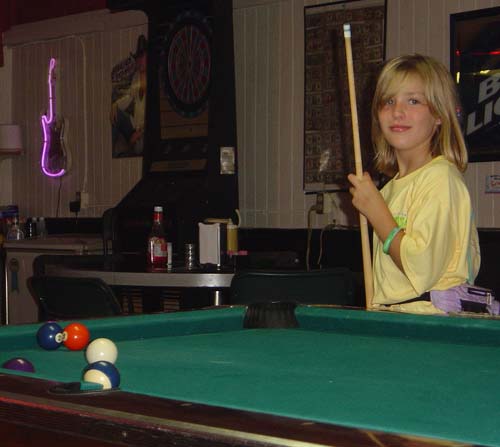 THE BAR AND GRILL WHERE WE HAD GRILLED CHICKEN SANDWICHES FOR DINNER
Our chosen campsite was to hopefully be in the shade late in the evening, at least that was our goal, one which we were getting better at resultant of our growing experience of watching the sun set.
Religious music played late into the night........ that echoed around town...... keeping us awake.
Day 8 - Saturday, June 17, 2006
Girard to Mulberry (The MO state line!)
25.5 Miles, 15.7 AVERAGE ON THE TRIPLET
It rained last night and packing up our wet laundry that had been so neatly drying on the fence was one element contributing to our late departure. We were on track for a new 'late' record. But with only 25 miles to go to lunch, that would not be served until 11:00 AM, we were in good shape, or at least should be.
The Kansas State Road Race was held the same day and we would be riding the same course with them but in the opposite direction. We timed it well and were able to see racers we knew as they whizzed by.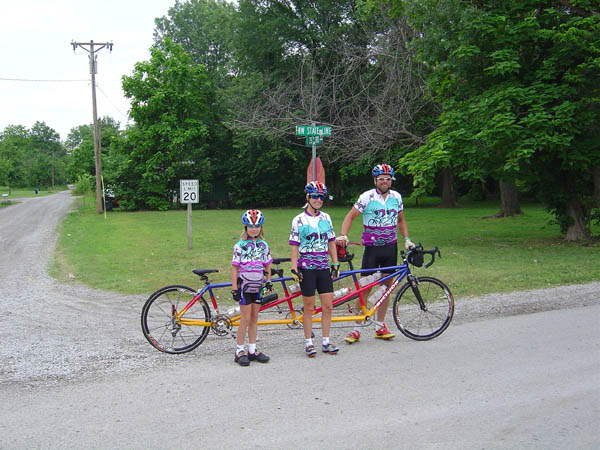 THE MISSOURI STATE LINE FINISH!
It would have been nice for a banner or something to make reaching the state line just a little more exciting. The exact location was a bit hard to find with it being 2 blocks off the racer route.
ONE LAST PHOTO OP BEFORE GOING TO LUNCH
Our timing was perfect as we arrived at the park as the lunch line was starting to form. We met with and chatted with friends, new and old, as the line inched forward.
There was a strong breeze from the south and in a moment of tailwind deprived delirium I made arrangements for a friend to take our bags back home with the thought we would be pushed home by the tailwind thus extending this short day by over 100 miles! And the fail safe was that we could call Sue to pick us up anywhere on the route thus shortening the drive for her and the wait for us.
We finished our lunch and headed out. What a tailwind! We literally flew north on 69 highway, sans map, but some familiarity as to where we were heading. Busses of riders and car after car sailed past tooting their horns as we rolled a steady 25 mph enjoying the bliss of the 'tailwind'!
We stopped at the DQ in Fort Scott and found it a bit tough to get moving again. We switched to the old two lane that was sheltered some from the wind by comparison to the open 4 lane highway, and there were more rolling hills too.
WE APPARENTLY AREN'T THE ONLY SLOW VEHICLES ON THE ROAD!
Interestingly enough we ran across RAAM (Race Across America). A van drove by with signs and lights on top making us ask "What was that?" Then we saw a couple of riders and it all pulled together for us. What are the chances of us running across the state road race and a RAAM rider coming through in the same day all within a 20 mile stretch?
We continued north and the sky turned ugly within minutes. As we turned west it looked worse than ever and the skies opened up for the first rain of the week while on the road. As it turned out, and with the hindsight of looking at a weather radar later, stopping at the DQ was not a good idea. All we needed was another 20 minutes and we would have scooted north past the storm! But how could we have known? We made the decision to back track east as everyone was more than disgruntled at this point. We arrived back at highway 69 and fortunately found a truck stop and quick shop at the otherwise desolate intersection. Being totally soaked sitting in an air-conditioned facility was not fun!
We called Sue to pick us up and learned the roads were dry most of the way down until reaching the squall line that halted our progress.
We ended up with 68.6 miles for the day and an 18 average, even with the rain and tooling around town at lunch!
Thus was BAK 2006! It was our 3rd together as a team and a great year all in all.
Perhaps it will be sister Natalie's turn next year to ride the entire distance. We no doubt will know as the school year winds down and as her schedule evolves for the summer.
[ Home ] [ 1st Visit ] [ Tandem Display ] [ Accessories ] [ Parts ] [ Close-Outs ] [ Ordering Info ] [ About Us ] [ Links ]