[ Home ] [ 1st Visit ] [ Tandem Display ] [ Accessories ] [ Parts ] [ Close-Outs ] [ Ordering Info ] [ About Us ]
BAK 2008 - NATALIE'S 2nd GREAT ADVENTURE
with help from Courtney! 515 Miles!
School was out and after a long and mini ice-age type winter we were slowly greeted by an unseasonably cold spring despite everyone's craving for good riding weather. Shame on us for having an optimistic expectation of what spring should bring given the unusual coolness since mid to late November. The proverbial writing was on the wall and it was tough on anyone having a love for cycling.

A RARE DRY ROAD OPPORTUNITY
NATALIE ON HER SCHWINN FAIR LADY


COURTNEY ON HER SCHWINN FASTBACK IN THE BITTER COLD
Spring was sort of here and the kids were restless and it did not help matters with it being too cold for swimming anytime close to the day opener of the pool. But BAK was looming closer and the expected anticipation of such an adventure seemed absent from the 'Little One'..
What difference a single day makes! About 1 week before heading west the verbal chatter suddenly changed to singing the tune of BAK as it was now the talk of the day. The questions and verifications were now coming in rapid succession with Natalie's mental clock right on target!
Our preparation this year included modifying the local Lone Star century to 76 miles the weekend before to get some butt time in on the quad and all went well on that ride with the help of perfect riding conditions.

VINLAND SAG ON THE LONE STAR SOME 55 MILES INTO THE RIDE
Getting ready for BAK was the usual challenge but seemingly more so as everyone's schedules seem to be busier than ever. We had everything caught up we were even able to leave with a new muffler on our now really old 83 Ford van. Despite its 268,000 mile continuing longevity, it is a great quint, quad and triplet hauler and has never let us down!
St. Francis was to be the official start located 13 miles from the Colorado border. We arrived just in time to hear the rider meeting, picked up our packets and headed west to our night's lodging in Idalia, CO, some 15 miles west of the line. Natalie said it was a ghost town! You know what? She was darn near right. What an interesting and really small place it turned out to be with its closed sign up, yet our room key was left in the door! No ice was to be had despite the $55 rate but maybe that was covered by the sign on the door that said to go 3 blocks west with no mention as to what one should find or expect by doing so.
Hoofing it west in search of ice caused a small grocery and bar surrounded by pickup trucks to come into view. The grocery was closed but the ice cooler was unlocked. Thinking the grocery and the motel had the same owners, a small bag of ice was transported several hundred feet closer to KS.
Did I mention we were the only vehicle in the entire motel? It was kind of an uneasy feeling place being there by ourselves. The three adults of our group were sitting outside listening to the frogs chirp as the smell of rotten trash and other unidentified odors from a grain storage place wafted by when a woman drives up in a Suburban. She proceeds to open the room next door that, unbeknownst to us, is an entire hair salon! Who knows what is behind door number 11! She let us know that the rooms were normally $20 less than what we had paid so somehow they must have seen us coming. Oh well.
For the number crunchers; the distances below won't necessarily agree with the time and average speed calculations given the average speed was recorded upon arrival at the town before it diminished by walking the bike around, searching for food, looking for swimming pools, and riding to campgrounds or motels.
Saturday June 7, 2008
Colorado Border to Atwood
56.0 Miles, 16.2 Average, 3:27, 37.4 max, on the Quad
With a pretty good night's sleep thanks to the exhaustion of the week before and the long 500 mile drive, we waited patiently at 7AM for the cafe to open. We waited more... and more. Finally, it dawned on Julie that we were in a different time zone and 1 hour earlier! Duh...
It was time for snacks so out came the crackers, breakfast cookies, and literally anything we could find to get us down the road a few miles. With a few calories in our bellies we loaded up and headed to the KS / CO line.
After unloading the quad we immediately blew the tire pump hose necessitating a quick repair. Surely this was not to be an omen of the day to come.
The wind was blowing and cold at the 51 degree start so jackets were donned by the kids while Julie and me opted to go without figuring we would be okay after the warm-up period. With the obligatory CO / KS border photos, we headed east as did mom in the van.
BAK is known for its winds, more headwinds in our previous 4 years experience than tailwinds certainly. Today's was a cross-cross-tail-cross-cross wind. It helped some on most stretches but not much. A calm day would have been nicer but we gladly take anything aside from a headwind! The quad is exceptional hindrance in a cross headwind with every rider being hit by the wind so any and all aero advantage is lost. We REALLY struggle on those days.
Route & Itinerary
Friday, June 6
(EARLY START)
Colorado Border to
St. Francis
14 miles

Saturday, June 7
(REGULAR START)
Saint Francis to
Atwood
42 miles

Sunday, June 8
Atwood to Norton
62 miles
Monday, June 9
Norton to Smith Center
61 miles
Tuesday, June 10
Smith Center to Beloit
55 miles
Wednesday, June 11
Beloit to Washington
84 miles
Thursday, June 12
Washington to Sabetha
71 miles
Friday, June 13
Sabetha to Horton
47 miles (extended route)

Saturday, June 14
Horton to Atchison
34 miles

TOTAL MILEAGE: 470
It is all downhill from CO to MO, which helps if the winds don't push you backwards defying gravity. Check it out for yourself!
This northern area of western KS, a new start location for us, was not totally flat as many of the opening BAK days are. We were even treated to a couple of downhill breaks with 28 mph top speeds before reaching St. Francis, the official start location. By the time of our arrival, most riders had already been on the road at least 1 hour. We cruised right through town after stopping for a photo of 'Dairy King' as Natalie desired this picture to put next to one of 'Dairy Queen' to be taken later in the ride. She was certain there would be one!
The course photographer passed us before we had lunch and captured us as he has many times over the years!

THE KIDS BUNDLED UP FOR THE CHILLY START
BAK usually has an official designated 'lunch town' where volunteer groups have a variety of offerings for sale. Being non beef eaters and stopping at the local church serving Sloppy Joes with pasta, we opted for the corner cafe that served up some grilled cheese, grilled ham and cheese, along with hash browns and eggs for the breakfast eater amongst us... even though it was after 10AM.
The wind was switching around more to the north and was to become east by afternoon so we were being mindful of not wasting any time. We spotted a cannon on a hillside with an American flag blowing in the wind thus we had a Kodak moment.

PHOTO INSET BY ROGER, THE BAK PHOTOGRAPHER
We made use of the nice downhill finish into Atwood and topped a bit over 37 mph causing us to zoom right past our motel despite Sue being out there waving to us. After making a U-turn, we noted that the sign read, "MOTEL Not a Hilton... BUT IT'LL DO". It proved to be a clean place with nice folks too, more than making up for our previous days experience.

STARTING TO UNLOAD
After an ice cream snack and getting situated in our room the kids were more than ready to head to the pool, a good thing with it being well into the 80's plus we had time to make it happen.
A nice park was conveniently located behind our motel where the town had a band and the Shriner's offered a shuttle service to Main St. on their antique fire truck.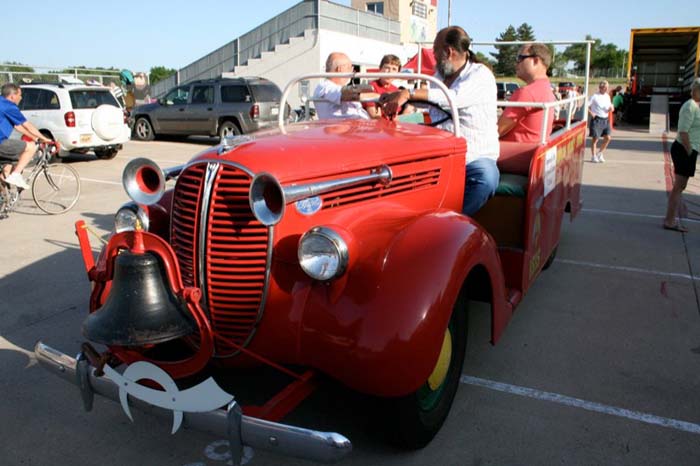 Speaking of antiques, we had an REO (Speed Wagon!) old truck parked within spitting distance of our door!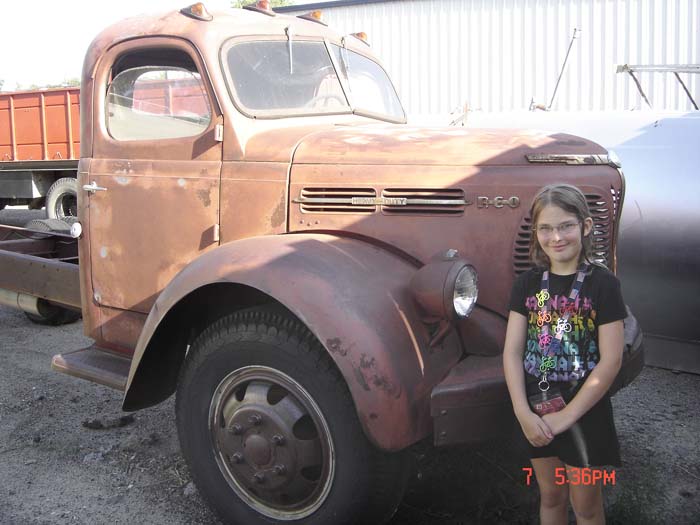 There were also buggy rides to be had for a price.
The kids made it to bed by the promised 8PM with the plan for a reasonably early start given things go oh so much better with other riders around to stimulate, motivate, and to entertain them. Actually they often entertain themselves particularly in a stimulating environment.
Sunday June 8, 2008
Atwood to Norton
63.6 Miles, 15.2 Average, 4:02, 30.7 max, on the Quad
Proof is in the pudding, as they say, and despite the previous day's early start, the 62 mile ride and a few hours at the swimming pool, a good night's sleep did wonders for both but Courtney in particular awakened in a very good mood, a rare moment these days.
The temps were a few degrees warmer this morning but even so we dressed Natalie in leg warmers, arm warmers and a jacket given she got cold enough yesterday that her teeth chattered before the sun finally did its job. The extra clothes proved to be a smart move.
After we devoured everything resembling food, we hit the road at 7:45, a bit behind the masses certainly but we had many to catch and chase on this day. The sharp rise leaving Atwood was of concern starting off with cold legs but the girls were eager and took turns standing thus keeping us out of the granny. Did I mention we run an 11-23 cassette on the quad? Gasp!

METAL ARTWORK
We were in a good rhythm from the get go and it showed as we passed rider after rider whether the road was up or down. It became interesting pretty early on when an old geezer (to quote the girls) passed us on a hill saying something about leaving tandems on the uphill and then having them pass him on the downhill. As one can imagine, that comment in and of itself created a bit of on board chatter through the intercom given the competitive nature of everyone on board. When one has a personal jingle that goes like this, you generally don't want to mess with them. "Nat Nat the famous Cat. On the back is where she sat. She pedaled so hard and she pedaled so fast, everyone else was sure to get passed." Natalie has more or less grown to love her jingle over time!

THE START OF THE OLD CAR THEME NATALIE DEVELOPED DURING THE RIDE
The rider seemed intent on staying ahead despite the downhill as he put his aero-bars to full use. As is characteristic of this area, it was not long before the road turned up. We passed him on the long slight grade holding our momentum best we could. We never looked back and never saw him again, a rewarding feat for all! And the chant resumed.
The assist from Courtney and Natalie was a wonderful thing as it kept the rig moving and their teamwork and willingness showed. Natalie (the 8 year old) with her watchful eye would recognize when we were starting into a hill before we bogged down and would be up out of the saddle pushing hard. Before she tired I would call out "switch" and Natalie would sit while Courtney stood holding and maintaining our speed without interruption. It was beauty in motion watching these two even with some of these grades being 1 mile long, but most shorter. After it was evident that 'Nat the Cat' was in tune with the road undulations, she and Julie joked about Courtney being a bit oblivious to the road changes given she was just 'chatting away' and somewhat oblivious to all else. It was quickly determined by all on board that she would not even notice if the bike was on fire! Their sibling rivalry and competitive spirit was more than shining through when they would argue about who was to stand and push us over the hill. How good does it get? ;-)
The official lunch town was Oberlin where we managed to get nearly the last of the turkey and cheese sandwiches at a quickie shop. I opened a package of relish and to everyone's amazement it was a fluorescent green! Yuck! A quick check of the label of course revealed that it was a chemical feast. Time for that nutrition lecture again.
Our average thus far was only 14.4 much to our amazement, given it felt faster, when arriving in Oberlin. Leaving lunch it seemed the wind had switched from NNW to NNE and with greater intensity. We found ourselves crawling at 11 and 12 mph on level ground. A check of the map revealed a slight angle of the road to the north and then back to the south in a fairly short distance. We were thankfully fooled as it would be a long haul under those conditions should they persist.
We were back to rolling and major calories being burned. Lunch really helped and the timing for a break was perfect given our previous nearly 2 hour stint. Sue would pass us in the van intermittently and shoot photos.
Julie entertained and challenged Natalie's math skills by coming up with word problems that related to the mile markers, the distances to lunch, and the distances to town. She was able to get some very tough problems right all good training for her 90th plus percentile national and state scores in the subject.
It had thus far been an uneventful year with regard to crashes or at least we had thankfully not heard of any and the absence of ambulance sirens was good, something a bit different than in other years.

LONG GRADUAL GRADES
We rolled into town none the worse for wear with a 15.2 average, certainly up from our 14.4 at lunch time! A quick treat at the local DQ and a check-in at our motel followed by a stop at Taco Bell gave us all a happy face.
We sadly learned that a friend and fellow cyclist from Kansas City had been killed glacier climbing in Rocky Mountain National Park the day before, putting a big damper on things.
All went so well on this day and with Courtney's increased strength, more mature riding ability, improvement in her preteen disposition, combined with having a motel saved for every night of the ride, everyone wanted her to continue and finish BAK on the quad with us. She wished to stick with the original plan though of returning home with mom. That was a sad moment having done three full BAK's with her in 2004, 2005, and 2006. Natalie was given the same BAK opportunity at the same age so roles were reversed in 2007, the year of Natalie's first full BAK.
When making the switch we planned a special one week tour in North Dakota called CANDISC to give Courntey something different and a bit more challenging. It was terribly hard to leave her behind last year and now we had an unprecedented chance to complete BAK on the quad with all of us but she was not mentally on board with the change and wished to stick with the predetermined plan despite Natalie's, mine and Julie's coaxing.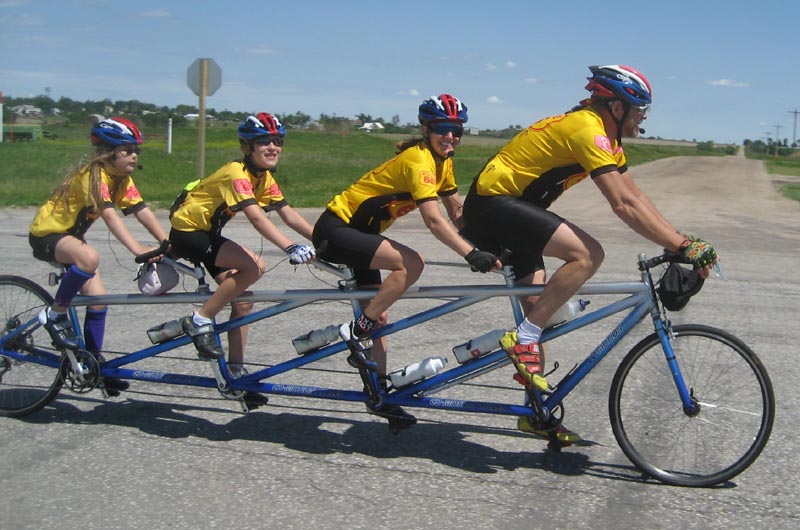 It was time to part ways with Courtney and Sue so we made the preparations to switch from the quad to the triplet. Courtney and I enjoyed practicing her softball pitching in the parking lot before they left.
There was time remaining in the day for a swim at the pool, Natalie's closing fun activity, one she never ceases to enjoy. I wasn't up to it this day.
Natalie has watched her sister practice pitching and has seen her in action in games many times this spring. After Courtney's departure she was seen doing the complete windup and practicing her pitching technique that no one knew she had, and all with a swimming pool ball!
Natalie had a somewhat restless night of sleep but there were no leg cramps as in the night before. She would pop her eyes open on occasion, squeeze my hand and go right back to sleep.
Monday June 9, 2008
Norton to Smith Center
66.4 Miles, 20.3 Average, 3:12, 38.1 max, on the Triplet
A quick step outside to check the weather revealed the expected briskness in the air. Brrr..... but it was sunny and doable in shorts for the adults given the anticipated warm-up. Natalie on the other hand donned her usual cool start garb.
Running over to McDonalds for breakfast proved futile given the line extended outside of the building. After eating what was on hand knowing lunch was a mere 30 or so miles away, we all donned our backpacks to be taken to the truck located at the school.
We were missing a rider and it was painfully obvious as the first thing on Natalie's agenda was to find a post office to send a special card she had picked out for her big sister.
The weather gods were looking after us as the sun was bright and the winds favorable. We did not know how good our day was to be until we were out of town taking full advantage of the awesome tailwind. We wound it up and hit over 35 mph just leaving and held 25 mph minimum on the flats. The climbs were somewhat long but gearable as we held our own passing riders whether the road went up or down.
One rider with aero-bars was intent on staying ahead of us once we were spotted. It took about 4 miles before we succeeded in passing him on an uphill after which he was seen hanging his head as he disappeared in the distance.
Once through the gentle rollers, on the super smooth pavement, the terrain flattened further and we held 25 - 30 mph for several miles.
We rolled into Phillipsburg, the designated lunch town, with an average of 22.4 mph which included the slow jaunt to the school to drop off our bags. A quick stop was made at the computer store for a cable to allow downloading the camera to our laptop permitting real time development of this page so no doubt more detail is written than in other years. After learning the post office was only 2 blocks north we headed that way so she could mail Courtney's card.

A FRIENDLY PASSERBY TOOK OUR PHOTO

The card on the outside said, "You're not here." Inside it said, "I hate that." That pretty much says it for all of us.

SENDING THE CARD TO HER BIG SISTER

JULIE ACTING AS A KICKSTAND DURING THE POST OFFICE STOP!

2 KICKSTANDS!
My passion for old cars has seemingly bled over to Natalie as she was photographing every one she saw. We went by a couple too quickly for good shots so looped past them after leaving the post office.

57 HEAVY CHEVY!

OLD STUDEBAKER
Small towns being what they are, a driver pulled in telling us the Stude was for sale. When we told him about the 57 Chevy, he related that his father-in-law owned it!

IS THAT REAL LEATHER?
Subway was beckoning and thanks to the speed of our arrival, there was no line. An unheard of situation on BAK! Lunch was great although there were no tomatoes resultant of the FDA warning about salmonella contamination.
When leaving, a passerby informed us that a reporter at the Chamber of Commerce tent was looking for us after hearing stories about a family riding across the state on a quad. We rode by and were interviewed and photographed by the local news person who promised to send us a copy of the photo and article which never came. We related the story of Courtney's three full BAK's along with this being Natalie's second one.

ONE OF THE PHOTOS CHOSEN BY BAK FOR THEIR 'END OF THE RIDE' T-SHIRT
Leaving lunch we were treated to more good roads but we had increasing cross winds. Having been wrapped up in the high speed run to lunch, we had certainly burned the edge off of our muscles so our average speed was dropping although we continued to pass riders, although more slowly.
We located the Gym Rats truck where we stashed our bags and pulled out our change of clothes and pumped the tires on the bike about 10 psi over normal since it was for the next day. With us back on the saddle again we headed for the Buckshot Motel, a name that'll really draw you in!
The place had a nice pool, much to Natalie's delight and she swam while I worked on getting the photos transferred to the computer. The Wi-Fi connection in this place was good unlike the bad one the night before.
While swimming across the pool, Natalie bumped into the wall with her head. Ouch... not a good moment.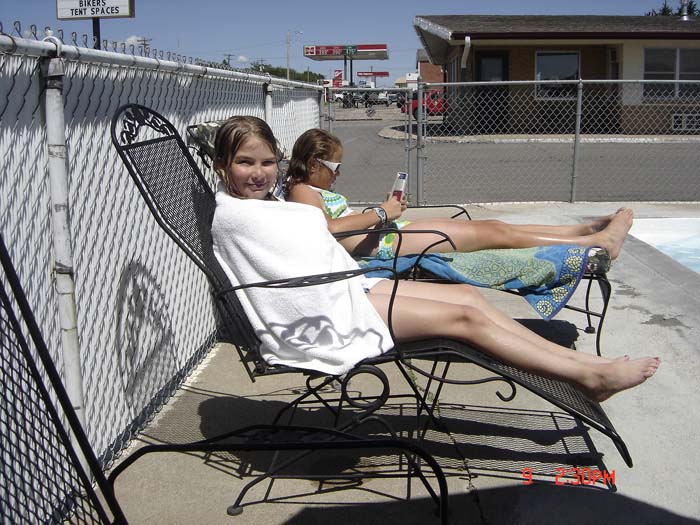 WARMING UP AFTER A DIP IN THE BUCKSHOT MOTEL POOL!
Natalie opened her surprise for the day which turned out to be a soft but substantial flying toy. She and Julie played with it before eating at the Pizza Hut across the street.
\
FLEXI-FRISBEE THAT DAD RESCUED FROM THE MOTEL ROOF!
Our motel was complete with a game room where Natalie beat Julie fair and square in pool... or so I hear given I had my nose into developing this page getting caught up.
We climbed aboard the triplet in our street clothes and rode the 1 mile to the school so Natalie could sell a few 'Bike Pins' and bolster her college fund a bit. She seems intent on becoming a Veterinarian and has talked of K-State often.

PRACTICING HER BIKE PIN SALES SKILLS!
Natalie asked me to find the BAK mailbox so her card to mom and Courtney would go out in the next day's mail.

TAKING A BREAK FROM HER SALES ENDEAVORS WITH ANOTHER NATALIE & SISTER

BIKE PIN SALES WERE TOO GOOD - TAKEN WHEN HEADING TO THE MOTEL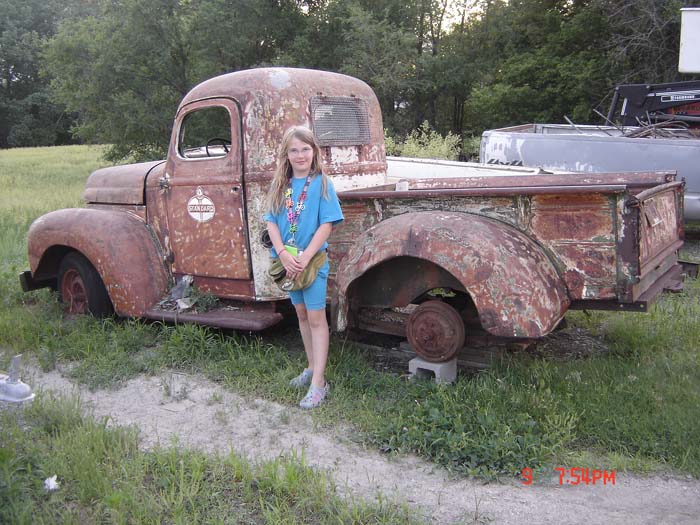 ANOTHER PROMISE MADE TO STOP AND GET A GOOD PICTURE!
Tomorrow may be an interesting day given the pin sales caused Natalie to get to bed about 1-1.5 hours later than she should have for an early start. Increasing southerly winds are in the forecast for tomorrow and predictably we are heading that way! The earlier we start the better to beat the building momentum of the wind.
Tuesday June 10, 2008
Smith Center to Beloit
61.0 Miles, 15.8 Average, 3:42, 32.7 max, on the Triplet
It is no big surprise that one's best laid plans get derailed but given the nature of the fallout when one is in the wake of the BAK swarm. With our experience it should always be expected. Call me a slow learner! Actually the inconsistency of our experiences is where the difficulty lies.
After Natalie had a bit of a restless night early on complete with vocal dreams and tears, she did sleep very well, thankfully, given the late turn in time. What had become our usual start time was delayed resultant of a little melt down. The consequences of staying up a bit late are certainly known and the price was paid this morning.
Temps this morning were typical high 50's and low 60's which has been our consistent experience thus far.
We did the usual drill of riding to the school wearing our heavy backpacks. After loading them into the 'Gym Rats' truck, we sought out a quickie shop for breakfast food.

THE CAMERA ANGLE DOES NO JUSTICE AS A VARIETY OF COLORFUL KIDS BIKE'S WERE LINED UP
It was a breezy morning with strong southerly winds. There was no escaping pushing a tough headwind on this day as our route took a turn straight south out of Smith Center. We had about 22 miles of strong straight headwinds to push through before meandering east towards Cawker City, home of the world's largest ball of twine, and then our final destination of Beloit.
We left late on this AM and other riders left early. There was only an occasional and rare rider in sight despite the vast panoramic vistas.

WHEN ONE LEAVES LATE IT IS A VERY LONELY ROAD

HAPPY CAMPERS WITH FOOD IN THE TUMMIES! STILL A LONELY ROAD
The wind was tough but so were we as we cranked out a 16.1 mph average going right into it. It did wear us down though particularly pushing the grades as we were not about to give in to the wind, at least not on this day. We held our speed over the rises and would chase down the rare rider that would come into sight, sometimes seen over 1 mile away.
We rode by a pull off from a remaining old highway alignment. Atop the hill next to the 'old road' was a statue. The girls thought it was the Statue of Liberty to which I replied, "What? No way!"

HMMM! TAKEN BY ROGER, THE BAK PHOTO GUY
We finally reached our easterly turn where the Sag Hags were hanging out on this breezy day. They couldn't have picked a windier location but their RV provided good shelter. This sag is a mandatory stop for Natalie as she gets stickers and more than her share of appreciation from them. It was certainly time to get off of the bike for a very few minutes too after such a grind.
THE SAG HAGS A-DOIN THEIR THING AS NO ONE ELSE CAN!

READY FOR DEPARTURE... TIME FOR A CROSS WIND
Our average speed was now 15.7, down from 16.1 but it was sure to go up as the strong cross wind permitted about a 2 mph increase in speed. We reached Cawker City where Natalie shot photos of many old cars. She plans on printing her growing collection off and mounting them onto a poster for dad.

OLD INTERNATIONAL HARVESTER TRUCK
Cawker City is the 2nd official and appointed lunch town for the day. We rode past a birdy chicken type retro drive-in type greasy fried spoon joint having a long line and outdoor menus and a small window from which they toss the stuff to you. If they wanted their image to convey anything resembling an appetite, they failed miserably.
Part way up the rise through town we spotted the ball of twine. Coming from the east on the drive out it was missed given it was hidden from view by the building next door.

YEP, YOU GUESSED IT, THE BALL WASN'T BIG ENOUGH FOR NATALIE!

THE SIGN PRETTY MUCH SAYS IT ALL
We were caught in another interview but no promises of pictures or articles were forthcoming.

THIS PICTURE WAS ALSO CHOSEN FOR THE BAK 'END OF THE RIDE' T-SHIRT
We cruised the town in search of lunch dropping our now 16.1 mph average to only 15.7 in just a few minutes. There was no food to be had in town with a gas station closed up aside from the 'Sorry Bird' ...whatever ...greasy toss it out the window joint. We opted for crackers in the park given we had only ridden a bit over 2 hours and had only 18 or so miles remaining. Emergency rations are good to have on board since bonking is no fun.

EARLY LUNCH SNACK

MORE EARLY LUNCH SNACK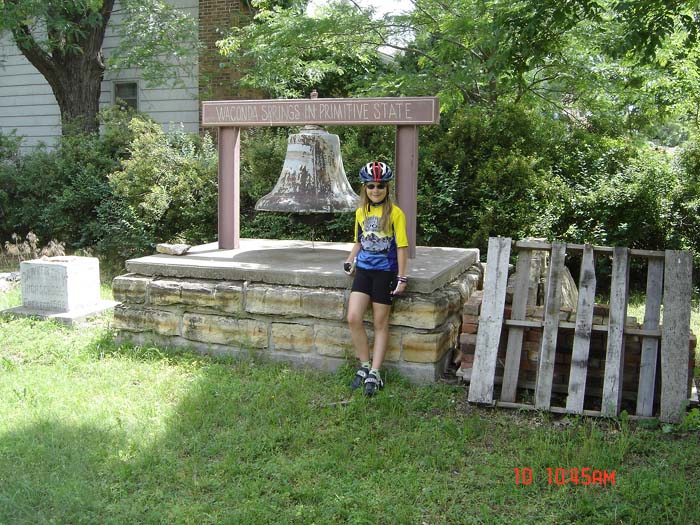 RESTORATION PROJECT

RESTORATION PROJECT

EITHER HEADING OUT OF TOWN OR STILL IN SEARCH OF FOOD
THE THINGS KIDS DO BACK THERE WE USUALLY DON'T KNOW ABOUT!
Our easterly road now curved a very few degrees to the south and oh what a difference it makes when a cross wind hits the front of 3 riders. We struggled to keep it over 15 mph and mostly did. We crossed over an open area where the wind had churned up whitecaps on the lake. Eventually the road curved back a bit north and our speed increased again.
Beloit was a welcome site as the wind had fatigued us mentally and physically too given the effort put forth to maintain speed. Thankfully we are all pretty fit.
A Mexican restaurant was on the edge of town and the decision to stop was immediately made. Service was slow and they ran out of rice even though the place did not appear to be inundated from BAK participants.

WAITING FOR FOOD WITH PROBABLY THE ENTIRE SHERIFF'S DEPARTMENT SITTING BEHIND THEM!
We did the usual, now routine, ride to the school to get our backpacks followed by another ride to our motel to check in. Natalie was real tired and took a nap while Julie relaxed and I downloaded our camera to the laptop.
After awakening from her 2-2.5 hour nap, we went over to the school to see what was a happening and so she could sell her pins. Many were gone and Natalie was in need of food so that was curtailed in short order.
A return to the restaurant was a mistake given the 1.5 hour wait for food hence the problem with the BAK swarm being ahead of us. Actually there were only a few in the restaurant at that time but everything was in slow motion.
A storm was approaching the area so we prepared Natalie mentally for all the clothing she might have to wear in the morning should it look like rain.

CLOUDS RESEMBLING WHAT WE SAW IN 2004 WHEN CAMPING IN CHAPMAN
CHANGING FACE OF THE STORM
Natalie worked on her journal and wrote emails to sister Courtney and mom before crawling in bed and falling right to sleep.

Wednesday June 11, 2008
Beloit to Washington
87.2 Miles, 17.0 Average, 5:09, 41.6 max, on the Triplet
90 Miles total with trips to store
A peek outside during the night revealed wet pavement but the brunt of the night's storm bypassed Beloit. Natalie proved to be very cooperative this morning, and we were able to get rolling 30 minutes earlier than yesterday with the same wakeup time.
It was blowing, and blowing very hard. The forecast for Washington was for 30+ mph winds gusting into the 40's. Oh goodie.
We loaded our bags into the truck, and not surprisingly found we were nearly the last to leave town at 8:30. Natalie had been wanting a picture of the old red school house and bell since late yesterday, and with it on our way stopping for a picture was easy.
Our route took us north for about 20 miles, and what a tailwind we enjoyed. Our legs were pretty toast from the day before and no sugar load was available at quickie shops in Beloit, at least anywhere close to our lodging. Between the tired legs and nutritional deficit, we were not able to make the most of the monster tailwind. Natalie was in good spirits, so yesterday's nap must had done her a lot of good.
We blew by the first two sags making up time and minimizing the chances of the potentially severe storms predicted in the afternoon.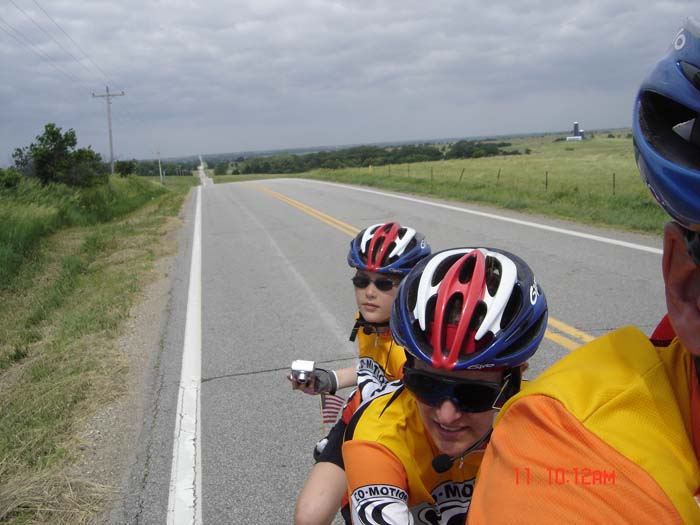 NATALIE LOOKS WAY TOO MUCH LIKE HER SISTER IN THIS PHOTO!
When one leaves as late as we sometimes do (well almost always do) it can be a lonely road.
The crosswinds were incredible, gusty and very wearing. I found myself constantly leaning and doing a balancing act to keep the bike from veering into the center of the road when hit by a wind gust. Hanging onto the triplet was no small chore. Amazingly we noticed that the surface of a wheat field tamed the wind considerably providing some relief.
After seeing many empty corn fields thus far on this tour we were now starting to see both established and newly sprouting ones.
THE SAG HAGS AS COPS AND JAILERS!
Natalie always appreciates the Sag Hags, but today she forgot to get a sticker from them for her collection. She will no doubt make up for it tomorrow. We'll be looking for them.
Just when we thought we had been making up time, we found ourselves climbing several sharp rollers that necessitated use of the granny gear for the first time this year. Now keep in mind we run an 11-23 cassette on this limo of a bike! One particular shift felt a bit weird as if it was a chain suck issue from too much forward power during the shift. A quick coast and forward pedal and all seemed good and then the bike suddenly braked on its own. Immediately the brakes were jammed thinking the worst such as the chain being in the spokes locking up the rear wheel. Actually the chain just came apart at the connecting link, one of those super rare and perfect conditions for such a thing to happen. For whatever reason it happened to us and Natalie with her sharp eyes was able to find both missing pieces! The braking action was from the bike running over the chain and the chain skidding on the pavement under the tire. I installed a new link and we saved the old one. A bit of hand cleaning was needed for both Natalie and me but the worst part was all the time and ground we had lost on the other riders. No pictures were taken of the rollers given we were too busy working the hills.

THE BAK CAMERA GUY TOOK THIS AWESOME SHOT! NOTE THE TANDEM WALKING THE HILL.
Yes, we struggled. It was evident that Nat the Cat did not have as much power on this day after the super girl efforts she put forth during the first two days of the ride. A bit of good recovery is needed but not to be found on on this strenuous day.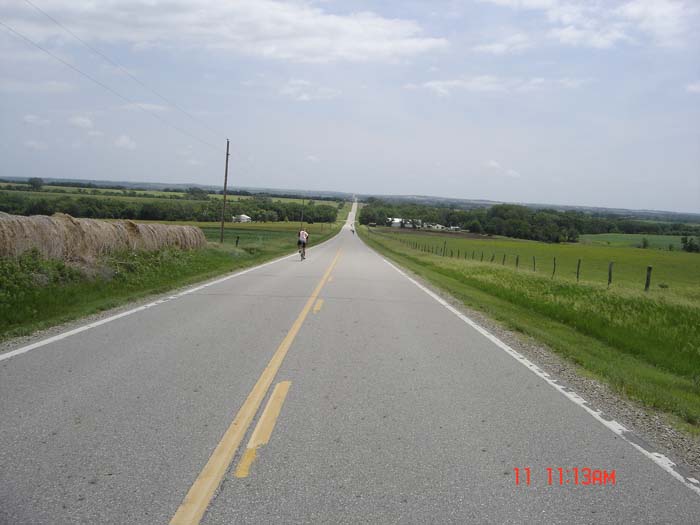 CATCHING A FEW RIDERS ON A DOWNHILL RUNOUT AFTER PUTTING SOME SHARP ROLLERS BEHIND US
As mentioned, the route had been incredibly hilly given we were on a secondary state highway. Very few cuts of any significance were made through the hills unlike the U.S. highways we had been enjoying. When riding in such windy conditions, the hilly back roads usually provide better wind breaks from the closer vegetation, the valleys, and cuts through the hills are closer to the road.
We caught up with a 10 year old boy riding a 24" Trek road bike. He was very strong and a good confident bike handler. We passed him and he gave chase gaining on us on a downhill, no easy task when chasing a triplet! He passed us on the up hill and we passed him on the down. He ended up being way out of sight of his mother given his speed. This guy could be a future Lance!

THE BAK LUNCH LINE EXTENDING PAST THE PARK AND SPILLED OUT INTO AND DOWN THE STREET
We rolled into Cuba after 63 miles and were anxious to get off of the bike having stopped only twice. One of those stops was in a very small town or community that had a very tiny high school. The generous woman inside offered use of the restroom facilities and gave out bananas and rice crispy cakes, normally for the day care that was in operation there.
The food line for this BAK furnished lunch was incredibly long. While Julie and Natalie held a place in line, I went in search of a restroom and was greeted with success at the town hall. After rinsing my doo-rag, gloves, and helmet, and washing my glasses, head, face, and hands, I was finally ready for lunch. Oh yeah, I found a Coke machine and brought one back to share with Julie.

CHOWING DOWN
The line had moved fairly well given the numbers waiting. They had brisket sandwiches so we opted for pasta and a cheese sandwich. The cheese was a bit on the 'hot' or spicy side so Natalie did not eat as much as usual.
A VERY SHORT PLAYGROUND STINT

AN OLD TRUCK IN CUBA LEAVING LUNCH
There are a lot of old cool vehicles in the remote KS country side. Natalie takes pride in photographing them and as mentioned not only promises to make me a poster with her growing collection but now a calendar as well after enlarging the best ones.
Arriving in Washington we sought out the usual BAK signs that direct us to the school. There were none and many riders were heading north well past town when a motorcycle rider came by and told us to make a U-turn along with other directions.
Finding the trucks was a feat in and of itself this time but the biggest problem was the bags were scattered everywhere. We finally found them inside the building in several locations. To make matters worse the camper bags were mixed in with those destined for the gym so when the two trucks were unloaded, they somehow mixed everything up. The weather forecast may have been to blame.
The backpacks seem heavier everyday and on this day they actually were as I accidentally left in the previous days' dirty riding clothes.

FINALLY IN THE POOL AND TIME TO GET OUT AT 5:55PM
The pool was relaxing although the temperature did provide a surface shock to one's nerve endings. Julie's day was made when another rider told her she looked like a teenager!

After a long day of riding, swimming, and getting pizza at Gambino's, we dashed back to the motel as it was starting to rain. We were under a tornado watch with a thunderstorm warning too, but the forecast was for light SW winds the next day. Yeah!
Today was a bit much for Natalie, so she will have to catch up on her journal tomorrow.

Thursday June 12, 2008
Washington to Sabetha
74.9 Miles, 17.0 Average, 4:33, 36.4 max, on the Triplet
More than one butt in our team is getting increasingly sore by the day, maybe by the hour in some cases! Anticipation of another 'long sit' just wasn't there. Having energy to hammer and jammer really helps though so one is not just sitting on the saddle given that in and of itself is very problematic.
Leaving town we spotted what appeared to be an old Packard and a truck missing its bed. More pictures were taken for Natalie's project.
Breakfast was at Casey's today and the ride to it was on mostly dry roads although a bit of moisture remained from the shower the night before. As usual there were very few riders spotted despite our now usual departure time that ends up being about 8:30 after loading our gear onto the truck.
Our route today would take us pretty much straight east on U.S. Highway 36. The valleys proved to be long and wide and the weatherman was exactly right about light winds but totally blew it on the direction given the SW prediction ended up being straight out of the east, the direction we were going. Arrrrgggghhh!
It was unusual, at least in recent memory, to see the Sag Hags at an early rest stop. Natalie made good on her plans to make up for lost time on her sticker collection after forgetting the day before. 'Robin Hood' was the theme of the day and put on by these incredibly creative gals.
Historical markers were starting to appear telling about the Pony Express. I explained to Natalie what the Pony Express was about to the best of my recollection. We rode into Marysville and found a monument to the P.E.
Only one block away was a museum of an actual station house complete with many antiques and the original stables.
Natalie enjoyed watching the movie telling the history of the evolving communication needs of the old west and how completion of the telegraph service opened up a new era. We learned that no rider was hired over the age of 18 and the stints of the horses were 10-15 miles at a full gallop. The rider's stint in the saddle would continue on for 50 or so miles going through 4 or 5 horses in that distance before switching off to another rider. The mail service cost $5-$15 to get a letter to Sacramento back in the 1800's but that amount was short of the costs hence there was a $1,000,000 government subsidy involved.

OLD POPCORN WAGON!

The east bound side of the now divided 4-lane U.S. 36 highway proved to be the older alignment that went up and down the hills while the new westbound alignment immediately to our north sliced through the hills with filled valleys. We were tempted to ride on the opposite shoulder facing traffic to make it easier for us but stuck to the course.
There was a very long stretch of new seal-coat devoid of paint markings. It was rough and the shoulder was strewn with loose small rock and at times the stuff was actually a bit deep and disconcerting. Traversing back and forth from the shoulder into the traffic lane was frequently necessary to pass other riders given our speed differential was on the magnitude of 1.5-4 times that of the other trailing slow riders. The transition was rough and not easy thanks to the rumble strips cut into the pavement.
Pling! The sound of a broken spoke from our front wheel with it thrashing around was not something any of us wanted to hear. We stopped and twisted it around another spoke, released the brake, lengthened the cable and were eventually able to roll freely. We had about 18 miles remaining and were confident about making it in despite the serious wobble. Rumble strips..... Aarrrggghhh!
Pling! Another front spoke went! Now we had a really large wobble, a precious load, a seriously compromised front wheel and another 7 miles to go. At this point one wonders if fatigue has set in to all the spokes. Our 17 mph average was going to go away gradually as we kept the speed to 18 mph or less and could not make use of the downhills.
Today's mileage was to be 71. We arrived at that figure and Sabetha was no where in sight but we happily arrived at the school within only 2 more miles. Most of us can live with the route sheet being 2 miles off but it is disconcerting when one is literally limping in and have to go an unknown extra distance!
Our bags were scattered all over again with some found in a hallway and others strewn about the gymnasium. Word had it the everyone was concerned about the weather prediction so they brought most everything inside including the camper bags.
Once we found our bags and spare parts, the two spokes were replaced and tightened as much as they could be given the equipment and the less than needed spoke nipple length we had on hand.
A ride to the motel afterwards was slow and careful with the additional weight of the packs and the computer being used now to update our ride story.
There was a line at the motel and it took an incredibly long time to process 2 people and then 4 women were having their bill split up 4 ways with all using individual credit cards. That process alone took 20 minutes just to do 2 of them. The owner thankfully recognized my impatience and somewhat exhausted state. He checked me in without making me wait another 20 minutes.
A search through the phone book revealed nothing about a pool but good ol google found it quickly! It was very close to the school but time was too short to get everything worked in particularly when things go awry as they did this day. Speaking of which, our tire went flat after riding to the motel from a defective stem - tube junction. Hopefully our bad luck is totally out of the way for the remainder of the ride.
Thus far the towns had not put on much for the BAK folks in the way of entertainment or special events but we heard that was about to change. We rode the shuttle bus into town and found that the Sabetha town center was closed to traffic. Good food was served up by a variety of the folks while a band played to the audience lounging on the grassy knoll in the park. We enjoyed pork sandwiches that came with chips and an ice cream sandwich. Natalie has been wanting ice cream for a few days now so it was a treat for her and a reasonably sized portion too.
Natalie came across some rude jerks the previous day when offering bike pins for sale and had become seriously gun-shy about being rejected in that way again. She sold two right off just from folks seeing her wear them. She then talked to two or three with no luck but persevered and was duly rewarded. A couple more sales and she was once again self motivated and beaming looking for her next customer. As mentioned, it all goes to her college fund and current plans are to be a veterinarian not to mention it being a confidence builder!
We found a bar with a pool table but it was way too smoky in there. She wanted to play pool anyway but we headed out faster than we went in. The VFW proved to be much better in that regard and she was able to have her wish granted. She won when my 8 ball shot did not go into the called pocket! Her winning streak continues against both Julie and me!
A return ride on the shuttle bus found us sitting with a bunch of small kids from the town. The driver apparently had 3 of his own on board and was riding the others around. Natalie also sold him a bike pin!
Natalie caught her journal up and went right sleep as promised.

Friday June 13, 2008
Sabetha to Horton
56.80 Miles, 15.1 Average, 3:55, 37.6 max, on the Triplet
We left kind of late as per usual and certainly late enough to enjoy the dry roads unlike the early bird crowd.
It was a different ride today which meandered to its destination via back county roads crisscrossing the same railroad track a few times. We saw three trains waiting at different crossings but thankfully none impeded our progress.
The route was real scenic and certainly very green from all the rain (read storms) that have covered the region this year.
Even though we had a great tailwind on the north to south stretches, we were unable to make use of them given the roughness of the pavement since we were trying to take it easy on our wheel and make it in without further trouble.
The roads were familiar having ridden them before while participating in regional rides, namely the Amelia Earhart Century out of Atchison.
THE CAMERA SETTING WAS SOMEHOW SET ON VIDEO. THESE SHOTS ARE PICTURES OF THE COMPUTER SCREEN VIDEO!

A SIGN OF THE TIMES. NEXT YEAR IT WILL PROBABLY BE A BARGAIN!
We reached Hiawatha and found Natalie's favorite Sag and as expected the Sag Hags treated everyone to a new theme. Today was representative of flag day with their red white and blue costumes but it was a day early given they would not be running a sag on the official day.
We searched for the Taco Bell where we had eaten on other rides several years ago and found it had gone out of business. To make matters worse, Dairy Queen and had given up in this town too. Sonic and Subway seemed to be the stops for the riders which worked well for us since Natalie was craving a grilled cheese while Julie and me opted for our usual Subway turkey sandwich with all the fixings.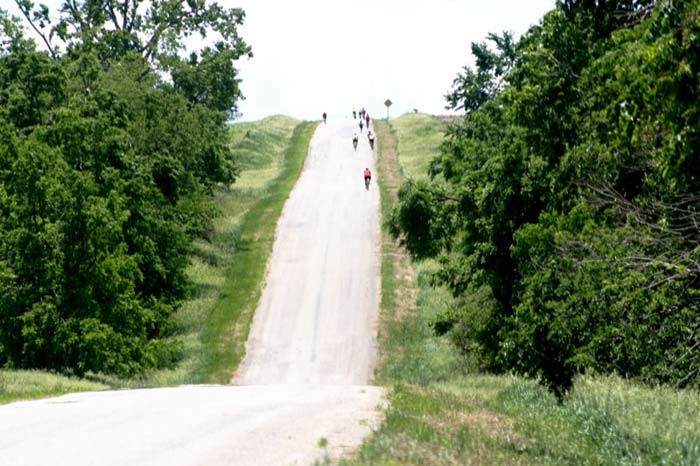 We made it in to Horton after being beat up by the sharp back road hills and the rough pavement but the most important element was that our wheel survived!
After retrieving our clothes, computer, and the all important swim wear, we made our way to a Bed and Breakfast run by very nice people.
Swimming was certainly on the agenda for Natalie given her 2 day deprivation. Although it was impossible to fit it in on the other days, we were determined to make it all happen on this day, i.e., the ride, finding lodging, eating, swimming, eating, and hanging out at 'tent city' to sell bike pins.
The town was small, 1800 or so people as I recall, so lunch pickings were on the slim side. In the small downtown area we found a nice pizza establishment that proved to tide us over.
Off to the pool we went and Natalie swam the width of the deep end by herself several times and also went off the diving board, a new experience for her. She was quite excited from her accomplishments.
After going back to the B&B we walked to tent city and found a Mexican dinner put on by a local fund raiser. Natalie put her improving sales skills to work right away. It was a good evening for us but getting late and we were all wearing down a bit from the week. Tomorrows ride was to be shorter and pretty much the perfect length for the final day.
Saturday June 14, 2008
Horton to Atchison
36.3 Miles, 17.5 Average, 2:05, 37.1 max, on the Triplet
The dawning of the day came without precipitation. Yeah!!! For the first time in 5 consecutive years it looked as if we would complete a BAK without a single rain drop falling on us! Temps were warmer on this morning and Natalie went without a wind jacket for the first time.

SNAP CRACKLE POP RICE KRISPIES!
We let Natalie sleep as late as possible given the full day before where we literally fit it all in including staying up late due to her in sales.

FRIENDLY SPIDER HANGING FROM THE CEILING AT THE B&B
The highway was smooth, very smooth, which was a relief given our insecurity about the front wheel. We could have done without the sharp hills and rises though but who can complain with the sun out and no rain in the forecast. Our speed was low as we warmed up and crawled up the first non-rollers in the granny gear. Our bike was showing a ton of dust and dirt given we were approaching 500 miles without a cleaning so a mental note was made to get that task handled soon.

OLD CAR IN EFFINGHAM
The town of Effingham is familiar from previous rides as are the rollers heading into it. It was a relief to turn east and take advantage of the SW tailwind. We were now catching the beginnings of the first few riders with several to be seen in the town. Did I mention we were near the last to leave Horton?!?! When arriving in Effingham we were treated by a parade of 4 old cars including a Metropolitan and a Dodge Charger. Given my camera cord was wrapped around my blue tooth earpiece and in the handlebar bag only one picture was taken.
| | | |
| --- | --- | --- |
| FLAG DAY IN EFFINGHAM, KS | OLD CADDY COVERED WITH PURPLE FABRIC! | |
Natalie was watching the clock and expressing great concern about not getting to lunch on time to 'serve'. She had helped last year and really wanted to be a part of putting out the food for people. We explained that each year is different and sometimes they start late and sometimes they start early. And sometimes it is catered so no help is needed!
We had tailwinds now and undulating terrain permitting higher speeds. We were also catching an increasing number of riders and it was more downhill in general too with Atchison being on the Missouri River. We were now smelling the river, so it seemed, evident by our downhill runs pushing the anaerobic point. We reached Atchison quickly with increased motivation, a good tailwind and some gentle downhills. We topped out at 37.1 mph coming into town and with the favorable conditions found ourselves running right with traffic.
We rode by the turn to the school in search of the flooded river for our traditional shot. It was real easy to find and we literally parked the bike 'in the river'!
We had heard that the ending location had changed to the school rather than the park since the river was flooding on the KS side.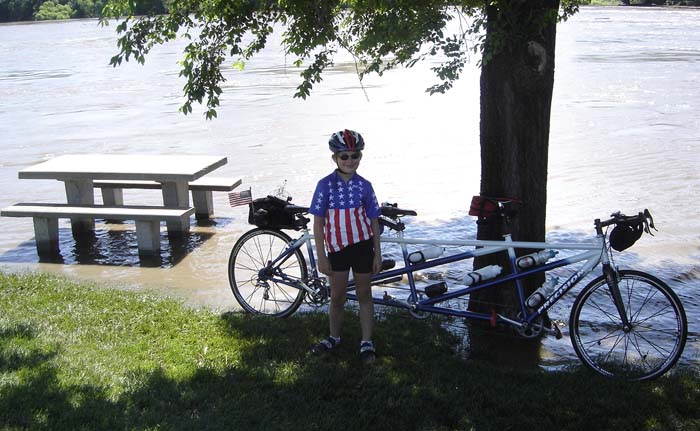 | | | |
| --- | --- | --- |
| ONE TIRED GIRL....... | .....BUT SHE DECIDED TO ENJOY THE DAY! THANKFULLY! | EATING WHILE WAITING FOR MOM TO ARRIVE |

WE MADE THE END OF THE RIDE T-SHIRT.. .TWICE! ..BOTH BOTTOM PHOTOS AND BOTH ARE NEWSPAPER INTERVIEWS
| | |
| --- | --- |
| A REUNION OF THE SISTERS | NATALIE CHECKING OUT THE T-SHIRT PRINTING MACHINE |

ROGER, THE BAK PHOTOGRAPHER.
AS ALWAYS, THANKS FOR ALL YOUR HARD WORK!!!!

EVERYONE GLAD TO SEE MOM AND SAFELY BACK HOME

JULIE HAVING FUN WITH THE KIDS
FACE REPRESENTING LONG VAN RIDES!


FACE REPRESENTING MEXICAN FOOD!

STOKETTES HAULING GEAR BACK TO THE VAN
Time to recover and reflect. BAK 2008 was a very pleasant ride despite some of the windy stretches which were mild compared to other years. It seemed we were able to maintain a fairly high average speed on the triplet this time too so it couldn't have been too bad!
Drug Treatment

Texas Jones Act Counter

[ Home ] [ 1st Visit ] [ Tandem Display ] [ Accessories ] [ Parts ] [ Close-Outs ] [ Ordering Info ] [ About Us ]