---
Lightweight, high strength, and good looks are the priority here. We start with a thick walled Cro-Moly tube section and machine away everything that doesn't look like a Co-Motion tandem head tube. The result is extremely smooth, lightweight and ready to anchor the major tubes of the tandem frame. It's also ready to display the handsome new Co-Motion logo.
Steerer Tube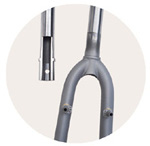 This is an incredibly important tube on any bicycle, and expecially a tandem, where strength is the priority. No shortcuts are allowed here, so we machine ours completely from a single piece of Cro-Moly tubing. The larger diameter bottom section provides a stronger fork blade welded joint, while the headset crown race rests against a stout shelf at the bottom of the gradually tapering 1-1/8" diameter top section. This compound internal/external taper distributes stress away from the thrust loads, which otherwise tend to concentrate at the lower bearing race.
Threadless Steerer Tube
The lighter weight and mechanically simple threadless steerer tube system is standard on all Co-Motion tandems. This system provides a more rigid connection between handlebar stem and frame, with fewer parts overall. Stem height adjustability is maintained with stackable spacers, and the forged aluminum Salsa stem has a separable handlebar clamp for easy removal of handlebars, especially useful on our travel tandems.
Fork Blades
The most awesome handling tandems cannot get by with generic mountain-bike fork blades, so Co-Motion has developed a fork blade specifically for tandem use. Shaped for excellent road compliance with ideal lateral rigidity, these large diameter tandem blades have tapering wall thickness from top to bottom. They're shaped perfectly for building a road tandem fork that's super strong, durable, and good looking to boot.





Wheels

Symmetrically constructed wheels assure a lifetime of solid performance. Our 145mm rear axle spacing is the standard of the tandem industry, allowing plenty of room for 9-speed wide-range cassettes, excellent chainline, and hub-mounted brakes.






Stoker Stem
Our adjustable stoker stem provides more range of adjustment than any other type. Our new CNC machined sliding handlebar clamp is lighter weight, handsome, and super secure. Also available are rigid stoker stems in two lengths, or request a custom Co-Motion stoker stem to acheive the perfect fit.





Paint
Co-Motion is known for exceptionally beautiful paint work. We complete a multi-stage, catalyzed process on each frame for a tough, long lasting finish. For a personal look, you can choose from infinite finish options.








Finish Work
Nothing compares with a Co-Motion in the finish quality department. Perfect metalwork, precise machining, and impeccable detailing are expected on a Co-Motion bicycle, and we deliver. Ask any Co-Motion owner, or better yet, take a close look at the finer details of one of our bicycles for yourself.







Fillet Brazing
Extra Smooth Fillet (ESF) - extra smooth craftsmanship. We made a name for ourselves as some of the industry's finest craftspeople with our fillet-brazed Double Espresso tandems. If you would like to add the elegance of fine fillet-brazing to your Co-Motion, we now offer this option on any of our Cro-Moly and air-hardening steel models.






Tubing
The tubing that your tandem is constructed from plays a huge part in the ride of the bike. Co-Motion tandem tubing delivers a comfortable ride while possessing incredible lateral rigidity. Every tube, from the tapered chainstay to the double-butted downtube is thoughtfully profiled for optimum tandem applications. Our continuous length top and lateral tubes are butted at both ends as well as in the center section, an expensive and complex triple-butting process.
As the only bicycle tube maker capable of producing seamless large-diameter triple-butted steel tubes in tandem length, Reynolds was the obvious choice to manufacture our new generation of steel tandem tubing. Significant improvements have been made in our 1999 tandem tubing. For better weldability and higher strength, we have replaced the venerable Co-Motion 531 tandem tubing with a new Reynolds 525/725 tubeset. This updated Cro-Moly tubeset, including seven heat-treated tubes, is used on most of our tandem models. For even greater rigidity, we have specified a custom-drawn heat-treated, larger diameter downtube on our entire tandem line, as well.
The go-fast Speedster and Java models use a completely new tubeset made from Reynolds' 631 material. This air-hardening tubing has considerably higher ultimate tensile strength and fatigue life, resulting in a significantly lighter weight, stronger frame.
All of our Reynolds tube designs are exclusive to Co-Motion, unavailable to other manufacturers.
Co-Motion aluminum tandems are made from select Easton 7005 tandem tubing. Easton has earned a reputation as the world's premier supplier of advanced technology aluminum bicycle tubing, and their tandem tubing is unbeatable.
To create a better riding and more precisely constructed aluminum tandem, we use continuous large-diameter top and lateral tubes, rather than bulged or two-piece tubes.
Our Easton 7005 tandem tubeset also features triple- and double-butted profiles designed specifically for tandems, including the tandem-only tapered stays.
Please note!
Beware of misleading information about triple-butted tubing. Some tube-makers term double-butted short tubes in which one end is thicker than the other as triple-butted. If you count the number of wall-thickness zones, our tandem tubes would be considered quint-butted. We like the term triple-butted because it clearly defines the three thicker zones, just as double-butted is a clear definition for two thicker zones with one thin zone.
---
Click on the Model Name in our "Tandem Display" for pictures and specs.

Click Here to return to our "Tandem Display"





Click Here for Co-Motion's Fitting Guide
---