[ Home ] [ 1st Visit ] [ Tandem Display ] [ Accessories ] [ Parts ] [ Close-Outs ] [ Ordering Info ] [ About Us ] [ Links ]

Shown above in Mango paint and our optional front and rear disc drakes

If you're browsing our website, looking for the tandem that looks like the Speedster, except that it's got 26" wheels, you've come to the right page.

We've newly redesigned the Mocha with a lower profile fork and trimmed clearances to make it a better road bike with improved fitting range for a wider array of riders. The refitted Mocha will accept tires ranging from 1" to 1.75" wide, offering great versatility for a wide range of uses. The Mocha is not a mountain bike, but it can venture off into the backcountry capably when called upon. Loaded down with everything you need on a self-contained tour, the Mocha really shines. Its smaller diameter 26" wheels are amazingly strong, and many people also prefer them for their worldwide availability and even for the reduced gear ratios due to their size.

The Mocha's design and geometry exhibits the handling theory that is Co-Motion's trademark. You've heard that our tandems handle better, and the Mocha responds to rider input naturally and without hesitation, giving you extra confidence to push yourselves just a little harder, and have a lot more fun!

Continuing our tradition of uncommon excellence, we build the Mocha with our exclusive Co-Motion designed zonally-butted tandem tubing. Special processing makes this air-hardening steel tubing stronger after welding, for an amazing combination of low weight and unmatched reliability. The Mocha has everything you need to take it touring this weekend and to your club ride or tandem rally next. Add the Co-Pilot option and take it to the moon if you'd like. Wherever your Mocha takes you, we'll be right there with you.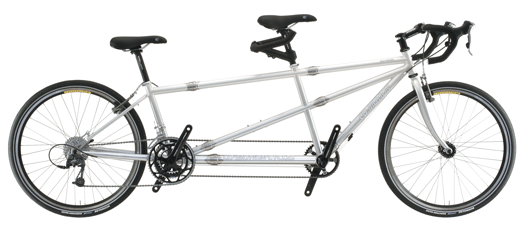 For even more versatility and travel-worthiness, we build the Mocha in a Co-Pilot version, with the S+S Couplings.
Shown with a smooth White Mica to Bright Silver fade paint job
[ Home ] [ 1st Visit ] [ Tandem Display ] [ Accessories ] [ Parts ] [ Close-Outs ] [ Ordering Info ] [ About Us ] [ Links ]