Co-Pilot Tandem
Share the world together as you team up on a tandem you'll love to ride just as much at home! If you're thinking of the Co-Pilot as a second tandem, be prepared for a pleasant surprise. This tandem performs so well you may end up sidelining the tandem you're riding now. Is the Co-Pilot a tandem for seasoned travelers or it is a new reason to get out and explore the world?
First introduced in 1993, the S&S Machine Bicycle Torque Coupling™ (BTC) has revolutionized the bicycle industry and forever changed the image of travel bikes. Substandard folding tandems with non-standard parts have become obsolete. Only other Co-Motion tandems equal the ride of the BTC-equipped Co-Pilot tandem.
Co-Motion blazed a new trail for travel tandems with a brilliant 6-BTC system. Since the Co-Pilot tandem frame separates into three equally sized sections, the ultimate in packability is maintained while tandem assembly and disassembly is intelligently simplified. For example, the Co-Pilot has no separate tubes to lose or accidentally assemble out of sequence. Another significant advantage is that there is no need to remove the fork. Plus, the Co-Pilot's BTCs are strategically located for unimpeded wrench access without time-consuming crankset removal. These details are critical time savers that our competitors simply overlook.
No tandem maker is more thorough than Co-Motion when it comes to engineering the location of the couplings for optimum frame strength. Each coupling is fully supported where it is integrated into the butted section of our exclusive triple-butted tandem tubing. Our large diameter bottom tube is oval at both ends and round where it joins just one large BTC. This design provides the best known structural benefit of a single oversized tube as well as lighter weight and the logical simplicity and ease of handling fewer parts.
Because we know you expect the best, Co-Motion Cycles uses only the original stainless steel S&S Machine Bicycle Torque Couplings™. Many other builders are now using plated or non-plated couplings made from non-stainless material, which are designed to reduce cost and speed up bicycle production. Stainless couplings assure a lifetime of flawless and corrosion-free operation.
We know that once you own a Co-Pilot, you'll want to keep it forever.
---
The Co-Pilot tandem is easy to pack up!
Don't worry! Packing a genuine Co-Pilot tandem takes less time than little-wheeled folding tandems. Our three-section design and easy-access couplers keep your packing job trouble-free.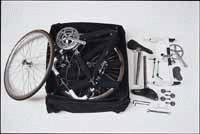 ---
Frame Specifications

| | | | |
| --- | --- | --- | --- |
| Frame Size | 21/18 | 22/19 | 23/20 |
| Head Angle | 73° | 73° | 73° |
| Seat Angle, Captain | 73° | 73° | 73° |
| Seat Angle, Stoker | 73° | 73° | 73° |
| Top Tube, Front | 21.75" | 22.5" | 23.25" |
| Top Tube, Rear | 28.5" | 28.5" | 28.5" |
| Bottom Bracket Height | 10.75" | 10.75" | 10.75" |
| Rear Axle Spacing | 145mm | 145mm | 145mm |
| Seat Post Diameter | 29.8mm | 29.8mm | 29.8mm |
| Standover, Front | 30.5" | 31.1" | 32" |
| Standover, Rear | 27.6" | 28.6" | 29.5" |

Frame sizes are measured from center of bottom bracket to top of seat tube collar.
Standover heights are measured at mid top tube.
Top tube lengths are measured on effective horizontal.

Click here to find the right fit.
Tandem Componenet Package

| | | | |
| --- | --- | --- | --- |
| Frame | Co-Motion designed cro-moly triple butted tandem tubing | Fork | Co-Motion taper-gauge Cro-Moly, with Co-Motion CNC tandem steerer |
| Headset | RaceFace Thermo threadless | Bottom Brackets | Shimano UN-52 |
| Crankset | RaceFace Tandem | Chainrings | 54-44-32 |
| Brakes | Avid Single Digit 7 | Brake Levers | Shimano Ultegra STI Flite Deck |
| Front Derailleur | Ultegra 6500 Triple | Rear Derailleur | Shimano XT 9sp |
| Cassette | LX 11-32 9sp | Shifters | Shimano Ultegra STI Flite Deck |
| Seat Posts | Zoom 29.8 mm | Saddles | Co-Motion D2 Men's & Women's |
| Captain Stem | Salsa Moto-Ace 8-13cm | Stoker Stem | Telescoping adjustable (see options) |
| Chain | Shimano CN-HG92 | Pedals | None |
| Hubs | DT Hugi Symmetric 36h, 40h or 48h | Spokes | DT 14 gauge |
| Rims | Velocity Dyad Silver | Tires | Avocet Fasgrip20 700x28 |
| QR skewers | Salsa | Handlebars | Profile 40,42,44, or Stoker |
Tandem Optional Equipment

| | |
| --- | --- |
| Co-Motion max-adjustable stoker stem | Co-Motion/WoundUp carbon tandem fork |
| Chris King headset | Rockshox suspension seat post |
| Arai drum brake with QR kit | Phil Wood tandem hubset |
Paint Options:

Stock colors:

Midnight Blue Metallic
Tropical Green Metallic
Pavo Purple Metallic
Prowler Yellow
Deep Red Metallic
Silver Metallic