[ Home ] [ 1st Visit ] [ Tandem Display ] [ Accessories ] [ Parts ] [ Close-Outs ] [ Ordering Info ] [ About Us ] [ Links ]

(Click on the HHH organization's image to go to their website)
2006
- THE 4th DIMENSION!


The ride this year was all about the 'girls', hence the pink background! Put up with it!
Time was near and we once again tossed around the possibility of adding a new twist to our annual HHH escapades. It seemed only fitting to give serious consideration to a different approach as something new would revitalize the adventure aspect of our pilgrimage.
Twelve times of pointing one's nose south on the 'Road to Hell' for the pleasures of riding a very fast non stop century, year after year, during August's historically hottest annual weekend will make most scratch their head for some time. The contagious compulsion, fun and rewards, have allowed only two misses since the long ago 1993 initiation and those misses were during the PBP (Paris Brest Paris) years of 1995 and 1999. And if it was possible to be in two places at once... well... HHH is, after all, the largest race in the world!
Everyone should have goals, goals and more goals! Ours, for years, was to be the first tandem in out of ~200 tandem starters. We just missed the 4 hour mark on the 102 mile course but found ourselves being the 4th tandem in the year following. Each year continued to reward us with a stair step improvements evident by our 2nd place tandem finish the successive year.
Still short of our rarely spoken goal, our elusive pursuit continued but two bad years were to plague us. In 2001 we suffered from carbon monoxide poisoning and if that was not enough we had 3 flats! Arguably the worst year was 2002 when we managed to crash at the 101 mile point resultant of a barrel containing a steel pole and sign placed smack in the middle of a 4 lane road! The rider we were drafting dodged the barrel without calling out the obstacle and we found ourselves slammed to the pavement within a millisecond. The hazard, placed by race officials, had no paint warnings nor the presence of volunteers to warn unsuspecting riders of the danger. The course hazard was finally corrected two years later despite safety requests made to the HHH folks. No doubt others crashed in the interim too as we saw a narrow miss the year immediately following while in the lead group.
2004 rolled around and despite getting older and not necessarily wiser, we finally were the 1st tandem in! Another great year immediately followed as we were the 1st overall bike in of the official (no early start bandits included!) 9,962 recreational unofficial tandems and single racers.
Given our history it seemed more than fitting for us to add a new twist for 2006! We had the bike, a beautiful Co-Motion 7000 series aluminum quad, and 4 motivated riders. Our pace line or rather team, consisted of Julie, my racer hammer head go fast stoker AKA 'Mighty Mouse' (often referred to by the girls as their 'Evil Step Sister'), Courtney ('Bugs') going on 9 years of age, and 6 year old Natalie ('Little One'). All in unison now, "Stop calling me that Dad!" To top it off the Quad was fitted with a Kansas license plate saying, "Girlz Rule"! Ah... the comments that would bring one very hot day in TX! The girls were in better form than ever before with Courtney having 2300 miles on her legs this year while younger sister Natalie had nearly 1300. Julie had racked up her usual late season mega miles and had a couple of late season races to her credit too.
The silver anniversary of HHH had arrived and record numbers would participate with 11,806 official riders. Upon arriving for registration it was evident that something was seriously different and that a party atmosphere was in the making. Tents were bolted to the parking lot with more being anchored as workers ran hammer drills through the new concrete, a tough job in the hot sun! The strong south wind raised early speculation along with the day's temperature that the 25th running of the ride would more than live up to its name.
We walked into the building housing the vendor displays to sign up and discovered a very long line and extremely crowded conditions despite our record early arrival. "What gives?", I asked. Refusing to stand in line for what looked to be hours with two tired little girls, we worked our way to the late registration area and discovered NO line! For some reason the pre-registered people were stuck and would be so for a very long time.

The long anticipated dip!
A quick swim in the pool was the girl's treat for the day following the 500 mile drive. They enjoyed the coolness of the water before we grabbing a Pizza Hut dinner before getting serious about the final preparations for the morning's ride. Usually we load the bike with 20+ pounds of water but not so this time given we would treat ourselves to sags for the first time in years but that time savings was more than taken up getting everything ready and outlined for the young ones.
Morning arrived and with no local weather channel and only a quick glance at the local station's temperature and a continental radar view, we headed out given we couldn't change it anyway. It was already 80 degrees at the start and blowing as if it were already high noon.
We rode the 2 miles to the start leaving about 6:40 giving us plenty of time to find a last minute porta-potty if needed. We passed the racers waiting for their start and rode head-on toward the tandem staging area so we could assume our usual front row position.
Our plan was to do the full 102 miles, do it fast and to stop as little as possible, and beat the heat! These thoughts had been presented a few times to the girls, something oh so important since it really helps to have their expectations on board with what is to come. It was more than obvious that our work would be cut out for us this year as it was one of the warmest start conditions ever and the southwest winds were very telling of the temps we would experience in just a few hours.
Everyone understood our goal of riding straight through to and past Burkburnett thus getting over 100K behind us in short order and through Hell's Gate. If one does not make it to Hell's Gate in time, the riders are diverted back to the start via a short cut. The cut-off time was scheduled to be 12:30.
A news crew filmed and interviewed us while friends, new folks and other tandem teams came by to chat and or get reacquainted.

Huh? Everyone awake!?
Lined up just ahead of the official start line.
The Air Force fly by took place before we left, for the first time in my memory, and in short order we heard, "Tandems Ready! Go!" My anxious team literally launched the bike before I could get clipped in causing a clumsy but momentary hesitation!
Our intercom proved to be invaluable as I feathered the rear motors via informative requests. It was obvious from the get-go that the kids were wound and wound tight. "Save it for later", I encouraged while letting them know there was an overpass coming in short order. I would then let them know when it was time to pour it on.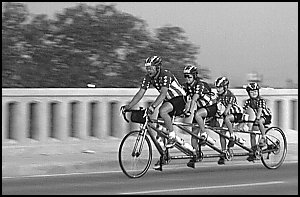 Cresting the overpass!
This picture appeared on the front page of the Sunday paper.
We were intentionally gapped climbing the overpass by a few tandems and fast recumbents, some of them sporting full fairings and skirts but "no worries" I told the team knowing we would let our bike work for us down the other side thus conserving energy. And the strategy worked as we rolled past all the tandems and ended up drafting two recumbents cruising just short of 25 mph.
The usual congestion from early starters and those starting from remote locations, aka Bandits, forced us into the third and oncoming traffic lane, for safety. Be mindful of the plastic lane marking safety reflectors I reminded myself since we endured flats from broken ones during one of the less fun and challenging years.
Another 'girl powered' stretched bike, a dad and his two teenage daughters on a triplet, caught and drafted us until the first turn that also has a railroad crossing in short order. We negotiated the turn at the 12 mile point while maintaining our speed. And with a call for help we were able to match the acceleration of the recumbents and cruise through successive turns and traffic without hesitation. We were about to enter the rolling terrain that would be a challenge on the quad.

Natalie in a temporary stubborn mode,
"I am not going to look at the camera!"
The rises proved to be hills, certainly a different aspect as compared to hammering on a 2 seat tandem. Refraining from 100% efforts and pacing ourselves I would call for a 'steady push' or say 'add a little more if you can' followed by 'okay' at the crest when it was best to back off and conserve. Sometimes I would send info that we were half way up the hill and to hold the power or relayed when the top of the hill was near. No doubt everyone loved to hear, "Okay... rest now. We have another coming up in a while and I will tell you when to hit it."
We had been passed by many on the hills but would soon enjoy a great tailwind from turning and heading north. In short order we found ourselves reeling in and passing many riders that no doubt were surprised to see us again that day.
On certain stretches of the course memories of previous years would come to mind. One story related to the girls was where daddy had to stop for an emergency 'nature break' along with how it literally did us in to chase for 3 miles catching back on to a pack of tandems and singles that were all working together.
Burkburnett recently repaved the road and the town welcomed us with open arms as people on the sidewalks and streets were cheering and handing riders bottled water. We grabbed one and the coolness experienced by all was oh so refreshing as we passed it around.
The turn south was in anticipation of our first sag around the 60 mile point. We opted to skip one that came into view in short order thinking and recalling that there should be another one very soon. We soon realized that the century route turned east and that there would not be another sag for a while.
The racer feed zone was coming up but the remaining water was apparently exhausted as the area was deserted for the first time ever in recent memory. We were well behind our usual 2 seat tandem times when our average always exceeded 25 mph at this point but the good news was that we were about 2 hours and 40 minutes ahead of the closing of Hell's Gate! "Great job guys!", I related telling them of our 21.3 mph average and accomplishment.
It was really starting to cook now and the last 5 miles to the 70 mile sag was really rough on me. Everyone else seemed to be doing well but my upper body had all it was going to take and I had a bit of trouble getting off of the bike smoothly. A stop of 12-15 minutes was had and we were off again. I should feel better after stopping for that long I thought to myself but the stop proved to be only mildly refreshing. Within 10 miles I was doing poorly again which seemed strange since Julie and I are likely in better shape than any previous year but then we weren't on a quad either.
The turns into the wind and the gradual stair step climbs made this leg of the ride very tedious. The constant wind in my ears, the rising heat and slow speed were demoralizing. My pain was increasing and Julie's condition had now deteriorated too. The girls were real troopers riding without a complaint but during this slow and less than entertaining hot windy stretch they were starting to ask when we would reach the next sag.
It was hovering around 100 degrees while we were drafting a rather lazy tired pack running only 15 mph b ut we were thankful as they really helped keep us moving. We were climbing a slight incline into the wind when my eye caught a bobble of someone's body up ahead. It was more of a sixth sense or instant recognition that a detail was awry. Instinctively I started braking and setting up my escape route but all seemed fine for probably two full seconds making me wonder if I had misread the sign. Then it happened and it happened fast as two riders suddenly went down in front of us. Tired inattentive people make mistakes and this was a big one as we heard the horrendous sound of bikes and bodies hitting the pavement. Thankfully we were already following an anticipated escape route towards the center of the road as bodies and bikes were being strewn across the pavement. Whew... "That was tooooo close", I whispered through the intercom. Others behind us stopped to help so thankfully we were able to keep on going not wanting to put the kids through seeing the outcome of the accident. Natalie said she had never seen an adult crash on a bicycle before and inquired how that could happen thinking it only happened to kids, and it had in her experience up to that point!
We really struggled to the 91 mile sag, parked the bike in the shade, relaxed and refueled! We sat in front of giant misters, downed sports pickle juice, and nibbled on the meager pickings available. We were offered cold towels and watched others make use of the cots. I don't recall if anyone was hooked to an IV at this early time but they are always available to replenish electrolytes for the needy. As a safety measure, medical personnel are stationed every 10 miles therefore no one should be more than 5 miles from help anywhere on the course at any given time.
What a difference 30 minutes off of the bike combined with drinking five bottles of water can make. It is tough to drink much captaining a quad while drafting! Despite the fatigue, heat and wind, we were now rolling again. Riders continued to catch us and we stayed with others and passed a few too all while in survival mode, a mode that is instinctive for those that have participated in brevets and ultramarathon cycling events. Interestingly enough we found ourselves seeing riders that had passed us during what seemed like hours earlier. Stopping only twice does have its advantages!
The downtown buildings came into sight from our advantage point with several miles remaining. I pointed them out to the girls which provided a new found objective and recognizable short and easy goal.
We made the right turn where a group seems to have been offering free beer the past couple of years, maybe longer though given my cooked brain and associated attention span at this point during other years was pretty much zilch. There were more takers than we had ever seen but we were also 2 hours behind our usual schedule.
Arriving in the familiar downtown we sliced through the final turns and headed to the finish line. For the first time in years worth of memories we did not sprint nor have any desire to!
What a feeling crossing the finish line! ...totally priceless. We crossed with the clock at 6:24, our total time, and our computer revealed a riding time of 5:27 with an average speed of 18.7.
"Where are the pins?", I asked through the intercom as I looked around. The girls had been told that we would all receive a pin and that everyone that completes the ride is a winner! They started to reveal a bit of disappointment but we were told in short order that they had run out and more were on the way. A man appeared within moments with a heavy case containing them that he ripped open without hesitation for distribution to all the waiting riders.
The temperature was hovering around 102 degrees at the finish and it would continue to climb to a record breaking 105! The medical director and other officials monitored the wind, how rapidly the temperatures were coming up, the heat index, and the current temperature, all of which caused them to close Hell's Gate one hour early at 11:30. It was a safety decision on their part but thankfully we had going on two hours to spare resultant of our plan to get the early part of the ride behind us quickly. Many riders found themselves in a situation where they were forced to cancel their century plans or face being arrested.

Not feeling too bad for the first time ever at the finish!
All in a days work!
HHH is always a challenge and it was certainly a different one for us this year. It was a great finish by all with a total of 106 miles ridden including the to and from mileage making a new one day distance record for both girls. It was a bit disconcerting for Courtney though to suddenly realize that her younger sister rode a longer ride than she did at the tender age of 6! "It's not fair!", she exclaimed.
Sizzle, sizzle, sizzle. What do you think? Do you want to go to Hell? How about joining us and probably 11,806+ others next year?
What other ride serves up 20,000 bananas, 8,000 pickles, 10,000 gallons of water, 70,000 pounds of ice, 9,000 oranges, 2,800 gallons of PowerAde, and has over 100 port-a-potties? HHH has more volunteers than nearly all other large bike rides have participants! You can always find us in the front row of the tandem start.
See you there!
Quips found on the internet:
The picture of the day for me was the quad tandem (can you say that?) that was ridden by a family. Dad in front, mom behind and two girls I'm guessing about 10 and 8 in the back. They were all decked out in matching stars and stripes jerseys and matching helmets. They did the 100 miles and after they rolled back into the motel the youngsters still had some bounce in their step. It was pretty obvious that they prepared well for the event. I'm not sure how one would handle the on board beverages for a family of 4 and the logistics of "P" stops with 3 females must have been something.
Birddog
Since we ride tandem, we are the lucky ones who start at the front !! The start was great with a BEAUTIFUL quad tandem leading out.
nochain
Good read here:

http://www.precisiontandems.com/hhh06.htm
[ Home ] [ 1st Visit ] [ Tandem Display ] [ Accessories ] [ Parts ] [ Close-Outs ] [ Ordering Info ] [ About Us ] [ Links ]