[ Home ] [ 1st Visit ] [ Tandem Display ] [ Accessories ] [ Parts ] [ Close-Outs ] [ Ordering Info ] [ About Us ] [ Links ]
2011
- HHH 30th Anniversary
Record Heat Year
We certainly passed around the idea more than once of returning to Hotter'n Hell with the girls and riding the quad, particularly after Natalie asked about doing it again with us last year. Their 5 year hiatus, busy schedules and the fact they are entering their teens create some sort of urgency, too. We all talked it over and Courtney's middle school schedule (read some of her teachers) did not allow for a day out, to play. Our backup thoughts evolved into a plan, one of riding the triplet with 11 year old Natalie.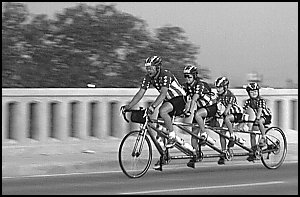 2006 Wichita Falls Times Record front page photo
Our nearly 30 year old van has low mileage for its age, nearly 300,000 miles. And we would still take it anywhere, but.... The comforts of traveling in something quiet and new finally won out so the new one was tweaked from storage. Besides, I have to save the old 1983 for the girls to drive to high school! ;-)
Our first challenge was to get the triplet into the 'new' van. Since this is an extended Ford, one might think this would be a cinch. Not! Our old one accepted the quad from the rear door to the engine dog house with both wheels on, but that van has the rear seat mounted sideways. No such comparison with the new one given the real estate taken up by the two rear seats. But at least everyone gets to face forward now and splitting up the kids adds multiple type comforts to the trip, if you know what I mean. We slithered the triplet in after removing the chains and both wheels, and tossed in the rest of our gear.
Heading out at 5:30 Thursday afternoon, we found ourselves making a bee-line to the first Taco Bell that was right off of the highway. It took a while to get there though. They really messed up our order, and those of other customers too. Our 20 minute ordeal to get food added a new definition to 'fast food.
Any trip seems to be a challenge but things were smooth sailing to Oklahoma City with us able to get some rest right after the stroke of midnight.
I guess everyone was tired, as we did not hit the road until after 10 a.m. the next morning. No big deal though, as we did not have that much further to go. And this van has a very good AC, so no worries about afternoon heat being uncomfortable.
Lawton, Oklahoma works well for us for lodging and timed well for lunch. Guess we opted for the Taco Bell since it happened to be right by our motel. At least the service was better this time.
It had been a number of years since Natalie's last trip to Hell. http://www.precisiontandems.com/hhh06.htm She was only 6 then so perspectives and memories change. We would hear a bit of commentary at times about what she remembered. The adult favorite memory was from Natalie emphatically saying, "I am not going to look at the camera!" And as she said this she put her head down, way down, and the handlebar mounted water bottle nipple lodged in the vent of her helmet. It effectively locked her head in place to the handlebar! "Daddy!!!"
She certainly recalled the trade show, all the glitz, and the large crowds.
We did the late registration thing and worked our way through the vendors. Being there early has great advantages of not fighting the crowd! We bought bottle socks touted to be the next best thing since AC. We'll see how well they keep our drinks cool, tomorrow, with the forecast being for a sizzling top out at something well over 100. We grabbed a few freebies -- sunglasses, and string backpacks. The giveaways are not what they were back in, the day. Heck, it seems I recall free beer and ice cream in 1993. Sheesh, that's 18 years ago. Guess this is my 17th time of being lured into this thing.
We learned of a 6:15 AM early start option, something new this year publicized ahead of time, resultant of the extremely hot summer of 2011. Starting early seemed a bit ridiculous, in my mind, given the ride is all about 'the heat' and why change a 30 year established tradition? The temperature when we finish would be the nearly the same as any other year, and maybe cooler than some. Yes, it will most likely get very hot based on the forecast, but only later in the day so changing the time would help those riders coming late, very late. Shutting Hell's gate early, as in other years, would effectively curtail a potential problem for slow riding folks. How this decision would affect the overall ride experience and character remained to be seen. One thing for sure, it would mostly eliminate the early start bandits given they would now 'officially' be able to be out on the course, early.
Off to the grocery store for Gatorade. Finding a grocery in Lawton has never been an easy task; this year was no exception. With that out of the way it was getting on toward dinner time.
Yep, we ate at a Mexican restaurant, Again -- maybe we should wear sombreros rather Giro helmets.
Knowing the brain is not fully engaged at 4:30 AM, we laid everything out the night before, and I mean everything. Bottles were filled with Gatorade and we did all we could to simplify the morning mental fog to come. The oldish Motorola Razor cell phone, with a pic of Nat when she was 6, has the alarm time remaining in its memory, left over from other HHH years. There is no way in Hell we were going to change it to 3:30 AM to make the new early optional start time! Having that alarm time in the phone saved us from having to figure out that out all over again.
Natalie unpacked her ride clothes and recorded this note for her journal: "I unpacked my ride clothes and found a stuffed bear wearing a shirt that had a picture of dad, me and Julie on the triplet. It made me happy." Mom sneaks in a surprise for her now and then!
4:30 is like way too early. Ugg. We crawled in the van making note that the Lawton McDonalds was closed. The I-44 service area McDonalds proved to be closed too. The highway traffic heading south is about 25 to 1 for the northbound side, something interesting at least. The proximity of OK City is such that some could lose sleep and still make the ride doable, so we surmised that to be the source of the traffic.
The folks in Burkburnett, TX were with it though having opened their McDonalds early. Riders were in the drive-thru and inside. The location times well as we are only minutes away at this point and can finish our breakfast on the fly by the time we arrive at our secret parking spot. I pointed out that we would be riding through this town when about 60 miles into the ride and reminisced about the 2006 25th anniversary year when they shut Hell's Gate down way early due to the rapid rise in temperature. We had no problems though, beating the cut-off by nearly 1.5 hours. We were all onboard to ride fast and non stop to beat the heat that year. Our plan shaped up with us again shooting for making it to the Burkburnett sag before taking a break. The next one at 68 miles was just too far for me when on the quad 5 years ago. And these gray hairs are not letting me stay on the bike any longer, either.
We pulled into Wichita Falls and I'm thinking we are in good shape with 50 minutes to go before the start. That time vaporizes though with having to install, in the dark, the wheels, chains, one handlebar, one set of pedals and one saddle. The tires get pumped to 130 psi, too. And we have to hook up the intercom, clean the connections, and test it out.
6:58AM, JUST IN TIME FOR THE TANDEM START, THAT APPARENTLY HAPPENED AHEAD OF THE PUBLISHED 7:00AM TIME
It was important to get to the official 'traditional' start since it is, after all, tradition. We needed to activate our timing chip by being there too. It is an electronic strip of some sort mounted to my helmet. With sensor equipment out on the course that monitors the rider's time and routes taken, they are able to provide an official elapsed time upon completion.
We rode toward the start in the dark seeing some early start riders rolling along now and then, some with lights, some without. Several tandems rolled by in close proximity to each other. It was early yet for the traditional tandem start so we surmised that they must have turned the tandems loose a very few minutes before the posted 7:00 time. Yes, they brought back the tandem start!!! Awesome! Guess all those complaints of last year made someone take notice.
We activated our timing chip at 6:58:04, just in time for the official 7AM start. There was not a tandem in sight though. Big big bummer and not the start we planned. It was a sight to see the thousands and thousands of single bikes lined up behind the gates.
We made the U-turn, had a spectator take our picture, and rode fast catching a few tandems over several miles.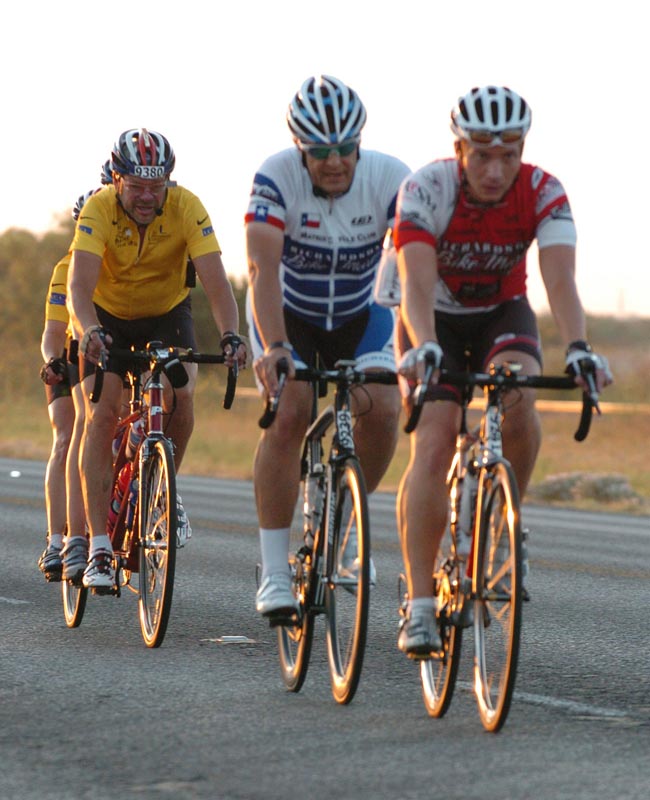 The Air Force flyover was pretty much on time this year and I'm glad Natalie got to witness that spectacle. From Natalie's journal: "Saw one tandem captain who my dad recognized. Dad said, "Hey dude!" It was a really short conversation as we were passing many riders going at a higher speed. My dad said we saw this same father with his two daughters on a triplet in 2006, the last time I did this ride."
We reached the sag west of Iowa park. It was packed with riders and so was the road leaving there. Obviously we had caught the first of the early start riders. We drafted many people and at times there were really long lines of bikes that we pulled along.
Another journal entry: "About 50 miles into the ride we passed a red Co-Motion tandem ridden by a nice couple. They took pictures of us while we rode and asked if it was okay. They should be emailing them to us!"
And they did email us photos!
They rode the perfect speed, helping us along. We drafted them for several miles until they stopped at the 58 mile sag needing water. We kept pushing on, because we could.
Memories come alive every year upon reaching Burkburnett. Usually we are greeted by many of the town's people out cheering, but numbers were down on this hot day. The RR crossing is now smooth and has been for a while, a good thing. Then there is the KOA where we camped back in - the day. And there was the year a lead rider jogged around a traffic island taking the pace line with him. His Bad.

The remainder is from Natalie's journal.
"We reached Burkburnett or Hell's Gate by 9:52AM. It was watched over by a huge inflatable guy they call Pyro Pete."
"Dad told me about the feed zone hill and needing to really push, up it. We went fast through the turn and passed riders on the hill. The racers were on a different course this year, so there were no people handing out water. We rode on to the next sag, about 10 miles away. It was getting hot now and we were riding slower on the hills and getting tired too. Dad said we had a 22.2 average at 68.4 miles when we got to the sag."
"We made it to the same sag as in 2006 before stopping despite previous plans of taking a break at an earlier point."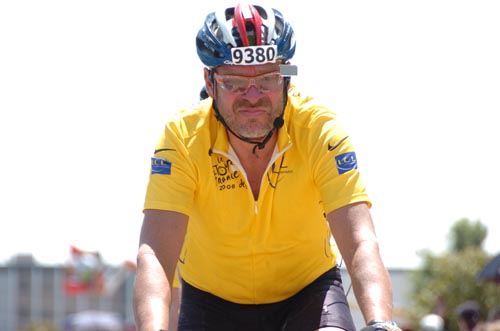 "We had pickle juice and cold ice soaked paper towels to put on our necks. We ate a little and drank what we could. The water was hot and the sag was not handling the ice right as it took too long to get any and we saw a rider with his glove on reach in the drinking water for ice. YUCK!"
"We picked sharp thorny things from the tires, about 5 total. We must have seen 70 flat tires, more than dad and Julie have seen before. We did not want one!"
"After the sag we had only 32 miles to go! The heat and a little wind continued to slow us and we were not passing everyone anymore, only about half of the riders, and the other half were passing us."
"At some point an ambulance came flying by going the other direction. It was scary fast with many riders using both sides of the road."
"They set up a sag with a sign saying it was 3 more miles to the official sag, at Dean, the same one we stopped at 5 years ago when it was their 25th anniversary."
"We stayed at this [official] sag about 25 minutes, sitting in chairs, drinking many cups of cold ice water. This sag did a great job and people were helping riders. They had several medical cots and people putting iced towels on them. No one had those IV bottles hooked to them. I stuck my head in a trough of ice, more than once. Brrrr!"
"Dad and Julie talked about stopping at the Outlaw free beer stop but it was hot and they only had hot dogs for food, not what we wanted so we rode on in. When the computer said 100 miles dad said we did it in 4 hours and 56 minutes with a 20.2 average and we still had nearly 2 miles to go. We rode through a blast of really hot air and not long after a very strong blowing side wind with dirt hit us too. It stayed much hotter after that."
"We rode across the finish line, got our picture taken a few times, picked up our medals, and one for my older sister too since she could not go this year."
"We walked the triplet through the crowd and found a dumpster to lean it against. It was very hot now. A newspaper man from New York that talked to us was here to cover the heat and drought. He looked on his phone and it said 103 degrees."
"We stood in line and got grilled chicken wraps and a grilled chicken sandwich with sodas. They wanted $6 for the waters we asked for. We said no."
"After that I finally talked dad into letting me get a snow-cone. They even had a dill pickle flavor eeeewwwwww!!!"
"Dad phoned mom telling we had finished, were safe, and had a good ride."
"A band was playing in the tent as we sat on the steps of the building they call MPEC. The shade disappeared slowly and we finally left with dad barely moving down the stairs from very sore legs. We had to ride back to the van and it was now 109 degrees."
"The van must have been 150 inside. Dad moved into the shade, a Fire Lane that said No Parking. We took the bike apart and got it inside the van without scratching it or getting grease on the van. The new van is a lot of work. With the old van we just rolled the bike in and close the door. I do like the air conditioner in the new van in this hot weather."
"We cleaned up at the quick shop before starting the drive home and were to shower at our motel for the night. We drove back through all the toll booths as we drove towards home."
"Dinner was at El Chico in Oklahoma City. I had chicken fajitas and a small chocolate sundae."
Life is Good!
Our ride time was 5:03 giving us a 20.2 average.
We stopped twice.
We received many strange comments on the ride, but from only the guys.
The one in the back is not pedaling.
That's cheating.
I see you put the girls in order by size.
3 engines.
It's a trandom.
It's a tresome.
It's a threesome.
No wonder it took so long to catch you, you have 3 motors!
[ Home ] [ 1st Visit ] [ Tandem Display ] [ Accessories ] [ Parts ] [ Close-Outs ] [ Ordering Info ] [ About Us ] [ Links ]
Free Counters