Hottern' Hell Hundred 2014
Courtney Johnson
---
Friday August 23
To start off, I would just like to say I knew I was going to Texas only hours before I left. Alright then, here we go.
Dad and I left Kansas City right after I got out of school today, like right away. Unfortunately, our car had a few minor AC issues so we had none. Like zero. And it was over 90 degrees outside. HOTTTTTTTTT. The drive wasn't overly exciting to be honest, just passing through a few toll roads and digging around for change, talking about who knows what, and, of course, observing the heat. The most lively thing of the drive was probably when it looked like it was about to rain and the air cooled down ever so slightly. I will definitely take what I can get. We made it into Oklahoma to fill up our gas tank and I went inside to order Taco Bell, the road trip favorite to those of whom I am related. Oh yes, fancy English. Anyway, we ate Taco Bell tacos or a burrito in Dad's case, and pushed onwards towards Wichita Falls.
When we reached Lawton, OK we stopped at a Walmart in search of ride supplements known as granola bars and Gatorade. Dad left his handy-dandy flashlight at home so we had to find something that would suffice for the duration of the weekend. After searching around the entire store looking for assorted items, we got in a very slow moving line. Following our check out, we found the Motel 6 where we planned to stay for the night, checked into our room, and got ready for the ride the following morning.
Saturday August 24
Dad couldn't sleep last night so we ended up getting up much earlier than I would have liked but it was only 30 minutes earlier than planned. At 4:30 in the morning, I had my riding clothes on, teeth brushed, and was trying to wake up a little bit more. We put our luggage in the car and went in search of a McDonalds for breakfast. As we were driving on the dark, mostly deserted highway, you could look back and see the city lights spread out like a colorful blanket. It was quite spectacular. We did find the mostly empty McDonalds and then tried to find our way to the parking lot in Wichita Falls. We signed up and received our numbers (14826 and 14827) before going to unpack the bike. With new wheels on it, the bike looked flashier than ever. We attempted to locate the very start of the ride and did succeed but found out that we couldn't just line up with the tandems, we had to go through everyone. So, we turned around and then just decided to go back and start with the tandems from a block away rather than risk missing the start. Dad thought he had the computer reset ok when we started but for some reason it wasn't cooperating. Luckily we had our tracker chips...but we never went through the start gate so we didn't know how accurate they would be...but we did have the GPS! We would be able to figure out our time after all.

GOOOOOOOOOOD MORNING TEXAS!
To start with, there were 20 immediate tandems close to us and one triplet but that group soon split down to seven in a quick paced drafting group. In the initial stretch everyone was doing their fair share of pulling but when we turned left on the course and crossed over some tracks, the group lost one tandem right after. We were flying along, the rolling Texas landscape before us. Some hills popped up and not long after we caught the "pace group" where you pay money to have a group of riders lead you out, guaranteeing you a five hour century if you kept up with them. In this group, however, were some remote starts riding among the paying cyclists. We tried to make our way through the group but a Jeep with someone hanging off the back taking pictures blocked the entire road. THANKS. With some heated remarks overheard, we were able to get on past with only a couple of very strong single bike riders hopping on our tails.
And they're off!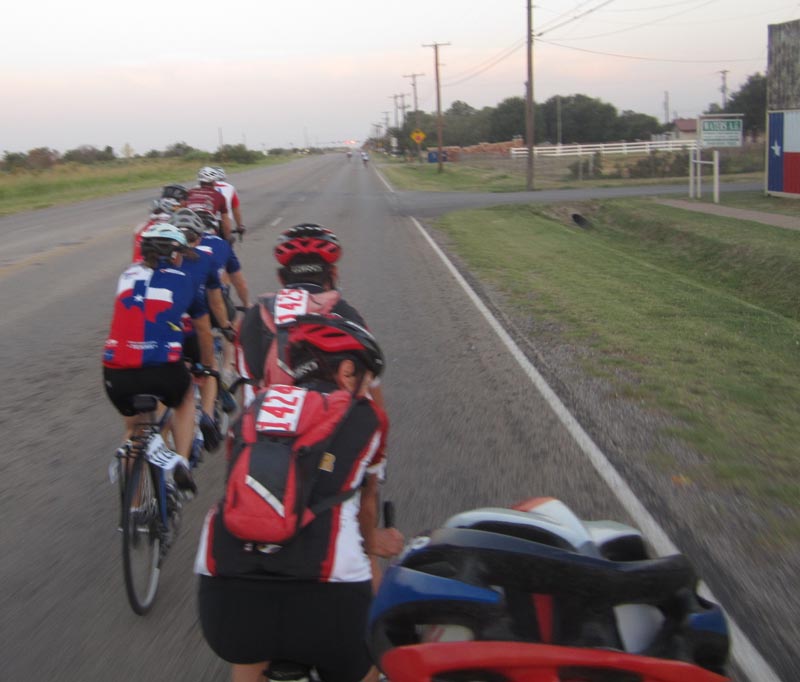 Starting the morning off
Pace group
Draft line
A water handing station was around 30 miles into the ride. The people handing water to those riding by need to take a class on how to properly hold the bottle (from the top) so their wrists won't be destroyed by people grabbing water. Dad and I downed some water and kept on going, eventually weeding out the remaining tandems to ourselves and one other tandem (father and son) with three single bike riders. Those guys were insanely strong. We did experience a cow up close and personal, however. The animal was just chilling out on the side of the road next to her boyfriend while we rode right next to them. That was a little scary...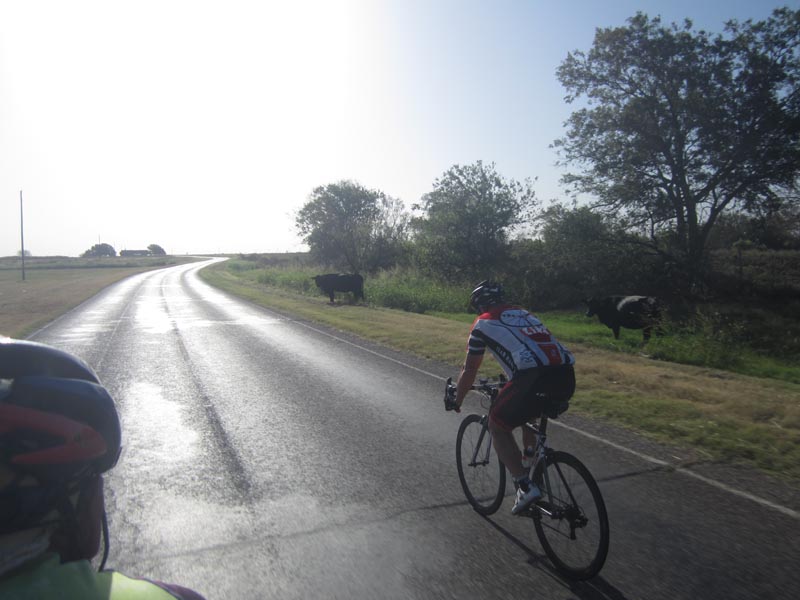 Now that's a load of bull
The other tandem stopped at a SAG while we kept going, intent on going as far as possible before getting off the bike. We kept working with those guys for a long ways, through Burkburnett and past Hell's Gate, to the next water station where I definitely needed some more fluids having gone through three bottles already. At this station, Dad grabbed one bottle while I loaded up on three, drinking one, and putting the other two in bottles. By this time we had been on the bike for probably 70 miles or more without getting off. And it was starting to wear on us. We kept on going for quite awhile longer, the roads and scenery starting to blend together. At some point we came to an intersection and went straight, just like the marking on the pavement indicated. Shortly before, the single bikes pulled away from us but we were starting to tire out. We rode five more miles before a SAG vehicle pulled up beside us as we were pedaling and asked if we were on the 100 mile route. Yes. Ok, well you guys were supposed to turn a mile back there. Seriously? Yeah. Fan-freaking-tastic.
LIARS. It was not one mile back but five putting our total mileage on the bike close to 93 or so without stopping. The guy who was supposed to be watching the intersection apologized but said that he was told that the markings were correct even though the map indicated otherwise. Well needless to say I was not at all happy. We could have actually gone all the way in if we hadn't ridden an extra 10 miles. So thank you, HHH people that do not know how to mark the road.
Here we go...
HELL'S GATE
We ended up stopping at a SAG up the road for some more water and little tortilla and ham wrap thingies that actually hit the spot. I was quite frustrated, as I'm sure you can imagine, because we were no longer the leading tandem. We did find the triplet down the road and they drafted some off us until the SAG less than 10 miles from the end. We downed some more water and then rode that last stretch on in. When we pulled in, we received our medals and greetings from volunteers. We found a spot to park the bike and trekked off to find something else to drink. Dad was able to get a gigantic glass of beer while I found some free soda. Whoever provided that, you people are actually my favorite. I also discovered some green "biker chick" jerseys we purchased (to be featured in MTR 2014).
Triplet
We listened to the band some and I walked around the vendor show a little before we finally packed up the bike in the car. If you have never done a marathon-eque event such as HHH, you do not know the amount of sweat and salt that sticks to your body. Seriously, I was a little bit salty, like salty enough to make jerky with the NaCl that came out of my body. It was gross, let me sum it up for you. We packed everything up in the car and began our drive on out of Texas. I fell asleep for probably 30 minutes before we reached a Mexican restaurant with FREE SOPAPILLAS. Free. 100% absolutely free. Why is this not a thing everywhere? Like seriously?
I ordered some tamales with red sauce (I'm not a fan of chili sauce, sorry) but that red sauce was SPICY in the extreme, let me tell you. That sauce had some definite kick and Dad even agreed.
We decided to drive all the way into Kansas City, both of us switching off driving every once in awhile until Dad took over for the remainder of the trip. I promptly fell asleep around Emporia.
This trip was hectic, needless to say, and my muscles are protesting at me. The cows are mooing, as some would say. Another adventure comes to a close...
Pictures taken by someone in the draft line we rode with. THANK YOU!
WE MADE IT!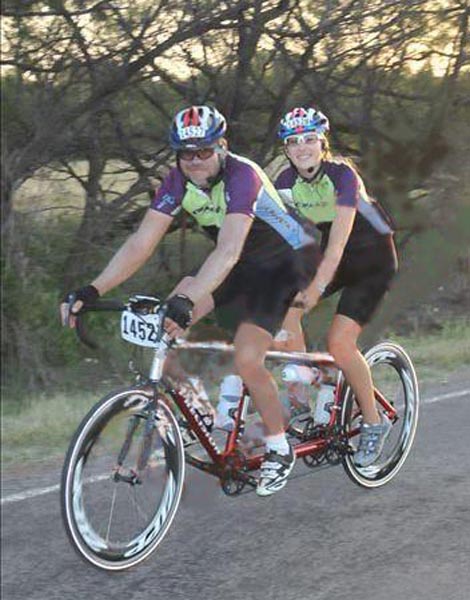 Riding with the padre
It was a very very very very long day
SELFIE!
They have free sopapillas with every meal!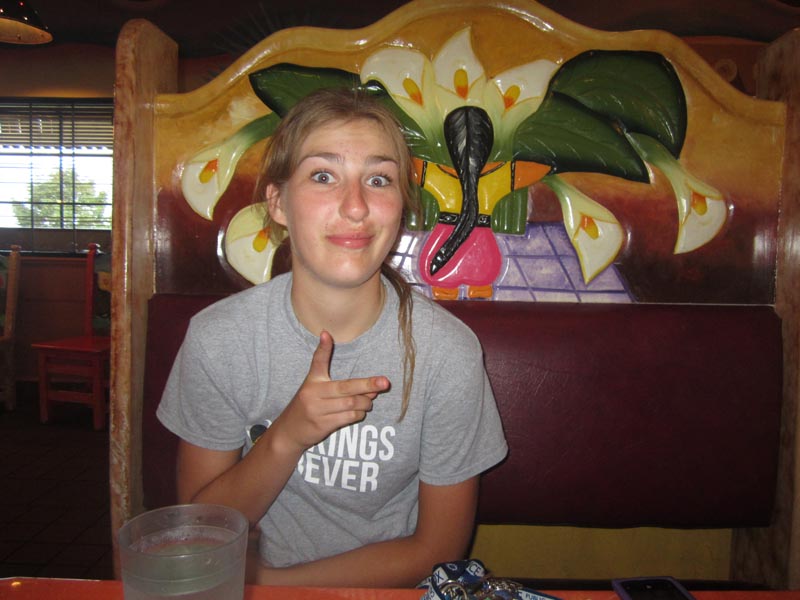 PEACE
As always a big thank you for reading. I really appreciate you! Apologies for the delay from working around school and tech crew.
Thanks again for all the feedback!
HTML Hit Counter