[ Home ] [ 1st Visit ] [ Tandem Display ] [ Accessories ] [ Parts ] [ Close-Outs ] [ Ordering Info ] [ About Us ] [ Links ]
Midwest Tandem Rally 2005
Grand Rapids, Michigan
September seemed to come faster this year than any other. Despite the fact that the start of school seemed to sneak up rather insidiously this time, the many fond memories of previous MTR's were inescapable and a last minute (read last week) decision was made to make the trek.
Rally attendance for this team is a greater challenge now than ever before with the both kids now in school and the far reaching distance of this event included a 1484 mile round trip..... errr should I say ordeal. Despite the fact that gas had reached $3 per gallon locally, we opted to make a go of it.
Options are nice to have so we loaded our aged rusty 243,000 mile 1983 Ford Van with several new bikes including a Co-Motion aluminum quad, a magnesium Paketa tandem and a Co-Motion Ristretto along with 5 people and all the gear. It does make one ponder why one would carry $23,000 worth of bicycles in an $800 van but that could be a rather deep subject and a long story! The non coupled 13 foot quad actually rolls right in up to the engine dog house and after turning the fork and front wheel sideways the door closes. The tandem fits between the quad and the right side of the van leaving room for yet a single bike. All of this is permissible from mounting our passenger bench seat sideways permitting full use of one half of the longitudinal length of the van for bicycles.

THE OLD FORD VAN & GETTING READY FOR OUR MODIFIED ICE CREAM RIDE IN GRAND RAPIDS
We hit the interstate at 8 PM and fueled up both tanks with $3 per gallon fuel while still in MO just before crossing over into IA. More or less taking our time to conserve gas we arrived at Corralville, IA by 1:30 AM where we found it necessary to stop for a few hours of sleep. After a brief stop at McDonalds for some breakfast we were once again on the road by 9:30 AM.
Having lived in Davenport, IA for 5 years during the middle to late 70's, we detoured through town driving past my old home and showed everyone my alma mater, Palmer College of Chiropractic.
Fuel crept up in price as we crossed Illinois and east of the Chicago traffic mess it was at $3.29, then $3.39 followed shortly by $3.49 per gallon. One sign advertised $2.99 fuel about .5 miles off of the highway. Cars were lined up from every direction with comments heard from other customers regarding the 70's rationing. The convenience store attendant remarked to a fellow employee that he expected fist fights to start before the day was over.
We arrived in Grand Rapids rather tired and not feeling so great from having driven over 700 miles. We proceeded with the check in necessities with the rally folks and our hotel, the Days Inn, which was one block away from the Amway host hotel.

MARK, SUE, COURTNEY AND NATALIE
READY TO ROLL FOR OUR ICE CREAM SHAKE DOWN RIDE!
"Time for an Ice Cream ride" I announced. We all put on matching stars & stripes jerseys, rolled out the quad along with Julie's sub 15 pound Co-Motion Ristretto and installed lights as the end of the day was drawing near. We rode a comfortable 6 miles to work out the kinks from all the sitting to insure that the muscles would perform the next day.

RETURNING TO THE DAYS INN WEST OF THE AMWAY HOTEL WITH JULIE ON HERE SINGLE
Saturday dawned with clear but cool weather. The 55 degree start required some extra clothes for the younger members of the team! We rolled up to the start just in time to hear the announcements and it was not long before they said, "GO!".

MARK, JULIE, COURTNEY AND NATALIE
SATURDAY NEAR THE BACK OF 500 TEAMS!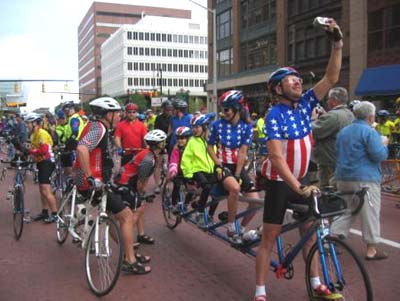 SHOOTING SOME OVERHEAD SHOTS OF THE VAST NUMBER OF TANDEMS
Starting at the very back has its benefits with regard to entertaining the kids, something highly important! We spotted a number of triplets and two other quads. It was not long and we were at the front with some of the speedy teams we recognized from previous years but as the road turned up with some short climbs, we lagged back.

TANDEMS AS FAR AS ONE CAN SEE FACING NORTH ON NW MONROE ST.
We arrived at the first sag which would later be our lunch stop after completing the west scenic loop. After adding some fuel to our personal power plants we tackled the first loop. We seemed to arrive at the loop's sag in no time as the ride was pleasant and it had warmed into the 70's. Courtney and Natalie promptly spotted the playground!

TAKING THEIR TURNS! ...LITERALLY!
The scenery was good, the traffic light, the roads fairly good for being so far north into the snow belt and with many other tandems on the road it was a pleasant 27 mile loop.
The return to lunch was much faster as the tailwind assist was more than welcome. Our muscles were complaining a bit at this time from the earlier hard efforts during the first 20 miles. We knew we would have it made after lunch as it was only 13 miles back to the hotel via a flat rail trail.

LUNCH CLOWNS... COURTNEY DOING HER WILDCAT IMPERSONATION!
The lunch was good but for the most part a waste for the kids as the seemingly spicy and tasty burritos were not too compatible with young taste buds. Needless to say I ate way too much. This was a rally in which gaining weight would be hard to avoid!

THE ENERGY OF CHILDREN IS TRULY AMAZING AFTER 47 MILES!
The rail trail ride was thankfully uneventful. They are not my favorite place to ride especially on a quad given the local traffic made up of dogs on leashes, roller bladers and weaving children on 16" and 20" bikes. And there were a fair number of people out on such a nice day. Helmets and their use seem to be a rarity in this region for some reason. When we recognized some local streets we thankfully abandoned the trail for the safety of the road.
After a bit of rest and within the window of opportunity for carbo-loading, we headed off to the local sports bar in the Amway hotel. It was a pleasure and fun meeting up with good friends Skip and Linda as we recounted the day's adventures and caught up on the past.

SOCIALIZING WITH GOOD FRIENDS SKIP & LINDA PALMER SATURDAY AFTERNOON
Skip taught all of us his family tradition spoon trick which had us all laughing in short order!

SKIP TAUGHT COURTNEY (AND THE REST OF US) THAT THE SIZE OF THE NOSE HAS NOTHING TO DO WITH IT!
We stopped at the busy vendor area and visited with friends Rob Templin, Jack and Susan Goertz along with Mel and Barbara Kornbluh. The vendor displays were quite impressive and seem to improve with each year. I told Jack that we were lucky to get there with the kids let along bring our wares and setup a booth! ...which is all very true!
While the kids were getting to sleep Julie and I revisited the sports bar and found friends Jay and Gail Wisth hanging out with Marv and Mary Boehm. We decided to sample the local brewery products as we conversed and shared the days adventures.
The kids were ready to go on Sunday morning, more so than that of Saturday, which was a surprise as we figured the 60 miles the day before combined with going to bed a bit late after a dip in the pool would keep them hugging their pillow.

SUNDAY MORNINGS COOL OVERCAST START. DO I LOOK TIRED?
Once again we arrived on time! What is the world coming to? Since the route was heading south we found ourselves starting in the front. In short order we were on another tree lined rail trail going through town. The riding was easy although a bit dicey with tandems three abreast at times and the occasional non mindful walker and casual riders kept us on our toes. We hit a little bump with the perfect wrong timing causing a bit of frame wig and wag on the long bike that lead to a timing chain derailment. We slowly coasted with our chain dragging on the ground as the info of what happened was relayed back and forth amongst the team. Despite all of this going on a tandem passed us unknowingly on the left as we were gradually drifting closer and closer to the edge in search of a safe place to pull off. We welcomed the open road when it appeared and had a pleasant relaxing ride to the lunch stop. Arriving an hour early on the 44 mile loop gave us time for socializing and a good rest. Susan Goertz pointed out a hidden playground for which the kids were thankful. Thanks Susan!
Upon returning to the Days Inn, Julie and I pulled out the magnesium Paketa and decided to ride backwards on the course hoping to meet up with some of the 83 mile loop riders we know. Simultaneously Sue was to take the kids to one of the neighboring museums.

TAKING OFF ON THE PAKETA AFTER 44 MILES WITH THE KIDS ON THE QUAD
We rode out 13 miles and the oncoming tandem traffic had really thinned out and turning around at this point would give us 70 miles total for the day. A couple of seemingly fast teams had just gone by prompting us to make a U-turn thinking we would have someone to ride with. We were just easing into it and along came three really fast tandems seemingly on a mission! Low and behold and as luck would have it, it turned out to be Jay and Gail riding with Marv and Mary along with another team on a purple mid 90's purple Arriva who's names now escape me. These guys are all fast and fun to ride with. We have ridden with them before at the Hilly Hundred and Jay and Gail in Colorado. They can all cook down the road! This was exactly the group we were hoping to hook up with.
It did not take long before we returned to the conflicts of the city and the rail trail, seemingly inherent conditions associated with downtown starts in larger metro areas.
In the mean time Courtney and Natalie had a great time at the museum and found a high-wheeler to pose on!

NATALIE

COURTNEY
For the first time ever we opted to skip the banquet given it would have cost our group $120. We ate at a seemingly expensive hotel restaurant for less than half of that amount. We missed going and no doubt missed a fun experience but the $30 per adult plate seemed a bit much.

ALL OF US SOCIALIZING WITH SKIP AND LINDA BEFORE GOING OUR SEPARATE WAYS FOR DINNER
We headed down the highway with the thought of breaking up the long drive home. We made it to Davenport that evening and the following morning headed south in search of a special treat for the kids. It had been over 25 years since my visit to Hannibal, MO and thought the kids would get a kick out of learning about Mark Twain.

The MTR committee did a wonderful job with the MTR this year and should be commended for being very organized and having everything seemingly go off without a hitch. The maps provided were awesome!
The only improvements that can really be suggested would be to use larger more visible arrows on the roads with one placed well before the turn. Options or alternative routes from rail trails when possible would be nice especially for those of us riding some really long bikes!
It was a great rally and a great time with no regrets of attending and plenty of fond memories. We really look forward to next year's rally in Cedar Rapids which will be half the distance for us!
If you have not been to a MTR be sure to put it on your calendar!
[ Home ] [ 1st Visit ] [ Tandem Display ] [ Accessories ] [ Parts ] [ Close-Outs ] [ Ordering Info ] [ About Us ] [ Links ]