Midwest Tandem Rally 2013
Dayton, Ohio
By the ever perfect Courtney Johnson
Saturday:
Well everyone, here's a quick recap of yesterday. Driving. Procrastinating on my homework. Signing in. Eating dinner. Going to bed.
There ya have it. So this morning we went in search of McDonald's and found one a block away from our motel but the problem was it was overrun by a bunch of bicyclists waiting for their food. SOOOOOO we went to a McDonald's down the road and munched on food before going back to the motel to get the bikes ready. Notice I said BIKES, plural. That is right people, Natalie and I are on the same bike by ourselves. Seriously. It's pretty awesome. Anyway, we got all of our stuff ready and barely made it to the start when everyone started taking off. That was a very interesting experience in itself due to the fact that I have never captained in a crowd... like ever. This is the fourth time I've ridden the tandem and third time with Natalie. I have a lot to live up to incase you didn't get that.
We got rolling with the other 350 or so teams and before long were doing quite well. But we really could have used some people directing traffic in town... when you're in a large pack of tandems and have to stop a bunch for cars it can be a bit nerve wracking...
We made it though town with people complimenting us on our awesomeness and even had someone say that we needed to gain some weight so they could get a better draft. They were totally kidding... obviously but it was pretty funny. One of those "you had to be there". We kept on riding along the beautiful countryside with corn towering over our heads. Miles, the awesome photographer, took our pictures as we went by but I don't think he recognized us at first due to the fact we weren't on the quad. We decided to do the 65 mile option and took a break at a SAG stop that had all sorts of fruit, trailmix, water, soda, and Hammer energy powder stuff. I personally didn't have any of the Hammer stuff but you can be sure I munched upon some delicious strawberries.
We got back on the road and broke off with the 52 mile loop to do our 65. The road had a lot of turns in it which made it a little interesting but nice riding for the most part without too many pot holes. We navigated our way though to the second rest stop and saw the Cliffton Mill which had an awesome water wheel generating power. When you went over this sheltered bridge there was also this beautiful waterfall with the mill just behind it. Pretty sweet.
Following walking around and taking 50,000 pictures for other people, we got going again and headed towards a bike path. Yes, a bike path. Ever since the rally that first put us on a bike path in Dayton 10 years ago, we have had to be on one without fail. Anyway this one was very straight and easy to navigate. On this path we saw two people on a tandem (what a shock) but it was made out of wood. That was pretty awesome. We jumped off the trail and got back on our little country road. Riding down the road we saw the coolest paint job on a bike of all time: rainbow. Do you even realize the possibility? We could be the quadricorns! A quad of quads on a quad= quadricorn! GENIUS! And we saw LLAMAS!!!! My entire trip has been made. But unfortunately no pictures because we flew by them on a downhill. Anyway back to reality. We got close to the jumbled mess that was our lunch stop and had to make it across the road without dying instantly. This place had so much going on. It literally had a golf course, batting cages, a working dairy farm, and of course a bazillion bikes parked all over the place while we were getting lunch. Very very hectic.
We each had a sandwich, chips, a cookie, and soda for lunch. Lemme tell ya, they really need to reconsider what they serve for lunch, each tandem rally has the same sandwiches it seems. I have about had it with sandwiches lately too... Back to the topic at hand. We also got some ice cream from the dairy that was free for bikers. Natalie had vanilla, Dad ate cookies and cream, and Julie and I shared a strawberry ice cream. It was pretty good actually.
After lunch we were back on the road but we had a small issue with our intercoms so we resolved to fix that before continuing on. The corn didn't get any shorter although we did get a nice downhill into town... which is completely unrelated. So we rolled into town and about had a screaming fit at a red Cadillac that was in front of us that wouldn't turn at a stop light. MOVE PEOPLE! Ughhh. And to top everything off they dumped us on a trail... again. This one wasn't as good as the other one considering we had to stop a couple of times for cross traffic but this year wasn't so bad trail-wise. We averaged 17 mph for 67 miles!!!!!
We made it back to Red Roof Inn and took showers and froze our room into a meat locker before going to get our pictures from the ever fabulous photographer Miles John and look around the vender show. Following all of this we decided to eat at El Rancho Grande again but this time we had an... interesting waitress that didn't seem to be in the business of making us happy all the time. None the less, the food was good and Natalie drank an entire 16 oz virgin strawberry daiquiri by herself. I decided to order sopapillas but I decided to share, I'm such a good person. Yes Yes I'm perfect, you all should know this about me. Between Natalie text bombing my phone and my dad sending awkward pictures of me to my friends, I'd say today wasn't too bad of a day. Tomorrow comes far too early so I'm going to bed. Your favorite llama enthusiast, signing off.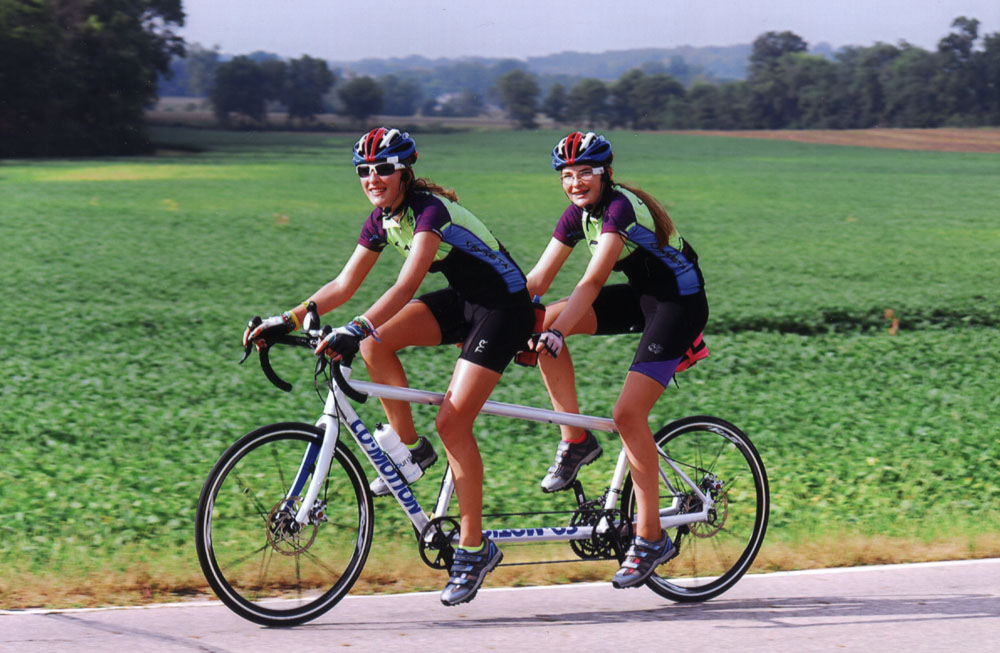 Me with some serious "Nat the Cat" power on the back.
| | |
| --- | --- |
| MMMHMMM | Julie :) |
| Strawberry Daiquiri that I literally got two sips of. | The start of the rally! |
| Off we go! | I think we're quite fabulous. |
| So this is the first real ride Natalie and I have done together... scary isn't it? | Wood bridge with scary monsters (aka Natalie and Julie) |
| The Mill. | Natalie and I. |
| Purdy water fall. | This bridge had all sorts of lights and lanterns inside too. |
| Don't get wet! | CHEESE! |
| All for one and one for all! | Dad and Julie. |
| Towering Ohio corn. | These guys have a bike made out of wood! |
| Tractor mowing...crazy arm thing... | LUNCH |
| SELFIES!!!! | PHOTOBOMB! |
| | |
Sunday:
Mornings... mornings... mornings. Well I can say the beds in our motel were absolutely terrible. Once again we went to McDonald's for breakfast and then came back to get the bikes ready and put on our super awesome 'Murica outfits... stars and stripes in other words. We did happen to get out a little late this morning and pulled out of the motel (which is across the street from the start) the same time the main pack was going. Yup, running behind. We got going ok and trying to figure out who had what remote intercom radio was slightly challenging but we managed. Once again this town needs some more help with traffic lights. On the way out of town everyone in the mass start got split up along the way. Navigating pot holes was very interesting too.
We made our way through town, starting at the very back of the pack and passing almost everyone as we went. Once out of town, mostly anyway, some tandems decided they were going to draft off of us... and we were drafting off of Dad and Julie. On the uphill I told Natalie to hit it and we shot up the hill, leaving everyone wondering where the heck we went. It was pretty awesome. And that's what you get for having a ninja cat power rocket on the back. Nat the Cat was definitely awake this morning. The riding was nice from there with some rolling hills through the trees and Miles the awesome photographer got our picture with the pack behind us. At a stop light one of the captains behind us asked when we started riding the tandem together. Everyone was pretty surprised we picked it up in 2 rides with today being our fourth ride. We also got stuck behind a really annoying Honda minivan that wouldn't move their booty.
At the rest stop we grabbed some fruit and debated whether or not Dad and Julie were going to do the 62 mile route or not and messed up our radios trying to set them separately. Eventually we decided to do the 50 mile loop, being short on time with our late check out and all. The road to lunch was... different. We had to cross a lot of busy roads and stop at stop signs and traffic lights with a few nice long or steep hills thrown in. Getting into town was oh so much fun with the road ground off for repaving. SIIIIIGGGGHHH. It was quite bumpy and vibrate-y. And yes that is a real word because I just made it up. Lunch was turkey wraps (waaay better than yesterday's sandwiches) with chips and cookies. It wasn't all bad anyway.
On the way back we met yet another hill... ugggh. My legs are so sore they're numb, tingly, and hurt all at the same time. We had a couple of moron drivers out there but not too many bad ones. We completely and utterly missed a turn too and blew by the marker to the bottom of the hill. Thankfully it wasn't too steep but from here on out it was definitely city riding with lots and lots of stop and go.
When we got back to the motel we found out that we couldn't get into our room. Just fabulous. We did get in eventually and took showers before assessing the day.
Weeeeeellllll this was crazy. But super fun too. So hopefully we can do it again :) Just remember to keep smiling... AND COME TO A TANDEM RALLY! They are seriously one of the best things ever! Even though we skipped the banquet this year... But they are awesome! It's really cool to see kids there as well and they would have a blast. I know I have and this is my fifteenth rally, fourteen of them pedaling! Me pedaling on my first rally, 2000 in St. Charles, IL.
| | |
| --- | --- |
| Lunch... well we totally got behind on pictures this morning, sorry about that guys. | Never leave a message board and a sharpie with two teenagers. Rotten teenagers... |
| Seriously, anyone want to trade? | Ohio Arch? I'm not sure what it's called exactly... |
| Gracias Ohio! | Perfect sunset. |
| Hannibal Missouri, Becky Thatcher's house | Mark Twain touring was pretty awesome. |
| I never want to think about Camelot ever again after that summer read work for my English class over King Arthur... | Natalie found a whistle... this is going to be interesting. |
| One of these could be my alarm clock. | It can't be too different from a car? Or a bike? |
| Found our new ride! | Can we borrow it? |
| Mississippi River | Light house steps, there were definitely more than that. |
| TA DA! TOP! | 244 stairs later... |
| We look AWESOME if I do say so myself. | |
attorneys.org