[ Home ] [ 1st Visit ] [ Tandem Display ] [ Accessories ] [ Parts ] [ Close-Outs ] [ Ordering Info ] [ About Us ] [ Links ]
PBP '95 - MEMORIES FOR ALL
"We did it!"
by Mark and Sue Johnson
Claus in his distinctive German accent said, "Be cool! Wear orange so I can easily find you!" To insure the "right" orange was worn, Claus Claussen owner of Des Peres Travel Agency in St. Louis sent all who signed with him a special "American Team" bright orange T-shirt. Claus took over one hotel after another all conveniently located within 1 mile of the start/finish area and at a rate that proved to be the best value. A full meal deal French spread breakfast was even included! Monsieur Claus is to be commended for his efficiency, patience and certainly for going above and beyond our expectations.
We arrived at Kansas City International airport with our Santana tandem packed in its original heavy duty shipping carton (wheels and seats still installed). American airlines promptly informed us that there would be an extra charge for the bike. We politely but firmly informed them that it was one piece of luggage on an international flight previously arranged through our travel agent. The next hurdle was the "it will not fit a Fokker" excuse. Neither of us being airline buffs, quickly learned that a Fokker is the smallest commercial jet American Airlines flies. We sent the Sky Cap off with $10 in his pocket to make sure it would fit and imagine that, it did!
We were scheduled for a 3 hour lay over in Chicago and it was a good thing as mother nature pounded the Windy City with thunderstorms thus closing O'Hare airport and delaying flights across the country for a couple of hours.
Once we finally arrived at O'Hare, our travel group was readily recognized thanks to Claus' orange beacons as they began to dominate the Air France terminal. The shirts invited quick introductions and thus the beginning of many new friendships.
Arriving in Paris via 747 Air France, 7 time zones later (talk about jet lag!) we faced the challenge of loading all those tired orange clad bodies, everyone's gear and bikes (including 2 tandems) into a bus. The basement area was out of the question for the tandems so in the front door they barely and finally went with much pushing, shoving, cardboard bending and shaping amongst repeated multi language mutterings! Air France did a job on our box as the entire bottom was somehow torn open. So much for careful handling! We were lucky as everything of importance somehow remained inside.
Upon arrival at the "Hotel Campanile" our jet lag was temporarily dismissed and replaced with the excitement and anticipation that filled the air. In just a matter of minutes bicycles, boxes and cases were strewn about the hotel patio and entry area. Riders assembled their trusty steeds in anticipation of exploring the area with their new friends.
We stumbled upon Dave Neff's 200K Kansas City area brevet in 1993 just by chance. We rode 90 miles of it without having ever heard of PBP let alone a brevet. What's more, we rode our first century not too long before and were not sure we wanted to do another. We did complete two more centuries that year but that was the last time we heard of a brevet that year.
Paris-Brest-Paris or PBP (yes, Paris France), notorious to a select few, is the oldest bicycle event in the world (first running in 1891). 3,000 - 4,000 riders come from all over the world to partake in the 750 mile endurance race which must be completed within 90 hours. To be eligible, we as Americans must qualify 2 years in a row. The story goes that we as Americans falsified time cards and rode flat courses such as parking lots thus unrealistically meeting the mileage requirements that resulted in a dismal showing in 1987, a less than 50% American completion rate as compared to 85% for the rest of the world! The changes worked as the American completion rate in 1991 was over 90%, one of the highest. To qualify, specific brevets (rides) must be completed as follows: 125 miles in 14 hours, 186 miles in 20 hours, 250 miles in 24 hours and 384 miles in 40 hours. First timers quickly realize that the PBP event is twice as long as the longest qualifier, an intimidating thought at best!

Qualifying Medals for 200K, 300K, 400K, 600K and Series Medal
Back to the patio and the unfolding (un-boxing in this case) excitement. Such notables as Pete Penseyres and Lon Haldeman (1987 transcontinental tandem record holders) were present as well as Scott Dickson (1991 winner) and Bob Breedlove (1991 high placed finisher and many other accomplishments). Pete unveiled his "Human Powered Vehicle", a recumbent sporting a fairing, windshield and side curtains. With a little imagination, it resembled a fish. Other unique machines to be ridden in PBP included triplets, trikes and tandem trikes.
Travel stories shared, as wrenches were turned, included those of lost bikes, destroyed cases and missed planes to name just a few. Acclimation to our new environment came quickly as helping hands were lent, tools, tire pumps and advice shared. Bonds and friendships developed quickly as our shared commonality and goals brought us closer together so much so that within just a few days it seemed as if we had known each other for weeks.
Roaming the Countryside before the Event
Rides throughout the countryside revealed quaint little towns, narrow roads and picturesque scenes, just like in the movies! Round-abouts (intersections with an island), cobblestone stretches and forests added unique character to our rides. Small towns generally situated atop a hill with a church steeple at the summit were numerous.
Having arrived on Wednesday morning without sleep, assembling our tandem (took all of 10 minutes) and riding 45 miles followed by exploring Paris and its rail system on Thursday (yes a bomb did go off within a mile of us), we found ourselves very ill on Friday with a suspected case of Air France food poisoning. Needless to say, the royal flush and misery kept us bed ridden Friday. Saturday we were able to do a cautious 50 miles. Our bodies were still dealing with the residuals as evidenced by an occasional hot flash and clammy feeling. We had lunch after riding through the forest at the most picturesque quaint little pizzeria we just stumbled upon. The establishment sported a roaring fire in a huge fireplace. We opted to eat outside in the shaded cobblestone courtyard. The abundance of flower boxes added vibrant color to the timeless beauty of the aged structure. Our waitress was not half bad either. As one riding companion put it "Service with a smile. Every time I was served, I smiled!" The Mademoiselle was cute. It was in fact a storybook setting.
The obligatory Tour of Paris!
Sunday, bike inspection day and the target of so many rumors, finally arrived. We wisely chose the "English" (sort of) speaking line. The young man grabbed and shook each of our lights. Our 3 headlights, a 10W BLT (for downhills), a 5W Nicelite (rugged all round backup unit) and our main light, a 5W NiteRider (runs all night on 5 D cells) combined with two 5 LED rear Vistalights (used on solid mode), two reflective vests, reflective ankle bands and reflective tape satisfied the lad despite the rumors and various interpretations of the information received.
The Start & Finish Point and Bicycle Inspection Area
At this point we were pleased with our ill health recovery despite not feeling 100%. Our concern was a diminishing one as the start was getting closer at hand.
There were 3 start times, the 90 hour group at 10:00PM Monday, the 80 hour group at 8:00PM Monday and the 84 hour group at 5:00AM Tuesday. The tandems and trikes started 15 minutes before the 90 hour group. Have you ever tried to sleep during the day prior to a big event? Good luck! After eating the traditional meal provided for the riders, we arrived at the Gymnase and were ushered in ahead of thousands of single bikes as the word "tandem" was announced over and over in a French accent. We waited in line with 50 or so tandems drinking a couple of Coca-Colas as our American made aluminum Santana Sovereign equipped with red anodized Topline cranks drew a crowd. Everyone marveled at our 61 tooth chain ring, the one piece quad butted seamless top tube and red cranks. Although we could not speak the language everyone understood the hand signs indicating the number of teeth on the big ring.
We all had our lights on, the horn blew and we were off. Searching for a smooth riding safe tandem to follow I spotted Bob Breedlove and his stoker Rich. Our objective at this point was to get out of town in one piece, not get lost and to stay away from the tricycles! It was not long before Lon Haldeman and his stoker spotted steady riding Breedlove as well. We all must have had the same objective as our flashing escort car lead the way. It soon became apparent that the arrows marking the course (signs posted on the side of the road) were difficult to find at best as they did not have any reflective material on them. We rode for miles before we saw our first arrow! Then again the speed we were going did not help! All we had to remember was Pink arrows going out and Green ones coming back.
Return Arrow signed by Lon Haldeman and Scott Dickson
My Cateye computer light revealed a heart rate of 176 BPM as I stole a glance at it. It is strange how adrenalin and excitement override your system to the extent you become oblivious to your efforts. We marveled at the speed of the trikes, yes racing trikes, as they wedged their way in amongst the peloton, curbs and other riders. Thankfully they held their line as they negotiated high speed bumpy downhill turns. After 20 miles and not wanting to blow-up on a particularly steep hill, we realized it was well past time to let the Breedlove and Haldeman teams go, and find our own rhythm.
We found ourselves riding with two French teams that had insufficient lighting especially on the 1-2 mile 40+ mile per hour descents of all things! At times when we were behind them we would turn on our Nicelite and aim it up and around the curve. We managed to reach our first controle at the 85 mile point without getting off the bike. A personal record for us!
The food was good and in abundance with everything from omelets, baked chicken, turkey, roast beef, mashed potatoes, green beans and ham sandwiches available on that oh so famous French bread. Mineral water, Coca-Cola and soup were available to wash it down.
The First Night Out!
As we continued on our trek west during the night, we found ourselves in traffic with single bikes that caught us during our food break. Daylight finally arrived and bikes were seen from horizon to horizon. The fun filled first 200 miles with a riding time of 12 hours was soon to be taken over by heat, sleep deprivation and 50 mile distances without stops.
The First Full Day After Riding All Night
We made it to Loudeac by 7:30PM where we had a room reserved some 20.75 hours after the start. It was with great effort that we made it up the hill to the hotel (we had been awake for 36 hours at this point) as we marveled at how others had the strength to go on. A shower and bed were a welcome thing. We surveyed our physical state, mainly saddle sore problems and tired, weak sore legs. We realized it did not look good for us as we had major problems and had covered only one third of the distance. We awakened with a remarkable recovery in our legs, crotch problems though were going to need more time. Our half hearted give it a try attitude was overshadowed by what looked like imminent withdrawal. Our goodie bag delivered to this stopping point contained food, tools, batteries, clothes, etc. I had included an extra cassette with a 32 tooth cog but decided to leave on the 28T based upon what veteran PBP riders had told us. Big mistake! We made some major seat and handlebar adjustments in an effort to alleviate pressure on the injured areas. The captains perch now resembled a slippery slide as it was nose down as far as it would go. We found it necessary to raise the handlebars to take a little of the increased load off the captain's upper body. We even considered turning the seat around backwards. What a sight that would have been!
Cloaked in darkness, we cautiously pedaled our way through the dense fog. The undulating movement of reflective strips on the rider's vests seen in our headlight combined with their stationary taillights looked like something akin to Halloween, a bad dream or a hallucination. We heard stories later of riders in the fog that followed each other faithfully into the ditch one after the other, plunk, plunk plunk! As daylight crept around, our half hearted attempt seemed to be working. The computer was now visible making mental calculations possible as to how much time we had remaining before the next controle would close. Our calculations told us in no uncertain terms that we were in trouble as the fog, seat adjustments and late awakening had taken a serious toll on our time. In order to make it we really had to hustle so we put it in "Time Trial Mode" for the next 25 miles. Not a good choice when we were not even half way through the ride! We sailed through town after town running red lights, laying it over through corners and round-abouts as if we were in a criterium. We must have made an awful sight in the early morning hours as our pedals clacked the pavement through the turns. When 8:40AM rolled around, we had done the exact distance to the controle according to the route sheet. Our time had expired, the controle was no where to be seen and our disappointment swelled. Another 1.5 miles and 5 minutes later the controle appeared. They told us to "keep on a pedalin" in French sign language as we attempted to find out whether we had been disqualified. The rules remain unclear to this day but we apparently had 2 or maybe 3 controles to make up the lost time.
Also the First Full Day - Top one is actually before the Event
After our 25 mile time trial, we put it in survival mode as we had 150 miles yet to go that day. On the final leg to our turnaround at Brest, we encountered rain, headwinds and hills like we had never seen before. Not having appropriate gears for one long steep hill after another, knee problems surfaced. We were unaware of a woman rider starting to pass us on this particularly steep grade when the captain between gasps asked his stoker what her heart rate was. She replied, 100, which was immediately followed by the S word from the captain. The passing woman cyclists got quite a chuckle out of it as our misery diverted her attention temporarily from her own.
The Welcome Bridge as we Enter Brest, Our halfway Point
We arrived in Brest having made up our lost time and then some. We were very concerned about the return trip because we would be in deep trouble should we have the same hilly terrain. Luck was with us as the return road was more of a major highway with some long but doable grades, many descents and a good tail wind. Also the stoker's heart rate would finally go over 100 beats per minute! We made up lost time and the other tandem teams found out what a 61 tooth chain ring was for. We passed hundreds of riders before we returned to Carhaix and ran out of daylight. Midway to the final controle for the day, the stoker requested a potty break as we entered another quaint town. A bar was open with people cheering and clapping in the outdoor eating/drinking area. As we rolled to a stop an accordion player serenaded her as she went in to use the facilities and again on her way out. It was an entertaining scene for the many riders that rolled on by and the topic of conversation by many later on.
Miniature Skin Suit of 95 PBP
Fatigue combined with darkness would toy with our perception of reality. Such was not the case when a pair of shoes appeared in the center of our lane quickly followed by a pair of legs that evolved into a shadowy silhouette. Out of the darkness something in French was said as a flashlight began to wave and signal us to turn left. The local Frenchman, out in the middle of the night, wanted to make sure that no riders would stray from the course. We continued through the hilly section that was previously veiled in fog and darkness. Once again it was dark but we could see where we were going! This was one of the few stretches that we did not see in the daylight. Upon arrival at Loudeac we heard of an accident only 5 minutes behind us. An American women apparently fell asleep on a decent and went into the ditch resulting in a hospital stay and facial injury necessitating oral surgery.
We had a short night (4 hours) at Loudeac and even though the worst of the hills were over, we went ahead and installed the 32T cassette. We later learned from Scott Dickson, who won the past two PBP's, that he runs a 39T x 26T in the hilly section. So what were we doing with a 32T x 28T on a tandem? Oh well.
Day 3 was a long uncomfortable day as saddle problems increased. The captain's upper body had about all it could take from the seat being angled down and knee tendinitis was giving both riders trouble. We joked that we had one good leg left out of the four. We were having so much trouble that if we stopped, it took 1 hour to get loosened up again on the never ending hills. We had 90 miles remaining to Paris as we rolled into the controle where we would catch a few winks. Some riders decided to go on without sleep but we were burnt toast and had no choice. The gym was full so we chose the concrete floor in the balcony. After one hour, a very cold captain awakened and tried to move. The simple move of getting up was impossible as one hamstring after another would immediately and severely spasm. After flopping back to the floor and lots of furious rubbing it would calm down. Numerous attempts at getting up were without success. The captain was finally able to get on his knees after 30 minutes of repeated efforts by shimmying over to a railing where the arm muscles could assist and even then it took multiple slow cautious attempts. A scary moment for us indeed because had a severe spasm persisted causing muscle injury, our ride would likely have been over. By now the gym had cleared out substantially as it was 4:00AM. We asked for a mattress and blanket, got a comfortable cat nap and awakened warm and toasty.
We headed out with little to eat as the kitchen had been virtually cleaned out. Once again we were taking fast long descents in the dark and again used the supplemental light to look for arrows and evaluate the curves in the dark. One rider stopped on the outside of a curve to relieve himself. His taillight was facing the road and being accustomed to gaining rapidly on taillights while descending, he just looked like another rider on the road. Fortunately the captain's tired brain recognized the situation as we started to cross the center line aiming for that taillight!
Our final day brought increased excitement and anticipation of a successful ride as well as increasing butt and knee pain. We chatted with new and old acquaintances as we enjoyed a nice tail wind. The last two bad hills finished the captain's right knee but fortunately the resultant inflammation reaction was delayed until about 7 miles from the finish. The last 5 miles were the worst as the aforementioned knee would no longer go in a circle, even for a free ride without a great deal of pain.
We rolled in at 1:30, 86.5 hours from the time we started with 3.5 hours to spare! Mission accomplished! The stoker was seen limping around in the gymnase by a Frenchman with a video camera. After getting her attention he requested in French sign language for her to continue walking so he could video her dilemma.
(Click for Monster Pic)
Are we glad we did PBP? A resounding yes as the experience and friendships made are priceless treasures. Fortunately time does wonders when it comes to recalling discomfort and suffering. The times when we felt really good certainly help offset the negative side of things. Would we do PBP again in 1999, right now the answer is a resounding no. Been there, done that! But maybe that is why it is held once every 4 years so the mind has time to forget.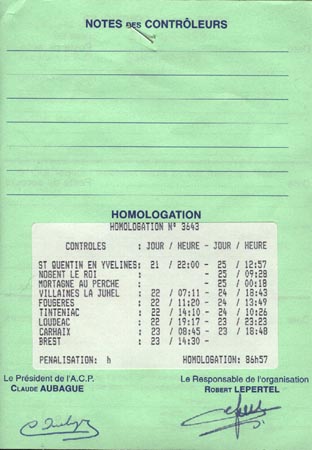 Click for Monster Pic
History was made as the women's record was shattered by 10 hours. She completed the ride in something like 44 hours. Scott Dickson, the winner, came in with 9 riders after a group decision that he should be first, at least so we heard.
Here I am with the Winner Scott Dickson!
Note my swollen eyes! Scott finished some 43 hours ahead of us, half our time!
For one reason or another, 15% did not finish but 85% did obtain their goal! The next PBP will be in 1999. You have 4 years -- go for it!
1995 Finishers Medal!
We found the French to be friendly and helpful, especially those living away from the big cities, contrary to what we had heard. The dogs in France are oblivious to bicycles as we were repeatedly ignored. The French children were also very well behaved as compared to our life long American experience. There must a logical explanation to this French connection.
When the time comes and you need information on PBP, look us up and we will be more than happy to share our experience, personal needs, what worked for us and more importantly what would have worked better.
[ Home ] [ 1st Visit ] [ Tandem Display ] [ Accessories ] [ Parts ] [ Close-Outs ] [ Ordering Info ] [ About Us ] [ Links ]