Quads On Fire Tour 2013
A Quad of Quads on a Quad = Quads on Fire
Whaaaaaat?
By Courtney
---
Ok, I know the length looks scary but it's a ton of pictures for the most part. This is a work in progress so changes can and probably will be made! Enjoy the tour! And check out some of our other stories, too!
Friday June 7, 2013
Kansas City to Neosho, Missouri
Howdy y'all!!!!! Welcome back to another tour! This is our first year of Quads on Fire, a tour created by your favorite quad. This year we will be riding self supported from the Texas border to Kansas City. Because this is our own tour, we are entirely self funded and we would gratefully appreciate any contributions that you would like to send us. Our PayPal link is at the bottom of the page. [Note from Dad: An inside joke we have, said tongue in cheek about getting paid to ride our bike as some others have that ride about the land!]
So after getting everything together and ready, we were on the road. My dog, Cutter, was having a bit of a panic attack when we first got going because he hates to be left at home. So after the rhythmic hum of the road set in, I began to type away on this web journal... and work on my novel. We paused at a gas station for a restroom break and to grab a Coke...not for me sadly. Between my computer (which has a much longer battery life than any other computer that I have owned), Lord of the Rings, and the iPod I "borrowed" from my mom, the miles didn't seem as long. But they were still very, very long... my attention span is like that of a rabbit.
And now I am going to sleep. Do you know how much packing takes out of you? But first I hear some cheese calling my name...
| | |
| --- | --- |
| Prepping at home. | So much work! |
Day 1
Saturday June 8, 2013
Neosho to Idabel, Oklahoma
Mornin' people. Alright first thing wrong with today: I had to get up... absolutely not my specialty. We ate breakfast at the Super8 we stayed in last night before heading out on the road. We went from Missouri to Arkansas and experienced many interesting little towns along the road. Just before we left Missouri we drove through some bluffs that were very interesting to see....while they hung over the road. We stopped for some cheap gas where Natalie walked around with Cutter and Julie before we got back into the van. Now that we are officially in Oklahoma, I feel the need to properly welcome you so welcome! We are currently driving through the great mountains of Oklahoma! (...do they have mountains???) The scenery is very nice as we drive by and it's not scorching hot yet! Honestly with the crazy weather in KC with snow in March, I don't want to be turned into a piece of bacon. I have also mentally prepared myself for my biker's tan too. Ahhh the mementos we take from bike tours.
Lunch was at SubWay and as usual Natalie got her fish supreme thing... it's what they call "tuna". We were scouting out for an Oklahoma state map, of which there seems to be a shortage of. So when we saw a visitor center for a state forest, we stopped...and of course it was closed... on a Saturday. It was quite annoying. So finally we got into Idabel and checked in at our motel before heading back out for our ride from the Red River and Oklahoma Texas border to our motel.
THE RIDE
Red River and Texas State Line to Idabel, Oklahoma

22.3 Miles, 18.0 Average, 1:13 Ride Time, 27.0 Max Speed
We had a nice tailwind and the ride went by relatively fast. When we got back, we swapped a couple of handlebars for comfort issues (according to Natalie my pelvis is too big for her handlebar...humf). Dinner was at (guess what?) a Mexican restaurant. I had fajita chicken meat and munched on their really good chips. There was a parrot painting that was way cool and Dad attempted to use his Spanish speaking "skills" that got a laugh out of the waiter.
| | |
| --- | --- |
| Awesome bluffs. | They hung right over the road! |
| Julie, Natalie, and Cutter | Arkansas state line. |
| | |
| --- | --- |
| Natalie and Cutter at the border | Ready... |
| Set... | Go! |
| Red River! | It's kinda big. |
| OKLAHOMA!!! | On the road! |
| Final touches. | Mexican food. |
| | |
| --- | --- |
| Dinner after a shower. | I think I'm wayyy to tired to fight my mom at the moment... |
Day 2
Sunday June 9, 2013
Idabel to Antlers
60.0 Miles, 16.4 Average, 3:39 Ride Time, 38.6 Max Speed
Yola y'all! It was raining this morning so I got to sleep in... but that also meant having to deal with a ton of heat later. I can't win... So we ate breakfast at the motel in the morning and then proceeded to make sure we had all of our extra stuff with us. On the road, we had a total of four honks/ positive yelling so thank you Oklahoma! We encountered a few hills along the way but nothing that my awesomeness couldn't handle. The riding was nice and there were quite a few trees along the side of the road and no dogs came out to kill us either! Occasionally some wildflowers lined the side of the road but mainly parched grass. We saw a couple other cyclists on the road today and stopped at a convenience store where I had more Gatorade. We didn't really have lunch today, unless you call M&Ms lunch for me. We must have been on a truck highway on the final stretch because a lot of semis passed us.
When we got into Antlers, we found our motel which has a Mexican restaurant next to it! Ohhhh gooodie! Is it just us or do bike riders have a thing with Mexican food? We showered up and were chillaxing prior to our decision to investigate this restaurant next door. They had really good food for a good price too. After munching on our lunch after five o'clock, we walked over to an auto dealer to look at an old Edsel. As usual, Dad educated us on how the car was awesome and ahead of its time. It was a really neat-o-frito looking car. We returned to our motel room and mapped out the next day's route before Dad and Natalie went down to the convenience store in search of a state map. After a looonnnggg first day, we are a little bit tired and ready to hit the pillow as they say.
| | |
| --- | --- |
| The view is really nice here. | And more hills ahead! |
| We passed through an old metal bridge before reaching Antlers. | Natalie saw this cat and said it had no tail...creepy. |
| Mexican restaurants again! | Ohhhkaaay???? Someone likes fajita burritos. |
| Old Edsel. | It had next to no rust too! Hey, Dad, I can drive it to school if you fix 'er up for me :) |
Day 3
Monday June 10, 2013
Antlers to Talihina
60.8 Miles, 16.0 Average, 3:47 Ride Time, 46.6 Max Speed
This morning was a little bit of a drag and we ate what little the motel had to offer for breakfast. After riding through town, we stopped at a gas station and ate their buffet food to add to a small bowl of Cherrios that we had previously ingested. We continued on Highway 2 and had some lightly rolling hills as we made our way into the mountains (Oklahoma does have mountains!!!). We filled up on water, tea, and Gatorade 'cause today was a scorcher. On the door was a sign advertising free puppies (Natalie went crazy) whose mother was 1/2 husky and 1/2 timber wolf misspelled to "tember". The father was half English something and didn't specify the rest. The road was very scenic but not hilly scenic, thankfully. Dad was asking if I was taking pictures ALL THE TIME today. We stopped on the side of a shady road to cool off before riding on into Clayton, our decided lunch destination. We ate at a cafe that was really good and had AC. I devoured my grilled chicken sandwich and potato salad. When we were back on the road a mile away from town Natalie discovered she left her mirror at the restaurant so we rode back...up a hill...with a headwind. BONUS MILES! We continued our way along and when we changed onto a different road, there were a few steeper hills but it was still very nice. We saw another free puppies sign and Natalie started talking about how she wanted one. One of these days she's going to hop off the bike and get a puppy to walk home with.
Along the road we crossed a few streams and saw some army looking turtles we determined were communists. We stopped by one of these streams for a break before riding 10 miles into town and to our motel. Natalie and I had a war with the fifteen billion flies in the room and I was doing ok until Dad and I walked down to the Valero while Natalie took a shower. The freebie bottles had lotion and shampoo in each one but apparently some people thought the lotion was conditioner... Dad now has very soft hair. Now let me explain something, I HATE LAUNDRY!!!!! And unfortunately today was my day to perform the obnoxious task.
We walked into town for Mexican food... 1.7 miles away. It was so HOT!!!!!!! Everyone got their food order but somehow mine got messed up and ended up being a side order of chicken instead of a burrito. Oh well it was still good. After dinner we walked into town and ran into a couple of riders we know who gave us a ride in their van back to the motel where I tested Natalie on logic puzzles. Tomorrow's a longer day so we are going to bed. Llama lover, signing off.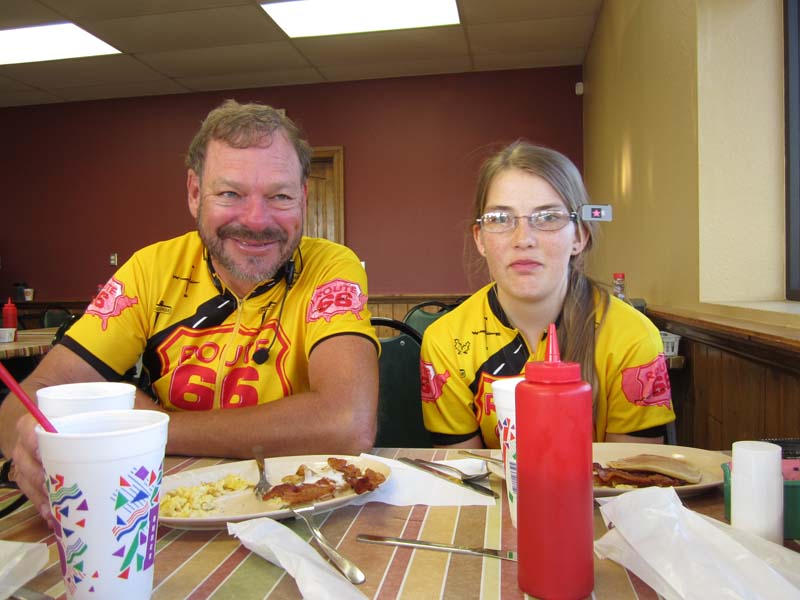 Breakfast.
| | |
| --- | --- |
| The view was really great! | My epic camera skills. |
I had zero idea there were mountains in Oklahoma but the area is really scenic.
| | |
| --- | --- |
| On the road pictures! | We're amazing, I know. :) |
| Rest stop. | Me :3 |
| Lunch. | I think someone's tired... |
| Okaayyyy???? | I am so hot... but really, I was sweating like crazy. |
| We didn't really encounter much road work but did see some workers along the side of the road. | Water break. |
Sent to us! Thank You!!
Dad kinda caught me off guard when I was in kill-every-fly-in-sight-mode.
| | |
| --- | --- |
| Walking down the highway to dinner. | Random mannequin things with Natalie. |
| Oklahoma sunset. | Ain't it purdy? |
Day 4
Tuesday June 11, 2013
Talihina to Warner
68.5 Miles, 14.4 Average, 4:44 Ride Time, 47.7 Max Speed
Last night we heard today was going to be hilly and we didn't really believe it, until we reached the mountains. So our morning started off ok with breakfast at the Valero with bacon burritos and egg salad sandwiches. Once on the road, we knew it would be a scorcher. We arrived at the base of the first mountain and had an "ohhh cruuud" moment but we figured that it wouldn't be too long. WRONG! That hill/mountain/thing was so steep in spots and so long that we flat out wore out our granny ring. Granny now hates us. The chain was "popping" off and we couldn't use it if any type of power was being applied. We fought some with the hill on the middle ring but tried the granny a few more times before deciding it was a lost cause.
The descent was crazy steep in spots, probably 7% or 8%, and getting down it was a little bit of a nail biter. There was another obnoxious hill soon after, not nearly the size of the previous one, that we grunted up in the middle ring. Not fun people, especially when you're hauling all of your own stuff too. If I was carrying all of my junk alone I would have gained around 10 pounds. Thinking that was the second climb, we continued onto the third, also scaled in the middle ring. The fourth one was no where near as fun and there was a switchback on it. Again, granny didn't want to cooperate so we had to walk. That switch back was insanely steep! When we got to the top of the hill, we realized that a semi truck hauling pigs was behind us. We were praying that truck had some very good brakes because the road was not exactly smooth. After going across death and back, we found a gas station to stop at and load up on Gatorade and tea. Back on the road again, we were on a smooth, nice highway but that lasted about a mile before we went over our second mountain range of the day. Those were highway grades and a little easier to scale but messing with granny was sort of annoying. We did use her some and managed to take it a little easier up those hills but after the morning's torture, we were fried needless to say. At the top of the last climb, we saw not one, not two, but three signs warning of steep grades... at 9 1/2%. It was soooooo steep! There were two signs depicting trucks on cheese blocks. So on the descent, we looked like flying chickens or squirrels, holding out arms and sitting up as tall as possible to catch as much wind as we could to slow down some and not burn up all of our brakes on one hill. That was probably the most crazy thing I have ever done!
The ride from there was a little bit easier and we made it out of the mountains. Lunch was sandwiches at a gas station down the road around half way. We filled up there and continued on. We stopped at the last station as we were so toast. Having to ride 50 miles after the initial mountains is not a walk in the park, let me tell you. Rejuvenated, we made it into town, barely and stopped at McDonald's for ice cream before attempting to find our motel. Julie and I both had a blueberry pomegranate smoothies while Natalie opted for a dip cone and Dad chose a hot fudge sundae. Conveniently located right down the road, our motel was definitely a "roach inn". There weren't any non-smoking rooms, the beds spreads have cigarette holes burned in them, the bathroom could use a good scrub down, and there was a mysterious hole in the wall that we stuck a wad of toilet paper just in case there was a hidden camera... not that this place could afford any. While everyone was taking showers, Dad and I rode the bike into town to find some refreshments and snacks. For dinner, we walked across the street to a Mexican restaurant, El Jarocho. While there, we ran into a couple of riders we know that had a spare granny ring the exact same size as ours that we could use. We thanked them for their help and ate the burritos, enchiladas, and tamales that we ordered. They had some really really good food! We have now eaten Mexican food for 4 nights in a row. I think we need some serious help.
Back in the motel room, Julie killed a huge spider with her shoe and Dad worked on the bike with Natalie while I was updating the web journal/story/thing.
| | |
| --- | --- |
| Natalie at breakfast. | Saddling up. |
| The view was amazing! After you ignored your burning quads. | The route was very scenic (code word for hilly!). |
| Natalie and Julie. | The view from a ridiculous downhill. |
| Riding, riding, riding... | The road wasn't exactly the smoothest thing ever. |
| The switchback. | Nat and Julie walking. |
| | |
| --- | --- |
| The top of the hill. | Help... |
| AHHHHHH 9 1/2%!?!?!?!?! | The tamer part of the crazy hill. |
Natalie and Julie on the back.
| | |
| --- | --- |
| McDonald's cool off... Julie's going to eat her ice cream... | DEFECTIVE CONE!!!!! |
| | |
| --- | --- |
| Say waaaaat? | Perfect little angel 0:) [hi mom] |
| Awkward selfies. | Ok that's a little better. |
| Agua? | Nice pic sissy :) |
| Julie's gonna kill that thing! | Dead spider. |
| Working on the bike. | Working on the story. |
| Working on journals. | Finding an iPod to look up the link for the story to send to her mom. Hi Julie's mom! |
Chillaxing before sleeping.
Day 5
Wednesday June 12, 2013
Warner to Tahlequah
50.0 Miles, 16.7 Average, 3:01:45 Ride Time, 41.3 Max Speed
This morning wasn't so different from others, breakfast (at McDonald's) and hitting the road somewhat early. We decided to take the highway up to Muskogee and the ride was nice. We didn't encounter any crazy hills and most of it was easy rolling. We had a nice tailwind to help us along also. As we rode, we did see a helicopter and many random cars as they passed. When we arrived in Muskogee, we stopped at a gas station to refuel before heading up the road. There were some interesting items of interest this morning such as a dirt car (I have zero idea what it's really called, look at it the pictures below) and signs that indicated being ripped off by a car dealership down the road. We also decided to rate yesterday's two huge climbs as uncategorized (based on quad burning, bike wear, body wear, and over all muttered curses to whoever decided that this road should have gone over two mountain ranges). In the end, we determined that the hills were at least an EF 7. You're welcome. And yeah we know that EFs rate tornadoes. That's how crazy those things were.
But on to today. After turning and riding for many many more miles we stopped at a gas station to cool down. The rest of the ride wasn't especially interesting but pulling into town was. As we reached Tahlequah, the traffic significantly increased and we sort of messed up our right shifter some how. We stopped at a Walgreens where a lady was able to give us directions to our motel. The shifter started to work again thankfully and we were on our way...up another stinking hill. Seriously?! When we reached the motel we noticed there was a Mexican restaurant right next door. Again we taste the food of Mexico. So we went there for lunch and ordered the "Speedy Gonzales" with an enchilada, taco, and rice/beans. We also got sopapillas with ice cream :) Super yummy! When we got back, Natalie, Julie, and I jumped in the pool. It was much warmer compared to the one at home (you guys know what I'm talking about). After getting out, we walked back over to the restaurant again for dinner. I had the same thing I had for lunch and a horchata! Omnomnom. So after eating and dipping my hair in cheese (never eat at a Mexican restaurant without a hair tie), we went back to the motel so we could sleep before waking up tomorrow.
| | |
| --- | --- |
| Breakfast at McDonald's...with a very creepy child in the background... picture or psycho? You decide. | OMNOMNOM. |
| Le View. | Quick shops! |
| Dirt car thing at Mud Buggs... I have no idea what it was. | Convertible smart car. |
| Welcome to Tahlequah! | Mexican restaurant... again. |
| Dad's dessert. | Sofa pillows!!!!! |
| Chilling by the pool. | I didn't think to bring the camera out until after I took a shower... |
| | |
| --- | --- |
| Diablo! | Now, if I may consult you on your vampire salsa choices... |
| Daddy and I. <3 | Duck face! If I ever get a Facebook I can use it as my profile pic! |
Day 6
Thursday June 13, 2013
Tahlequah to Vinita
66.8 Miles, 15.9 Average, 4:09 Ride Time, 43.7 Max Speed
I hate mornings... but I'm pretty sure you guys know that by now. We walked across the street to a gas station where we had breakfast. My biscuits and gravy weren't exactly the deluxe model. It had one biscuit and a huge container of gravy that was needed to slide down the very stale bread. After getting on the road, we had a very nice shoulder... and then it became grungy with a bunch of junk all over the place and eventually disappeared. We had a lot of trucks pass us throughout the day. Before we stopped, we went over a lot of hills. Some were much more steep than others but after reaching the top of one, we walked into a gas station. Back on the road, we started, bumped a crank on a pavement crest and dropped not one but two timing chains. Fabulous. We had to get those back on and successfully made it back on the road. The traffic seemed to die down a little bit but we still had a ways to go before we would ever reach Locust Grove. At another gas station, we stopped and loaded up on Gatorade...while looking at sloth pictures. Don't ask why, we just were. Getting ready to go again, an older gentleman driving a tractor and hay bailer drove over the curb and didn't realize what he was hitting. I was sort of concerned after that but he didn't run us over when we got on the road.
Getting close to Salina, OK (not Salina, KS) we passed Grand Lake O' Cherokees, saw the dam and all of its beauty from a distance. There were many signs displaying fried catfish for sale. People and fish... We crossed over the lake and rode up the hill following it to a quick shop where Natalie announced she had to urinate (her exact words). I don't know if it was the heat talking but it was very funny. Natalie and I each had an ice cream bar before riding into Pryor. We turned onto an even busier highway that had a gazillion trucks on it. Wonderful. At one point we saw a truck that had pulled over to take a picture of us. I'm not talking about a Ford F150 or a Chevy Silverado, I'm talking about an eighteen wheeler that pulled over to snap our picture. I guess we're just that awesome. We stopped at a Subway for lunch and as we were eating a group of basketball/baseball/football/sport-something/activity high school or middle school guys. I think they were a little bit absorbed in the fact that we have a four seat bike.
We continued our ride down the ridiculously busy road and stopped in Big Cabin just to get off the bike for a while. From there we rode on into Vanita after trying to figure out what our right shifter was doing. As it turns out, the cable just got bumped and moved out of it's position just like yesterday so at least we know what is going on with it now. When we reached our motel, everyone was hot and tired but today I didn't have to do laundry! Yay! Unfortunately this was not a Best Western Inn like I thought it was, just Western Inn. It had cats walking around up front and I swear that one was possessed and a super cute kitty that did a ninja leap over his padre. Now we are debating riding into town for dinner. However there is a cafe conveniently located next door.
And of course we chose to ride 2 miles into town for Mexican food. Figures. So we had some really good food for good prices. After some dudes left they went out and stood by their truck to smoke while they had their radio on (that had waaaaaay too much bass in it). It shook the entire place! Ohhhkay one too many rednecks. We also had some sopapillas with ice cream that were really good. On the way back Natalie and I switched spots... since when did she get so tall?!
Anyway, it's late and we have to get up early...again... Beat the heat Oklahoma!
| | |
| --- | --- |
| Chip's big bro! (Chip is the buffalo on the pack with us, we love him <3) | The lake. Kodak moment! |
| Pics of my fellow stokettes. | Welcome to Salina, OK. |
| Entering Pryor. | Lunch, I stole Natalie's Cool Ranch Doritos :D |
| Subway, eat fresh! | Indian statue guy that was huge. |
| The kitty Natalie has fallen in love with. | Kitty and mommy and pops. Pops is on the right and demon possessed. I'm just saying... |
| | |
| --- | --- |
| Food! | WHYYYYY did we ride 4.3 extra miles to eat Mexican food AGAIN?! |
| Peace bro. | How may I haaalllppp you? |
| Die! | Awkward turtles. |
| I'm an angel, see? | Sopapillas! |
| Goat on the wall. | Yo. |
c
I'm sooooo gangster.
Mark, Julie, Courtney & Natalie
[ INSERT FROM DAD: THEN AND NOW!! ]
Mark, Courtney, Natalie & Julie
Day 7
Friday June 14, 2013
Vinita, Oklahoma to Parsons, Kansas
61.4 Miles, 17.0 Average, 3:31 Ride Time, 32.8 Max Speed
Well as you know, I hate mornings...and I was the last one up. We had breakfast at the Hi-Way Cafe before heading out. I had some biscuits and gravy that were by far an upgrade from that junk that we had the other day. On the road we were cranking along and the miles zoomed by. Our last stop in Oklahoma was at a gas station where we loaded up on fluids before heading into Kansas. You could definitely tell we were in Kansas once we were there. Prairie grass was on the side of the road and license plates became familiar once more. Chip, I don't think we're in Oklahoma anymore...
We continued our way down the rolling road with next to no hills. I was calling out palm trees and lollipops (both code for water tower) as we went by some. We saw a Pontiac Bonneville for sale and decided to stop and look at it. Dad and I drove it down the road to test it out but sadly, no car for me. Come on Dad! I will be driving to school soon!
We reached Oswego where we realized we had joined up with the Biking Across Kansas route. That was always a fun ride. Anyway, we stopped at a Casey's for a snack before getting back on the road. I munched on a Snickers power bar thing and after much debate on what we were going to eat, we purchased our items and sat down on the curb. When we were on the road we decided to follow the BAK route to avoid some highway traffic but never saw any riders. Just before we reached Parsons, we saw a llama!!!!! My day was made. :3 Later while eating lunch, we heard that they had an 80 mile day and most people were rolling into Oswego (their stop for the night) around 1 or 2... waaaay after we were there. We jumped back on a busy road and maneuvered our way to Parsons where we checked into our motel for the night.
We rode into town 1.5 miles for Mexican...again. How many times are we having burritos this trip?! Anyway we ran into a very nice lady that recognized us from other BAKs and told us about their ride (they had driven into town for lunch). Once we got back to the motel, Natalie, Julie, and I went swimming. The water was very warm and not an ice filled tub like at home. We played monkey in the middle with a random ball we found sitting around and I totally beat everyone at cannon ball jumping... I was the only one who competed. GO ME!!!!
For dinner we didn't have Mexican. OMG! We went next door to an Italian restaurant that was completely deserted. I can't figure out why because their food is great and so was the service... not to mention their amazing bread. The price wasn't killer either.
Now that dinner is done and the darkness is upon us, I bid you a good evening and a pleasant sleep.
You can see so far!

One of our last Okie hills.

Welcome to Kansas!

The Wizard of Odds.

Llama... on the far left. Sorry, it's hard to see in the picture.

Pool time!

Monkey in the middle.

I always loose in the middle.

Zzzzzzzz...

No you can't have my ball! It's MINE!!!!

Hisssss...

Wait... ice cream?

AND A LLAMA?!?! Deal!

ABANDON SHIP!

The many steps of a cannon ball. 1.) Run

2.) Ninja turtle ball

3.) Splash

4.) Bigger splash

Dinner!

Ok, so I have an extra panel. Do you want to hear me rattle off a bunch of useless stuff? Probably not. SOOOOO this panel is dedicated to you. That's right: YOU. I know you've put up with me this far but I only have 2 more days to go! So keep reading and stuff and consider donating to us to keep me writing about these fabulous tours... which we cannot do without your support. THANK YOU!!!!
[There's that tongue stuck in cheek thing again!]
Day 8
Saturday June 15, 2013
Parsons to Garnett
76.5 Miles, 17.9 Average, 4:15:33 Ride Time, 37.6 Max Speed
Mornings, mornings, mornings. I can't win can I? We munched on the breakfast food provided by the motel that wasn't so fabulous but it was better than nothing. We took off and were photographed a couple of times on the way to Erie, our first stop. Being on the highway the road was pretty dang flat and with a tailwind the miles melted away. Not much happened other than we saw a lot of dead armadillos on the side of the road. Look both ways before crossing the street! We stopped at a liquor store parking lot (I had no idea it was even open), out in the middle of no where, to cool off a little before riding on into Moran. The lady that owned the place gave us some cool bottled water and told us our bike was cool. I know we are... Just before we reached the town, a bunch of cows stampeded to take a look at us. It was pretty cool to see all of those cows moving as one towards us.
We made it into Moran and ate some subs that took FOREVER to make. They were good though. Natalie got a 44 ounce frozen Mountain Dew and drank almost all of it. I had a small amount but I didn't want much to begin with. On the way out we ran into someone Dad knows from the VeloTek team out of Lawrence. You know, for such a long day we didn't really say much. I guess everyone is just tired but it wasn't normal for us. We had a tailwind most of the day but there was supposed to be a 70% chance of storms so we were racing the clock a little at the end. Before we got in, we saw some people from an Oklahoma ride that said hi and we also stopped in a cemetery because it was the only place with any shade. We got close to Garnett and our chain started skipping a little bit. We oiled it up and continued on, the darkening storm clouds gathering behind us. When we found our motel we checked in and began to shower up when it started sprinkling. Dad went out to look around up front at a bar but when he got back he was soaking wet. Fuuunnn stuff. While I was showering, the power went off and I initially thought Natalie turned the light off on me. Yep Braille system it is.
We waited the storm out before going over to the bar to play pool. Natalie and Dad both beat me and I have zero idea about the score of Natalie and Julie's game. After waiting for it to stop raining completely, we walked into town for Mexican food. The food was good but the service honestly sucked. It was like a drain sucked the life out of the employees. Weird.
We got back to the motel, worn out (at least on my part) and got ready for sleep. Tomorrow is our last day!
| | |
| --- | --- |
| The view. | Silo with a tree growing out of it. |
| Hay time! | Which way to go? |
| Nasty clouds. | AHHHHH!!!! |
| A motorcycle blew over in the crazy wind. | Drying Dad off. |
| I'm gonna win! ...Probably not. | Julie. |
| Down to the wire. | Main street view. |
| Dinner. | The Statue of Liberty! ...From Garnett |
Day 9
Sunday June 16, 2013
61.0 Miles, 18.0 Average, 3:22:00 Ride Time, 35.6 Max Speed
Hey everyone! Today was our last day! So we went down to Subway for breakfast before hitting the road. It was overcast but very humid which was quite annoying if you ask me. The road was smooth with minimal hills and only a few trucks passed us. We passed an old 56 Ford convertible that was for sale (come on Dad, I need a car!) and saw a lot of crop fields. We reached Paola and stopped at McDonalds for a refreshment. While everyone was munching on ice cream and pies, I chose a blueberry pomegranate smoothie. I'm healthy, I know. Yeah, nope. When we were getting ready to go, we found the stiff links in the chain that was making it skip. We are blaming it on the junk chain lubricant that we brought with us. Anyway, so we cut that part of the chain out and put another piece of a spare that we had in its place. It took a little bit but at least it wasn't crunching every couple miles.
Down the road, a white minivan pulled off in the median to take our picture and so did some other guy but he pulled off on the shoulder. As we got closer to the city, traffic increased and we had to deal with more drivers. We reached a quick shop in Spring Hill where we grabbed a snack before taking some back roads that were slightly hillier than the highway. They were still very rolling climbs so it wasn't complete death. When we turned onto 151st street, it was really really really busy. We waded through stoplights and a ton of cars gawking and taking pictures. We stopped for a minute in a parking lot entrance to an air field where a car slammed into and jumped the curb just ahead of us. It is amazing the tire did not blow out. Here's a tip people. I know we are awesome and stuff but don't wreck your car just because we are standing there, ok?
A couple of miles down the road we reached Mi Ranchito, our destination. After eating and talking with some of the people we know that work there, we decided to ride home. Sigh, why do I agree to these things? Natalie decided to go home and grab her stuff rather than ride with us to the swimming pool (my final stop). Dad's rule around home, if there is a hill, turn right. If there is a hill to the right, turn left. And we made it to the pool in that fashion. I like that rule a lot more than going up obnoxious hills. We stopped for a bathroom break at Burger King and grabbed some $0.50 ice cream cones while we were there.
I made it to the pool where I went swimming with one of my friends, Caleigh.
Well another tour is under my belt and we had a great time! Check out my other stories and donate to us through our Pay Pal link here: [ :P) ]
I hope you enjoyed my story!
| | |
| --- | --- |
| The start of our ride. | On top of one of the few hills. |
| Downhill! | Chain fixing. |
| At the quick shop. | An egg McMuffin from McDonalds that we found in the parking lot. Don't ask why we ran over it, I have no idea. |
The end of the ride.
attorneys.org