[ Home ] [ 1st Visit ] [ Tandem Display ] [ Accessories ] [ Parts ] [ Close-Outs ] [ Ordering Info ] [ About Us ] [ Links ]
Southern Tandem 2002
By Mark Johnson
BAY ST. LOUIS, MS
The gulf coast of Bay St. Louis, MS and its intriguing allure lived up to our expectations. We experienced building excitement and anticipation during trip preparations as visiting this area would be a new adventure for us. The promised warmer temperatures, as compared to late October in KS, were also a major plus!
A brief visit to the Vicksburg National Park was a "must do" as we traveled east on the interstate. The park is essentially a memorial where a major battle of the Civil War was fought and many lives were lost. We took the very interesting driving tour through the park before finishing our trip.
Let me digress to two years ago when we attended the STR held in Calloway Gardens south of Atlanta, GA. We missed participating in this rally due to a deteriorating eye condition I suffered resultant of a playful poke from Natalie, our then 6 month old, all of which heightened our sense of urgency to participate after experiencing such a disappointment.
The area of the rally was recovering from recent tropical storms and we learned the short route was no longer... well short... and that we would have to follow the medium route of 52 miles resultant of a bridge being out. We also learned of a road that had been recently repaired with gravel thus it sounded like our short route options had been eliminated.
Natalie being only 2.5 has ridden a maximum distance of 32 miles two or three times so we went into this ride with a healthy concern of how to survive it! The night before, we decided to go for it and if worse came to worse, Courtney (now 5) and I would finish the ride on our quadralized triplet and retrieve mom and the little one in the van.
The buffet breakfast really hit the spot with choices for a variety of tastes. I doubt anyone left hungry and it was a great way to start the day especially with the main ride of the event soon to start.
Saturday's ride started off with a very welcome police escort which lead the way across a 2 mile long bridge out over the bay.
As luck would have it, I misunderstood the short versus medium option and the 52 mile loop was actually marked as the short route. Still thinking there was no short option and that the "S" arrows would lead to closed roads, we opted for the medium route.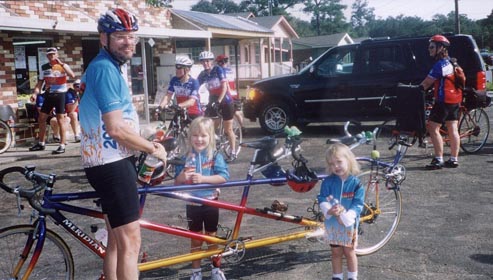 Many stopped at the above convenience store where a mileage check and comments about there being 10 or 15 more miles to lunch gave us a reality check. We unknowingly selected a route that would be 63 miles before days end!
(Holding Courtney while we waited for Natalie's batteries to recharge!)
The expected melt down came at the 51 mile point. Natalie's protests were starting to be heard far and near and she was seen hanging her head a sure sign that sleep was eminent. We pushed on until it was evident she would in fact take a nap, and she did for nearly an hour. She awakened with a new attitude and we completed the ride coming in dead last.
Natalie doubled her old record for distance, Courtney established a new personal distance by 3 miles, and Sue rode further than she has in 5 years!
Despite the distances ridden, the adventures of the day certainly did not curtail the kid's desire to go swimming and off we went on the short ride to the pool. Other tandem teams were lounging around and playing in the pool with a rather lively game of modified catch/football in progress.
I joked with Jack and Susan Goertz about winning the most "potty breaks" award or one for the "longest nap" should they be given out at the banquet.
The banquet included a 30 minute social hour which unfortunately was the length of the line at the bar! There was little to no socializing for those waiting to wet their whistle other than with those nearby in line.
The banquet food was excellent with plenty for all and there was a wonderful selection that should have suited even those with discriminating palates.
Courtney's birthday was the following day and our gracious hosts, Hank and Susan Holcomb, arranged for a very special treat for her special day. Everyone sang happy birthday to Courtney while Hank, who has the same birth date, presented her with a cake and 5 flaming candles!
Sunday provided a cooler and foggy day for the one hour earlier start. It appeared most teams opted for the shorter 21 mile loop. We did a modified medium route and ended up with 34 miles, or 100 miles for the entire weekend for ALL of us!
This ride was not to be without interruption as Natalie got cold riding in the early morning dampness. We carefully selected a plastic bag floating about in the breeze in the local ditch and after a couple of careful modifications, we had her decked out in "kiddie warm-ups" as coined by one stoker.
And then it was time for a playground stop along the railroad track where the kids did their usual thing. We had a very nice chat with a couple who owned a bed and breakfast across the street. They had a granddaughter the same age as Courtney that was usually at the park and evidently so as they kept eyeing the street expecting her arrival at any moment.
It was a very good weekend with picture perfect weather and being able to ride 100 miles in two days always helps!
The rally was wonderful and enhanced to the max by our gracious hosts Susan and Hank Holcomb. These folks did a wonderful job and their personal attention to everyone showed making this a very fine event. Our personal thanks go out to these folks for not only the rally but their efforts to make Courtney's birthday a memorable one... something they did accomplish!
(Natalie, 2.5 years, enjoying her post ride beach adventure!)
(Courtney, 5 years old today!)
The following Article appeared in the local paper a few days after the rally.

Couples enjoy the rides on tandem bikes
By ERIC NYE
THE SUN HERALD
Friday, October 25, 2002
BAY ST. LOUIS - Sixty-five tandem bicycle teams met at Casino Magic here last weekend for the 24th annual Southern Tandem Rally.
Hank and Susan Holcomb of Diamondhead organized the three-day event.
Most teams were married couples with the man, or "captain," in front and the woman, or "stoker," in back.
One woman, Janet Standing of Berkley, Mich., rode as captain with her 14-year-old son, Benjamin, as stoker. Husband, Jack, rode a single bicycle alongside.
Three couples brought children who rode with their parents on modified tandems or trailers.
Most of the teams came from Southern states, but some came from as far away as New Hampshire and Alaska. They came to renew friendships and see something new.
Susan Goertz of Birmingham, Ala., said, "If not for the rally, I never would have come to Bay St. Louis to go riding."
Susan's husband, Jack Goertz, started the Southern Tandem Rally in 1979. Jack said team members run the gamut of professions as well as home states.
"We have everybody from postal workers, to retirees, to doctors, to mechanics. You name it."
Jack and Susan ducked in and out of their truck in the parking lot of Casino Magic Inn on Saturday morning, getting ready to ride to Diamondhead for lunch. Their $8,500 titanium Santana tandem stood nearby.
Jack said the bicycle weighed 32 pounds, not counting the 10 pounds of tools, spare parts and water he and Susan carry.
Jack said he met Susan at rally #2 in 1980 but didn't connect with her as a couple until rally #3.
They now sell upright and recumbent tandems from their home and edit "Double Talk," the magazine of the Tandem Club of America.
Themes of marriage, trust and togetherness surfaced throughout the weekend.
Susan Holcomb said, "Captains don't realize the degree of trust we stokers put in them."
Jud Bishop, a college student from Auburn, Ala., said mutual friends threw him and his wife, Sam, together on a bicycle ride. Jud said he liked Sam right away but that he bought their tandem before they got married, not after. "That was the ultimate test of compatibility," he said.
Tandem couples, such as Marv and Miryam Rubenstein of Tallahassee, Fla., don't always see eye to eye. Miryam said she and Marv encountered an unusual number of stray dogs between Pass Christian and Diamondhead on Saturday morning. Miryam said she normally sprays dogs with her water bottle when they get too close, or yells at them.
"Yelling doesn't do anything," Marv said. "It only excites them more."
George Bacon of Trussville, Ala., relaxed in the open-air Twin Lakes Pavilion in Diamondhead after lunch Saturday afternoon. He said he and his wife, Judy, have ridden tandems for the past 14 years.
"It's the greatest thing we've done since we've been married," he said. "The phone doesn't ring; nobody bothers you."
Other teams, all dressed alike in the rally's red, white and blue jerseys, lounged along the pavilion's built-in benches and ate sandwiches from a catered buffet. The bright yellow bananas in front of each couple were there for two reasons: to hold down the tablecloths billowing in the gentle breeze and to replenish the riders' potassium for the return trip to Casino Magic.
Jim and Barbara Dailey of Springville, Ala., prepared to remount their white, aluminum Cannondale in the pavilion parking lot. Barbara said she enjoyed that morning's trip under police escort across the Bay St. Louis bridge. She said she appreciated being on a tandem at moments like that. "On a trip it's nice. The stoker can take pictures," she said.
Jim said, "Our pace is not the same at all on single bikes. We stay together on a tandem."
Mark and Sue Johnson showed family togetherness by carrying their daughters Courtney, 5, and Natalie, 2, on their custom-made Meridian quadruple cycle.
Fellow riders said the Johnsons normally lead the fastest group, going about 24-25 mph.
They said the Johnsons stopped between Diamondhead and Pass Christian Saturday afternoon, however, so Natalie could take her nap.
Although some teams ride fast, tandem rallies are not usually geared toward competition, George Bacon said. "It's more of a social thing," he said.
Rally members socialized Saturday night at The Bridges clubhouse over a buffet dinner of baked tilapia. After dinner, Charles Gray, executive director of the Hancock Historical Association, told a brief history of the Mississippi Gulf Coast. Looking out at his audience of tandem riders, he said, "You're not exactly what I expected biker chicks to look like."
Sunday morning, most of the teams rode out U.S. 90, again under police escort, to Pearlington. As usual, the Johnsons led the pack on their quadruple cycle.
One team, Paul and Lisa Wearing of Atlanta, Ga., stayed behind. Lisa said her daughter Emma, 3, wanted to go to the beach and build a sand castle.
[ Home ] [ 1st Visit ] [ Tandem Display ] [ Accessories ] [ Parts ] [ Close-Outs ] [ Ordering Info ] [ About Us ] [ Links ]