[ Home ] [ 1st Visit ] [ Tandem Display ] [ Accessories ] [ Parts ] [ Close-Outs ] [ Ordering Info ] [ About Us ] [ Links ]


Thank you for stopping to visit.

If this page looks a bit dated, well, it is!!! ....since we joined the internet world in the late 90s after several years of riding tandems. Our 28 years of experience, inclusive of riding nearly everything made, is available to you to insure that an informed decision is possible when it comes time to purchase.

Please return often as we keep our Site updated.


A VERY BRIEF PICTORIAL HISTORY OF OUR FAMILY AND TANDEMING SO YOU CAN SEE HOW MUCH FUN WE HAVE BEEN HAVING! THE GIRLS ARE NOW IN COLLEGE AND THEIR COLLEGE FUNDS APPRECIATE YOU!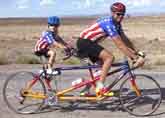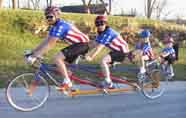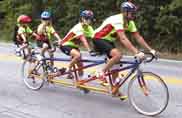 TANDEM DAYS ARE HERE!
Mark, Courtney and "Go Fast Stoker" Julie hammering at the Northwest Tandem Rally 2000
(Courtney winner of NWTR youngest stoker award - age 2.5 years)
Click HERE for Video of Triplet with 2 year old at NWTR 2000
ABOUT OUR SITE
ARE YOU A BEGINNER? Be sure to check out our Tandem Info and Tandem Display sections from the links at the top of our Home Page. We continue to pack our site with useful information while keeping it simple for easy hassle free info retrieval. When you have questions, please contact us as we are here to help you.
Our Cyber Catalog grows daily. For your convenience, we have included photos and specs in our Parts and Accessory Catalogs and in our Tandem Display.
ABOUT US
Our passion for tandems and the desire to share the fun and healthy experience with others naturally evolved into the Midwest's largest tandem only dealership nearly 3 decades ago.
If your budget allows you to get a tandem, we would be pleased to share our 27+ years and more than 200,000 mile experience with you and provide valuable insight and recommendations. Email us if you are ready to purchase and expect to receive the time and attention you need and deserve. In that email, include your cycling history, tandem history should it exist, your goals and aspirations for adding a tandem to your stable, the team weight, ages of riders, inseam length of the jeans each rider would wear, what you currently ride, and describe the type of riding you will be doing whether it be competitive, speedy enthusiast, leisurely and smell the roses type, or any other applicable descriptive you wish to share. Feel free to include any other info relevant to helping us understand your needs. Our recommendations will allow you to make an informed decision insuring that your goals and expectations are met. We will invest a significant amount of time with you given the purchase of a tandem involves multiple decisions and the filling the needs of two or more people, we suggest being ready to move forward with the purchase both financially and emotionally so that our mutual time is invested wisely.
TODAY'S TANDEMS ARE SAFE, FUN AND EASY TO RIDE ! TRY SOMETHING NEW, SHARE YOUR CYCLING EXPERIENCE WITH YOUR FAMILY AND FRIENDS.
Mark, Sue, Courtney and Natalie Johnson
In our 25th Season!
TAKE YOUR TIME AND ENJOY YOUR VISIT TO OUR SITE.
CLICK HERE TO ENTER.
E-mail Your ?'s Click for Info

By appointment for the time and attention you need and deserve!
Located in the Heart of America and Shipping Worldwide!


[ Home ] [ 1st Visit ] [ Tandem Display ] [ Accessories ] [ Parts ] [ Close-Outs ] [ Ordering Info ] [ About Us ] [ Links ]