[ Home ] [ 1st Visit ] [ Tandem Display ] [ Accessories ] [ Parts ] [ Close-Outs ] [ Ordering Info ] [ About Us ] [ Links ]
Southwest Tandem 2002
By Mark Johnson
The weekend of April 13th and 14th was full of fun and adventure with the
SWTR and Lance's Ride for the Roses packed into the same weekend.

Mike and Susan Mahoney and the rest of their gang truly put on an awesome
tandem rally kicked off with optional flat or hilly ice cream social rides on Friday afternoon.
(Courtney and Natalie Cooling Down!)
(Leaving the Ice Cream Stop)
Picture perfect weather was the forecast for those partaking in the complimentary wine and beer offered during the relaxing evening social hour. The dinner was certainly one for the memory books as it was served on a picturesque suspension bridge over the Brazos River!

Saturday's ride featured a short 13 mile run to the lunch stop, the perfect half way point for fifty percent of our team.
(Saturday's Start)
(Some of the More Colorful Teams Saturday Morning)

(More of Saturday's Line Up)

The lunch stop was reached sooner than expected giving Sue and Natalie (still 1 year old for a few weeks) a break while Courtney, Julie and I returned to the route in triplet mode to hammer out the medium loop.
It was nice catching a large group relaxing at a convenience store and being able to spend some time socializing. These folks were the first tandems sighted since we left the lunch stop having started with a 6 mile deficit in addition to the minutes necessary to change over the triplet for the different riders. We had been pretty well out of touch with everyone up until this point.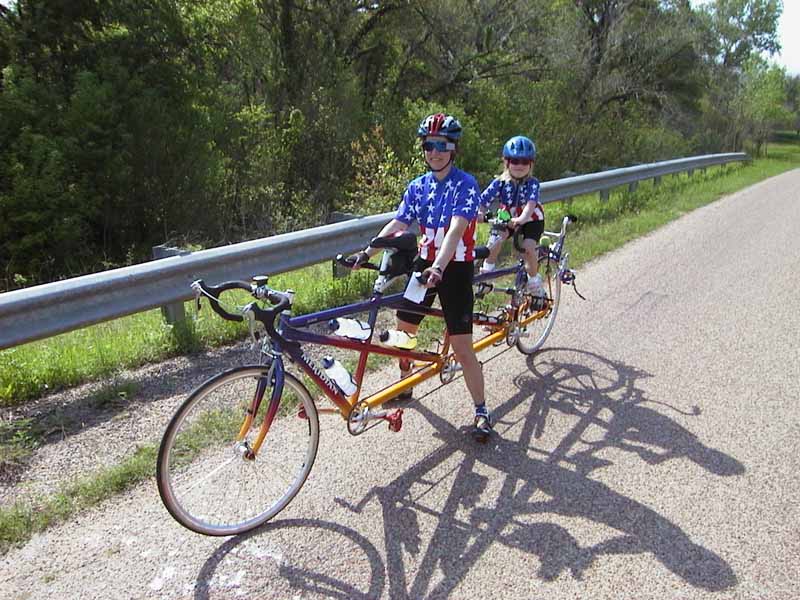 (Taking time for a Photo on the Medium Saturday Route)

Lunch was well underway upon our return to the shelter house filled by now to near capacity. The catered sandwiches and drinks really hit the spot!
Did I mention they had a cooler of Miller on hand? I doubt anyone left this rally feeling neglected!

Once again we setup the triplet in quad mode and pedaled our way back to the start using the same configuration as when we started.
(Leaving the Saturday Lunch Stop)
(Natalie looking pretty tough for being 1 year old!)
Unfortunately we were unable to attend the Sunday events as Lance's Ride for the Roses was held simultaneously in nearby Austin. It was really a blessing we were able to attend two great rides in one weekend.
Once again, this was a great rally with gracious hosts, one which we have added to our yearly "Must Do" list.

[ Home ] [ 1st Visit ] [ Tandem Display ] [ Accessories ] [ Parts ] [ Close-Outs ] [ Ordering Info ] [ About Us ] [ Links ]